As Broken Horse, an enduring San Francisco band that calls its oeuvre Western Doom Noir, erupted into tuning instruments at its Rite Spot comeback show on Saturday, March 7th, a congregation of greying hipsters assembled.
This was the day after Mayor London Breed and the San Francisco Department of Public Health's had announced that larger venues, such as the War Memorial Opera House and Davies Symphony Hall, would be closed for all public events, but that smaller spots could stay open. Listen, right when those guitar-tech exercises got "string noisey" irksome, a throng of younger-looking attendees spilled out, popping fingers from their ears as they hit the street.
As for those old heads? The ones who probably lived in the rough-and-nasty SOMA district of the late '80s and the tense Mission district of the early '90s? They moved in closer, identifying that brashness—a welcoming drone—that comes along with living in a city, as their long-lost sonic hearth, enjoying the communal warmth of having their old Mission dive bar back. (The Rite Spot had just reopened after a run-in with the Entertainment Commission.)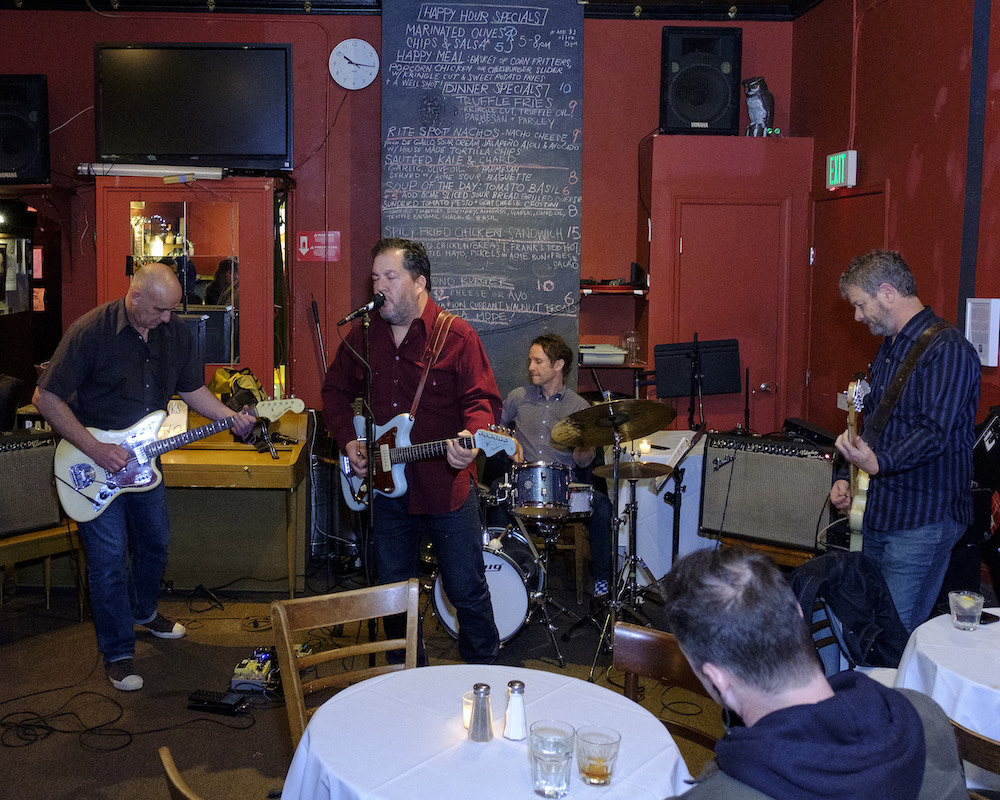 "So I guess I tuned up," joked Alex Oropeza, who founded the band in Tuscon, Arizona circa 1986. "Hopefully, this will sound OK."
Oropeza steered the four-piece outfit through a collection of retooled southwestward-type blues, with Bill Cuevas on bass, Joe Goldring on lead guitar, and Warren Huegel on drums. For an hour and change they marshalled along twangy Dick Dale-tinged, gothlike country-surf-jazz numbers, a sort of David Lynchian concept album. For the 30 or so patrons in attendance, including revered San Francisco songwriter and musician Paula Frazier, it was an eerie soundtrack to a world teetering slightly, but not yet fully, into panic. Oropezaʻs fetching arrangements, executed with veteran self-assuredness from the band, rendered an ominous tone that patrons applauded, but nobody really wanted to discuss.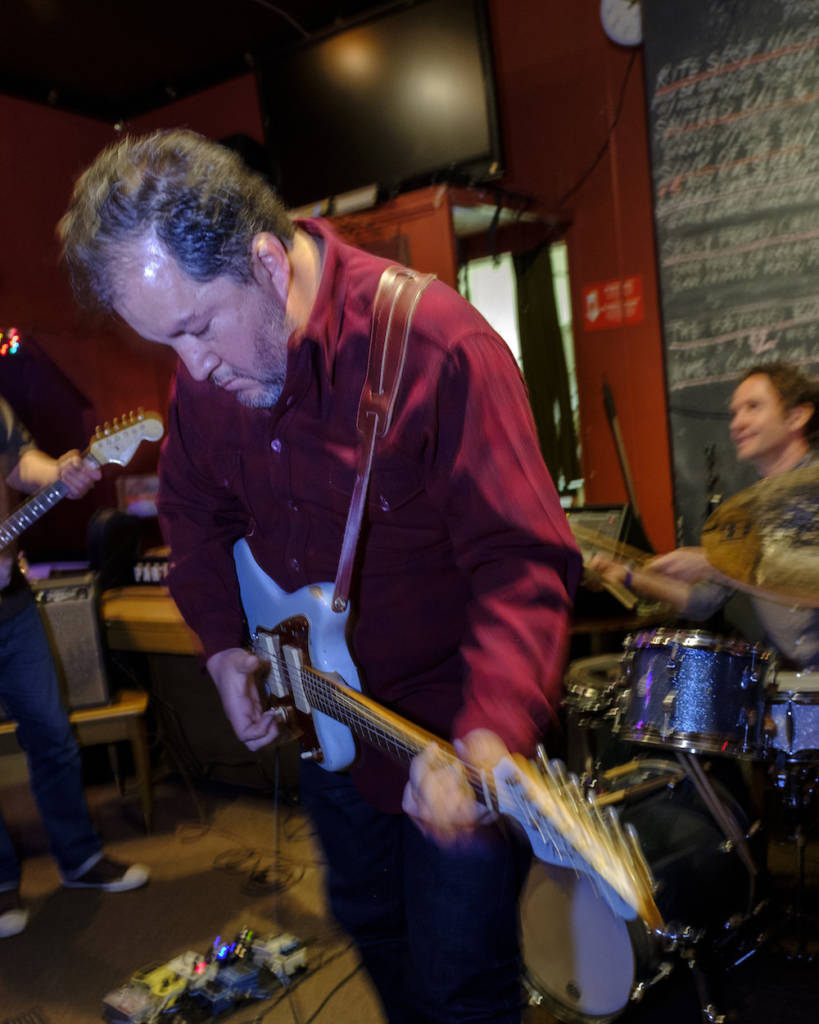 At 12:01 am Tuesday, March 17, 10 days later, that dread became fact. San Francisco, along with five other counties began "shelter in place" orders, weeks ahead of the rest of the continental United States, directing everyone to stay inside their homes and away from others as much as possible. A desperate, yet necessary move to curb the rapid spread of COVID across the Bay Area. The arts community braced itself for a devastating hook.
"My guitarist's European tour got canceled, a big bummer for them, as they work all year for a few months of fun in the spotlight," Oropeza told me about the current crisis. "So instead, we thought we'd take the opportunity and go into the studio to finish our record, then all non-essential businesses got shut down. So recording was a bust too".
With at least 3.3 million US workers losing their jobs within a week due to the COVID shutdown, this global pandemic has invaded every bit of society thought possible. San Francisco has always had the type of arts community that could insulate societal blows, but the past four weeks have taken a ruinous toll on the people who give temporary but well-needed distractions in times of crisis. Those important converters of energy, life-force providers, are just as much at risk as anyone else. Possibly more. Constant construction of high-rise condos that nobody can afford does not boost tourism nor the creative potential for new residents. Culture does.
"Music venues had really taken a hard hit in SF for the last 10 years, with no second-tier places to play" Oropeza said. "Finally over the last year, it started picking up again with live music gaining momentum. Now they're all closed and reaching out with GoFundMes to support their staff."
Bay Area shoegaze and dream-pop four-piece Seablite was finishing the video for "High-Rise Mannequins," the title track of its recent EP released by Emotional Response and Spanish label Meritorio Records, when the current shelter-in-place order was issued. Suddenly the video's theme became all too real. Intercut with scenes of the bands' live performances at UC Theatre and Rickshaw Stop, were shots of a headphone-wearing mannequin, schlep-rocking through an abandoned cityscape.
"It feels weird to watch this now that the entire world is on pandemic lockdown and we're not sure we can really even go to our practice space in the near future," read a statement from the band. "But we hope it brings a smile to your face and a reminder that good times are still out there, somewhere in the future."
Scheduled to play the Valley Fever Festival and go out on a DIY tour with The Umbrellas, Seablite are now are quarantined like most bands. Individually, they are working on demos and graphic design projects, doodling new song ideas, re-creating family recipes to think on easier times, searching for jobs at cemeteries or funeral homes, and working on jangle-pop solo records.
Oakland's' own Once & Future Band, a pop group whose range of influences includes '60s and '70s arrangements, '80s R&B, '90s hip hop, jazz fusion, experimental electronic music, and a ton of other sounds, released a video for the song "Freaks" a couple of weeks back from their upcoming LP Deleted Scenes, out on Castle Face Records April 10th. Facing the hard reality of dropping an album, without any type of shows to support it, led the prog-rock outfit to think about recording new material.
"We were hoping to have this time as a band to work on new music and record more since we won't be on the road, but from now on, we don't have access to our studio and I don't have access to my drums for the foreseeable future" stated band drummer Raj Ojha. "However, I know everyone's working on music on their own, that's just what we do, and I'm grateful that I was able to take some equipment home before the shelter in place order, so I can work on some mixing jobs and work on other music that doesn't require my drums."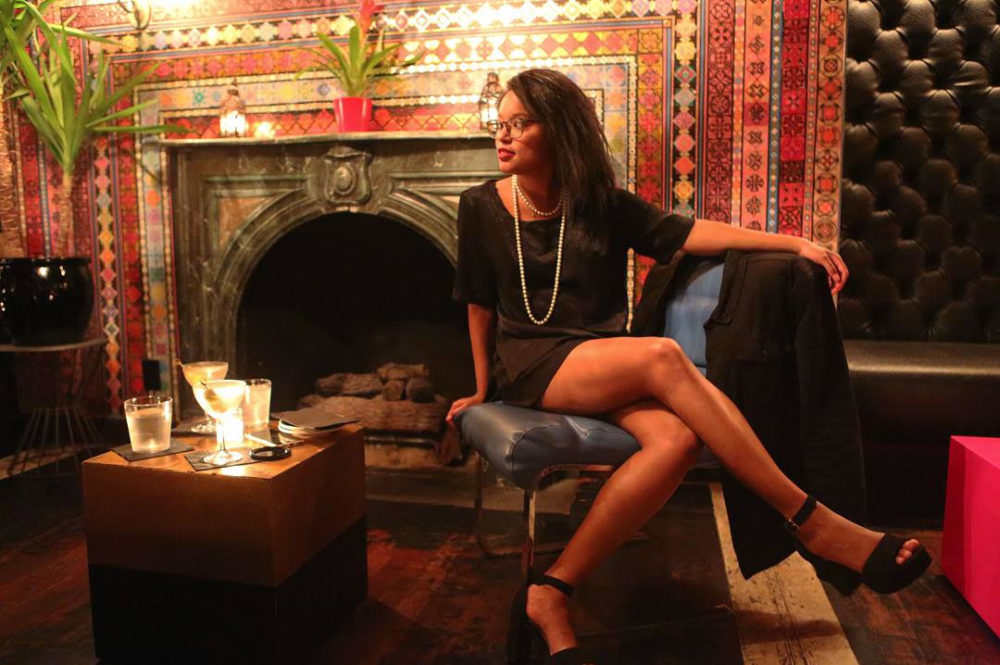 So how are indie musicians surviving? Brooklyn-based magazine Left Bank hosted a virtual music festival via YouTube, that ran 12 hours a day, March 17-22. Called Left Bank Live, it featured artists from around the world broadcasting from their bedrooms. Rather than charging fans for digital entry, the magazine encouraged listeners to tip the musicians they enjoy using Venmo. Left Bank Media founder Kristyn Potter told the Guardian that given the international spread of bands and fans, this was the simplest way to get artists paid without "potentially breaking any international money laws."
As for the inspiration for the event: "To be honest, I was working with an artist friend on a way to Livestream a set of his from New Jersey and I was like 'wait a minute what if we just did this for a bunch of artists.' It was Thursday night and I texted a few of my music friends, made a story on Instagram to gauge whether there was an interest or if artists would even sign up, and by Friday we had like 50 artists confirmed and a potential sponsor interested. It happened VERY fast" Potter explained via email to 48hills.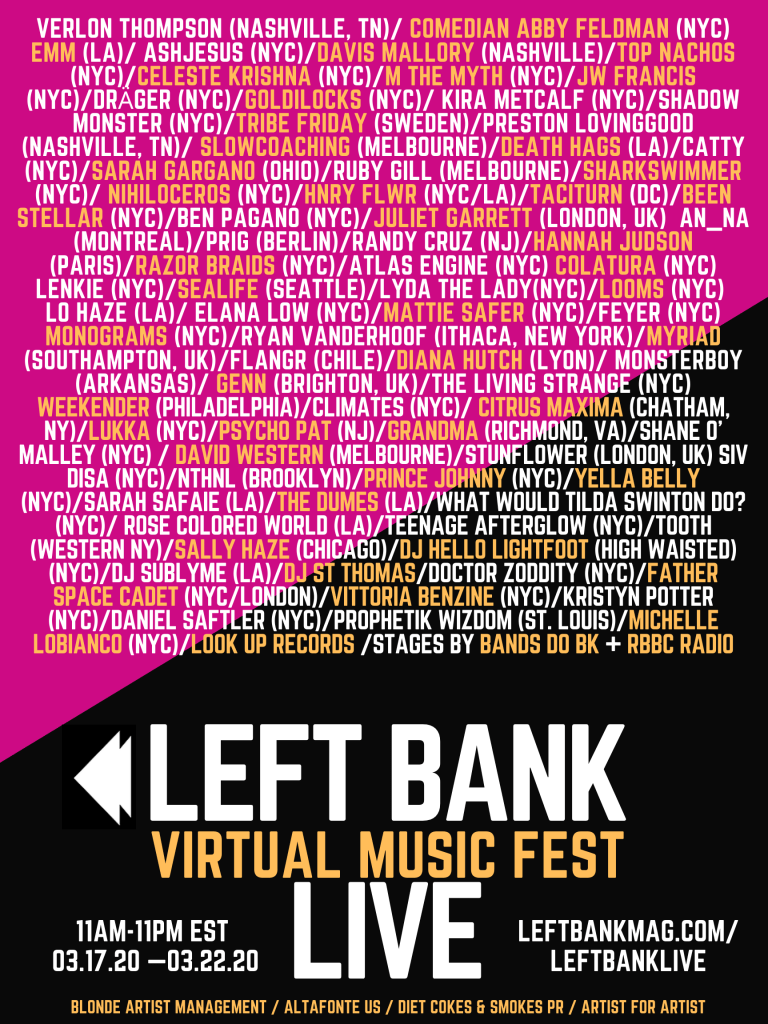 These innovations come when the need is well beyond healthy, and according to Potter, itʻs gonna continue.
"I think that people are just trying to be creative and engage with their audiences through this time. I also think that if you aren't live streaming or doing virtual concerts, someone else will and it's still important for artists to keep up as much face time with their fans as possible," Potter said. "That coupled with the fact that everyone is at home."