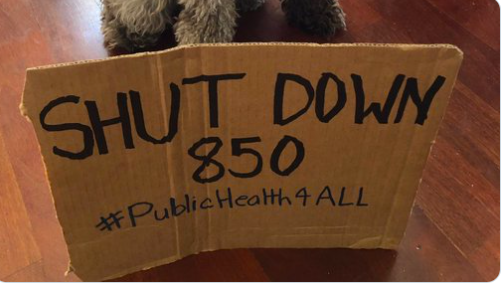 On Wednesday, the NoNewSFJail Coalition and its member organizations asked San Franciscans via social media and on their website to participate in a "Digital Day of Action" by calling, emailing, or Tweeting at several San Francisco County Supervisors and Mayor London Breed with the hashtag #ShutDown850, to ask them to support legislation introduced by District 1 Supervisor Sandra Lee Fewer on Tuesday.
Fewer's legislation, if passed, would require San Francisco County Jail Number 4, located in the Hall of Justice at 850 Bryant St, to close by Nov. 1, eight months earlier than the original July 2021 deadline, and require the total SF jailed population not to exceed 1,044 people by October. The existing plan to demolish the existing Hall of Justice in 2025 and begin construction of a new campus in 2028 not would be affected.
Currently, Supervisors Norman Yee, Rafael Mandelman, Ahsha Safai, Catherine Stefani and the mayor have yet to support Fewer's legislation.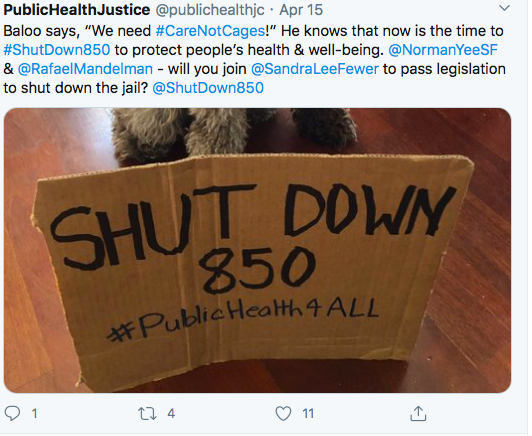 The NoNewSFJail Coalition was founded in 2013 and is comprised of several local organizations, including the Coalition on Homelessness, Critical Resistance, CURB, GLIDE, and Young Women's Freedom Center, among others, and is dedicated to reducing imprisonment in San Francisco. These organizations, along with several justice agencies including the Public Defender's Office and the Office of the District Attorney, worked with Fewer in creating the legislation to expedite the closure of County Jail 4.
Mohamed Shehk, the communications director of Critical Resistance, told me that the novel coronavirus has forced them to organize and hold demonstrations online, and has some advantages and disadvantages.
"While sheltering in place, we don't have as much of an option to do in-person mobilizations. One plus is we have wider reach for people to take action from their home. The challenges are that in many ways the impact isn't felt as much as when we're mobilizing in person," said Shehk.
For Shehk, it is important to continue to mobilize and work to close the jail at 850 Bryant, especially during the onslaught of COVID-19. One prisoner has already tested positive for the virus in the San Francisco County Jail.
The Hall of Justice has had sewage leaks, roach infestations, and is seismically unstable; Shehk called it a "public health disaster."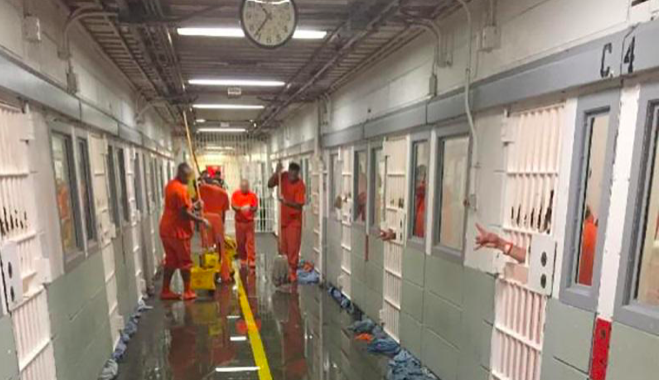 "Before COVID-19, it was of utmost importance to close the jail. Now, COVID-19 has exposed how much of a health risk jails and prisons are. When you have a jail that has been slated for demolition and under fire unanimously for its terrible conditions, it becomes all the more important to close it when there is a public health emergency," said Shehk.
Shehk told me that closing County Jail 4 would save an estimated $25 million annually, according to data from the 2017 Work Group to Re-envision the Jail Replacement Project and the mayor's reports of fiscal years 2018, 2019, and 2020. These funds could be directed towards housing and reentry services, including jobs, education, and access to healthcare, Shehk said.
Sheriff Paul Miyamoto has also opposed Fewer's legislation and favors the existing July 2021 deadline, claiming that prisoners displaced from a prematurely closed Hall of Justice would be forced into close contact with other inmates in SF's other two county jails, exacerbating the spread of COVID-19 among the incarcerated population.
Shehk told me that he disagrees with Miyamoto's reasons for opposing Fewer's legislation.
"The fact that he's using the COVID-19 crisis [as a reason for opposing the early jail closure] is frankly shameful," said Shehk. "Keeping 850 Bryant open will in no way reduce the risk of COVID-19 among the jail population. Public health experts have stated that prisons, jails, and detention centers function as incubators for the spread of diseases. As we've seen in jails across the country, it is the guards that are the most likely vectors… Keeping the jail open won't stop guards from interacting with prisoners so won't stop the spread of the disease. What will is releasing people so they can practice social distancing and have access to medical services," said Shehk.
I spoke to Chelsea Boilard, a legislative aide from Fewer's office, and she told me that Fewer's office has been working on the legislation introduced Tuesday since late 2019. Fewer is pushing for a "more aggressive timeline" because she wants to capitalize on the success of existing policies to lower San Francisco's jailed population in response to COVID-19, according to Boilard. These measures include the practice of releasing low-risk offenders, the elderly, and inmates with underlying medical conditions.
"This is an opportunity to think about how to institutionalize the measures right now, and not only accomplish the short term goal of thinning out the jail pop to prevent the spread of the virus, but also accomplish the long term goal of permanent closure of County Jail Four," said Boilard.
Another point of contention is the choice of placing inmates in Santa Rita jail. According to Boilard, there was concern about moving inmates to Santa Rita Jail due to reports that there were high inmate death rates, particularly from suicides, at the jail.
In addition, placing inmates in jails outside San Francisco presents a logistical challenge for the courts and for the legal representation of those awaiting trial, according to Boilard. She told me that if inmates are placed in out-of-county jails, public defenders would have to travel to meet and provide counsel to their clients. Additionally, services like phone calls to family members and commissaries, which have reduced prices in San Francisco, have inflated prices in other counties, which inmates' families may be not be able to afford.
The NoNewSFJail Coalition also opposes Miyamoto's plan to move approximately 100 people to Santa Rita jail.
"Under no circumstances should San Francisco be entertaining the mayor's and sheriff's suggestion of transferring people to Santa Rita jail, a place that has been dubbed 'the most dangerous place in Alameda County,'" said Shehk.
Despite disagreement from the Sheriff's Office, Boilard maintained that Fewer's office is "open to being in discussion with his office around the particulars in this legislation" and that there is relatively little pushback to Fewer's legislation.
"Everyone you ask agrees that that facility must close…the city administrator [Naomi Kelly] herself that the jail needed to close by the end of 2019," said Boilard.
Among those who believe that the jail should close, and supports Fewer's legislation, is Manojar Raju, San Francisco's Public Defender and a member on the Sentencing Commission. Under Fewer's legislation, a subcommittee of the Sentencing Commission called the Safety and Justice working group would be tasked with maintaining a lower jailed population. Raju told me that many of the policies happening because of COVID-19, including pretrial releases of low-risk offenders, would be among the strategies used to achieve that goal.
"I do support Fewer's legislation. It's been documented, all of the problems we have been having with County Jail 4, all of the public health dangers. If someone else decides that a defendant needs to be detained, they shouldn't also be subject to a health hazard," said Raju.
Boilard estimates that Fewer's legislation will come to a vote before the Board of Supervisors around mid-May.
Shehk said that as the legislation gets closer to be voted on, the NoNewSFJail Coalition will hold more online actions where people can participate by calling and emailing county supervisors and Mayor Breed to ask that they support it.
You can find the numbers and emails of supervisors who have yet to support Fewer's legislation, Mayor Breed's contact information, and a script to use when emailing and calling on the coalition's website here.
To view a summary of Fewer's legislation click here. To see the full text, click here.