We may be going through tough times, but we're still producing the art, music, culture, deep inquiry, and joy that continue to sustain us. It feels like organizations are somewhat adjusting to the current reality and showing us what they can do in a crisis. And of course, Bay Area artists are still grabbing national attention.
Case in point: the devastating, beautiful cover of this week's New Yorker, illustrated by California College of the Arts professor Owen Smith, chair of the Illustration Program. Smith, whose work recalls that of Depression-era and '40s pulp noir artists, has produced several New Yorker covers, as well a many for other big outlets, and is currently working on an illustrated volume of The Grapes of Wrath ("I find it particularly timely," he says.)
When asked by New Yorker art editor Francoise Mouly about how CCA has been affected by COVID, Smith said:
 We've had to shutter the buildings and move to online instruction halfway through the semester. But art-making is physical, and sharing a studio with others is invaluable. We've scrambled to set up teleconferencing critique sessions, online demonstrations, lectures, and workshops. We'll have to create virtual exhibitions. We can't wait to get back into the classroom, where we can draw from the model and resume collaboration in shared space. I miss the noise and laughter.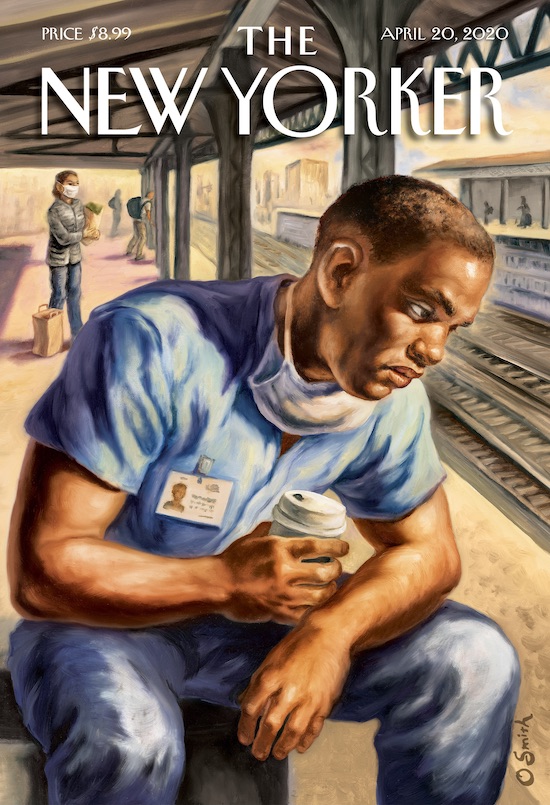 Us too, Owen. Us too!
ARTS EVENTS AND UPDATES
First the bad news: Pride is cancelled, Burning Man is cancelled, SF Opera's summer season is cancelled (no long-delayed Steve Jobs opera for us), the Jewish Film Festival just postponed indefinitely, and this crappy landlord is still evicting small businesses and artists, WTF. And now Three Twins Ice Cream, my favorite local brand, has announced it's going out of business. NoooOOoOoOoo.
But there is still plenty of good news! Including the launch of Local Love, a new online exhibition featuring local artists whose works you can purchase to help them get through—check it out! More good stuff:
DRAG ALIVE! ONLINE I'm plugging the Stud's weekly online drag show not just because I'm a co-owner of the nightclub, but because it's really, really good. It looks professional(!), has something for everyone, and is a perfectly wild way to jumpstart your Saturday evening—6:30-9pm, every Saturday, at www.twitch.tv/dragalive. (And this week you can continue dancing afterwards all night with the Polyglamorous party crew.)
SF JAZZ has announced the lineup for its Jazz at Five series, every Friday at 5pm, and it's a real doozy. Tune in here to see archived SFJAZZ performances by the following (and why not make yourself a cocktail, too):
>Friday, April 17 – Preservation Hall Jazz Band (Recorded August 10, 2019)
Friday, April 24 – Zakir Hussain, Dave Holland & Chris Potter (Recorded June 6, 2018)
Friday, May 1 – Snarky Puppy (Recorded March 2, 2018)
Friday, May 8 – Joe Lovano: Triosim with Bill Frisell, Tyshawn Sorey, Marilyn Crispell & Carmen Castaldi (Recorded March 15, 2019)
Friday, May 15 – Monsieur Periné (Recorded June 6, 2018)
LITQUAKE has released a series of "Litquake on Lockdown" recordings, consisting of Zoom conversations with authors who have books coming out, and others in the literary sphere. Beth Lisick, ZYZZYVA, a clutch of excellent poets for National Poetry Month, Flash Fiction Collective, and more. Watch here.
FRAMELINE FILM FESTIVAL, the world's oldest queer film fest, has also been cancelled, but the organization just launched Frameline Play, "your doorway to a universe of LGBTQ+ stories that help you feel connected again to one another, and to the artists we support." It kicks off with a documentary about  lesbian rights leader Phyllis Lyon, who passed away last week at 95, and the ever-popular shorts collection 'Fun in Boys' Shorts." Watch and learn more here.
MARGA GOMEZ has been hosting a delightful online Comedy Brunch on Sundays—this Sun/19 is the final one, but look out for Comedy High Tea coming soon. Sunday afternoon starting at 1pm sees Don Reed (NPR's Snap Judgement, Amazon Prime's "Bartlett") Natasha Muse (Sketchfest, Punchline SF) Jennie Mcnulty (LOGO) Micheal Foulk (Austin Sketchfest, "Greetings, from Queer Mountain") plus Gomez bringing you some chuckles over your homemade mimosa. More info here.
BERKELEY REP has joined the Play at Home project: three of its featured playwrights—Julia Cho (Aubergine), Min Kahng (Where the Mountain Meets the Moon), and Peter Sinn Nachtrieb (Fall Springs)—are being granted "micro-commissions" to write short plays that can be performed at home. Get those stuffed animals together and strut the stage! There are already several plays up at the site, for one-to-10 humans to perform in isolation. (I won't tell if you do all the voices.) Check them out here.
My online show April 23rd at 6pm PDT! "An Evening With Peaches Christ & Her Home Movies"? I'll be screening three of my oldest drag queen horror shorts and giving you all the behind-the-scenes tea on life back then. Booger horror! RSVP: https://t.co/3Hun5N5hBP pic.twitter.com/Ec9ou0T8JN

— Peaches Christ (@PeachesChrist) April 16, 2020
PEACHES CHRIST our adorable drag doyenne of bloody terror, is hosting an online film festival of her own short horror-comedy films on Thu/23. "Vintage, low-budget, drag-queen horror movies featuring such luminaries as Heklina, Martiny, Squeaky Blonde, Vinsantos, Mutha Chucka, and more." Plus you get some old-school drag numbers—splash some fake guts on yourself at home! 6pm, Thu/23, more info here.
1015 FOLSOM, the legendary dance spot, is holding an online music festival all weekend called Quarantine for a Cause, Fri/17-Sun/19, which has dozens of DJs and acts in different dance music genres that you can groove to online. Tune in now at www.twitch.tv/1015SF!
CAL SHAKES has launched Cal Shakes Online—"shakes online" definitely sounds my current state! But this is actually a fantastic offering, engaging including 10-minute mini-lectures by Cal Shakes Resident Dramaturg Philippa Kelly, who "runs the canon" of all of the Bard's plays, #shelterhereabouts monologues by plus "Mystery Shakespeare Theatre 1592" a live watch party of a filmed version of one of Shakespeare's plays on Zoom, with four panelists provide hilarious and insightful commentary throughout. I love this to death. Find out more here.
PUBLIC WORKS nightclub is teaming up with fabulous streaming Fault Radio to bring us a 420 celebration poetically called "Clouds in the Distance." "A social (distanced) gathering from the freedom of your own roof. No roof access? No problem! Show up at your windows, balconies and anywhere else on your property that allows you to remain DISTANCED from your kind neighbors. Tune in to the DJ sets and give thanks for access to elevated mood and relief from the storm." It's a really good lineup, too. Mon/20, 3pm-5pm, more info here.
MUSEUM OF THE AFRICAN DIASPORA, like all museums, is closed, but Black artists have banded together to help it through these times. An online auction, entitled Diaspora Unite!: Artists of African Descent for MoAD, is happening in partnership with the online art sales platform Artsy, to raise funds for the institution. Participating artists include Dewey Crumpler, Lava Thomas, Kwame Brathwaite, Rashaad Newsome, Otis Kwame Kye Oquaicoe, and many more. You can see the online auction items starting on April 21 here. 
GAY SAN FRANCISCO Tue/21, 6pm-8pm, on Zoom, who can resist: "The Tenderloin Museum Online and Roxie Virtual Cinema are pleased to present a live, digital screening of "Gay San Francisco", a documentary film delving into the Tenderloin's early queer movements during the '60s and '70s.Created by filmmaker Jonathan Raymond, "Gay San Francisco" gives an unabashedly raw window into queer life decades ago. More info here.