One of the positive results of the past week of in-the-streets outrage is the increased focus on politicians who take money from law-enforcement organizations – and on the possibility of cutting bloated police budgets and redirecting that money to community-based services.
Police unions and statewide and national organizations have had immense political power in the past, in part because politicians loved to show off the endorsement of the cops but also because these groups put up big money for candidates they backed.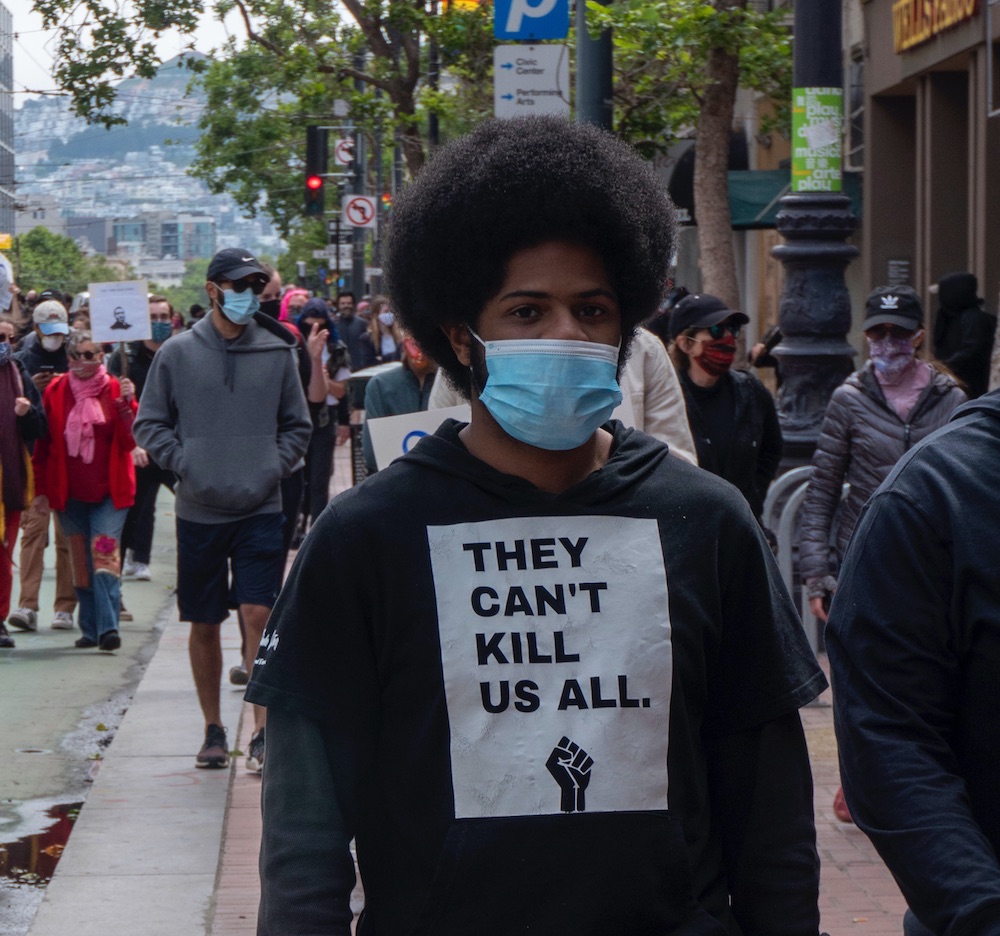 In the process, they have created massive obstacles to reform.
As former ACLU police practices lawyer John Crew told me:
 Police unions are to common sense police reform and accountability what the NRA is to common sense gun safety regulations. It's the exact same dynamic.  We understand the NRA is a big-bucks, bullying, special interest lobby and we understand what it means when candidates and officials take their money, their endorsements and fear taking positions that would trigger their ire.   And the police unions — and their role — are the reasons police abuse of the most extreme forms remains so very bad… after all this time.   No doubt about it.  None.
He continued:
The important questions right now are not "what" questions — as in "what needs to be done," or "what can stop this or reduce that." We DO know the answers to all that, and have known for a very, very long time.  The only relevant question at this point is "why" we've not done those things — "why" we are still in this horrible state, 30 years after Rodney King, 55 years after Watts, why SF broke it solemnly pledged word to all of us four years ago to expeditiously implement each and every USDOJ reform, and on and on and on. The answer is quite obviously the role of the racist, anti-reform, anti-accountability police unions — the special interest "bad cop/bad policing" lobby.  We don't punish them. We reward them. We don't expose them. We pretend they're legitimate political players. We don't shun and shame them. Far too many of our politicians — even in San Francisco — take their money and their endorsements. . . at least up to now.  And far too many city agencies — DHR, City Attorney's Office, Police Commission, DPA, SFPD management, Mayor's Office, etc., indulge them rather than put an end to their endless shit in various forms, in part because they're (bizarrely) perceived to have political clout. Or at least they used to be perceived that way.
District Attorney Chesa Boudin and some of his colleagues around the state are calling for a ban on prosecutors taking donations from law-enforcement groups. They say that it's a conflict of interest for people who may have to decide whether to prosecute a police officer to take money from the policy lobby.
State Senate candidate Jackie Fielder has called on incumbent Scott Wiener not only to stop taking money from police groups but to give back the $72,000 he has taken in the past from those organizations.
Wiener fought back on Twitter – in a way that has put even more focus on this money.
In the end, the uprisings against this horrible pattern of racist police shootings may force more politicians to refuse law-enforcement money, diminishing the power of that often-evil lobby.
The conflicts are endless. One modest example: Paul Henderson is the director of the city's Department of Police Accountability. He ran for Superior Court judge in 2016, and got a $1,000 donation from the SFPOA and $250 from its former president.
Henderson's job should put him in direct conflict with the SFPOA every day.
So it's beyond candidates for DA; people running for any public office that has oversight of the cops – including candidates for judge or sheriff – are now going to face scrutiny over accepting police money.
Back to Twitter.
Fielder put out a press release May 31 challenging Wiener to accept no police money and to give the money he has received to mutual aid organizations and bail funds.
Wiener announced June 4 that he will not take any more law-enforcement money and offered to donate some of it to community groups.
Then he accused Fielder of taking money from the San Francisco Deputy Sheriff's Association – which requires a bit of a political stretch.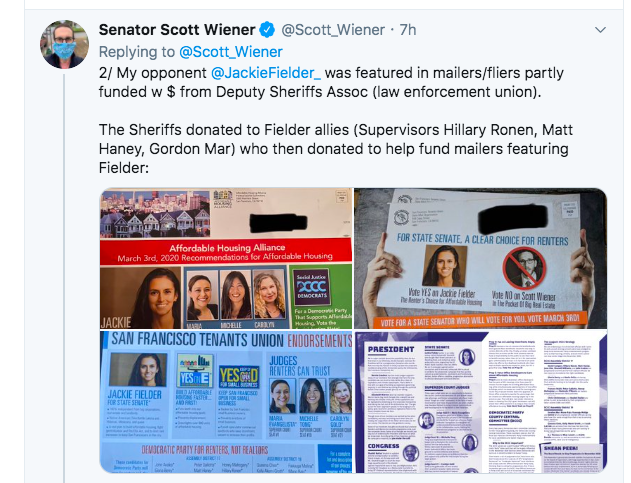 It also suggests that the well-funded incumbent is getting at least a little bit nervous; typically a state senator facing a challenger who has never held any political office and has far less money might ignore this whole debate and hope it goes away.
For the record, I have checked the campaign finance filings and Fielder has not taken any money from any law-enforcement organization. Neither have any of the organizations that put out slate cards endorsing her.
Some of the elected officials who are backing Fielder, and who have taken money not from the SFPOA but from the SF Deputy Sheriffs Association (also law enforcement, but nowhere near as heinous as the SFPOA or the statewide groups like PORAC), also gave money to the slate cards backing Fielder.
That's largely because those people were also running for Democratic County Central Committee, and chipped in for slate cards endorsing them. This is very common.
In theory, I guess, money that went to Sup. Matt Haney or Sup. Hillary Ronen from the Deputy Sheriffs Association could have (in the sense that all money is fungible) gone to a slate card from the League of Pissed Off Voters or the Tenants Union.
We are talking here about a few thousand dollars, not the $72,000 that Wiener got from police groups.
The League posted on Twitter: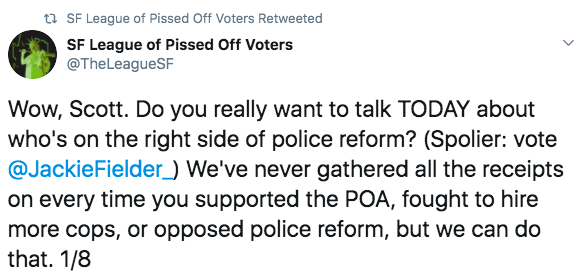 They then posted this list of times when Wiener has sided with the cops and against reform.
Beyond the Twitter war is a key point: Wiener and other Democrats are going to have to accept that they can't take any money from police groups — and that's a powerful change.
The other very encouraging sign here is that a national movement is emerging to "defund" police departments – not to eliminate them, but to redirect money form what are often massively overfunded operations into community-based alternatives.
Sup. Shamann Walton told me tonight that he is working with the Mayor's Office to redirect some of the more than $600 million that currently goes to the SFPD toward organizations supporting the Black community.
Walton told me:
Along with Mayor Breed our office is going to lead the effort on redirecting funding from the police department to the African American community.
We have been pushing for reparations for Black people here in San Francisco for decades. We have continued to see our organizations inequitably disregarded and disproportionally left out of receipt of vital resources. In these times of continued systemic and systematic oppression of Black people, we have to be innovative and strong with our solutions. In order to change this dynamic and provide a real opportunity for equity, we need to repurpose resources and give them to Black led organizations and communities in order to level the playing field and achieve successful outcomes. This is a concrete, bold and immediate step towards true reparations for Black people. I'm excited to lead on this with Mayor Breed.
As the mayor seeks major budget cuts, it will be interesting to see how much she is willing to take from the SFPD. And even a dollar in cuts would be a sign that the power of the police in politics is waning.
Which would be a sign that reform might actually be possible.