On December 1st, the Board of Supervisors is expected to vote on Board President Norman Yee's secondhand smoke ban, which would ban tobacco and cannabis smoking by residents inside apartment buildings of three or more units.
That would create a big problem for cannabis smokers: While people who consume tobacco can run outside for a smoke, it's illegal to smoke cannabis in public in California.
The bill would put the city, which is one of the nation's leaders in the cannabis-legalization movement, in the odd position of criminalizing pot smoking for a significant part of the population.
When shelter in place was first announced in March, marijuana dispensaries were deemed essential businesses.
Half of the city's residents live in multi-unit apartment buildings. The No Smoking in Multi-Unit Housing Complexes ordinance would essentially revoke their easy access to smokable forms of cannabis.
Yee told us he thinks cannabis smoking in apartments should be banned – even for the elderly and people with limited mobility. "While there are great benefits to cannabis there are still health risks of exposure to secondhand cannabis smoke," said Yee. "Smoking cannabis is also not the only method for consumption. There are plenty of other smoke-free ways to use cannabis including—edibles, oils and tinctures, topic creams, and patches. And if the issue is easier access to medical cannabis—that seems to be another issue we can concurrently work on addressing that is separate and apart from this legislation."
But Sup. Rafael Mandelman, who represents the Castro District, said he wants to see the measure amended. "My primary concerns about it relate to its prohibition on indoor cannabis smoking," Mandelman told 48hills. "It is illegal to smoke cannabis outdoors."
City health code permits tobacco smoking at the curb of multi-unit residential buildings. But in California, it's illegal even to open a container of weed in a public area.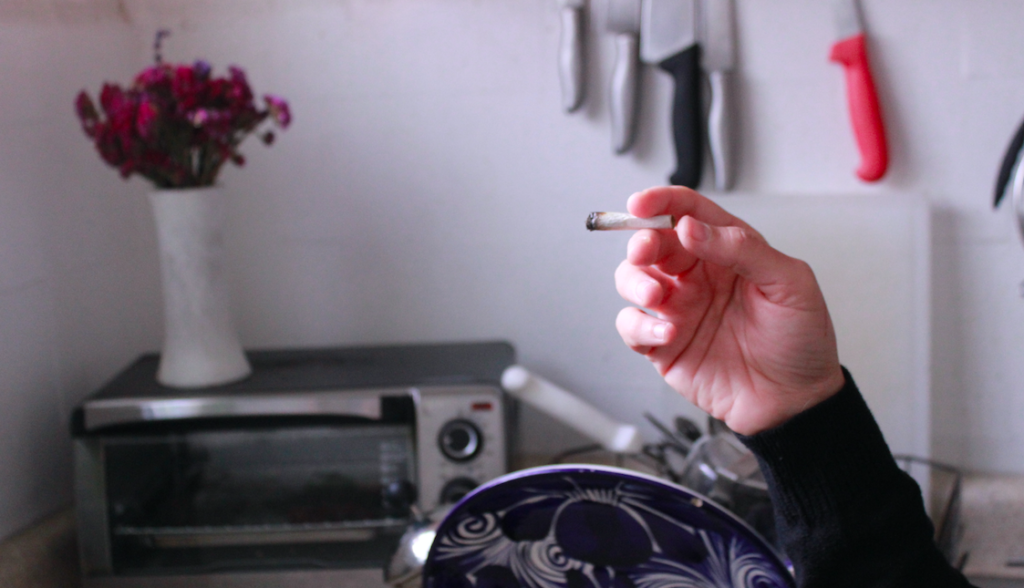 The proposed legislation worries Mike Whitty, a cannabis activist in his late 70s who lives in a Civic Center high-rise with hundreds of apartments. He doesn't know where he would smoke the plant whose usage he fought to make legal, should Yee's legislation pass as written.
"Let alone fined," Whitty told 48 Hills. "I could be evicted."
The former business professor at the University of San Francisco, who is active in the Brownie Mary Democratic Club and who has fought for cannabis access since the 1970s (he was a founding member of the Michigan Democratic Party cannabis caucus),said there's no chance of toking in his neighborhood, where copious amounts of security cameras are installed.
Whitty said he recently had a chance to test this theory when he invited a friend to a meal at Max's Opera Café. They tried sharing a pre-nosh joint on a bench in Opera Plaza, but were quickly rebuffed by a security guard who had clocked them via the building association's surveillance system.
Yee has already amended the legislation to exclude individuals with medical marijuana cards from the home smoking ban. But as Mandelman pointed out in a November hearing, four years after the passage of Prop. 64, not all people who use cannabis for a medicinal purpose go through the trouble of getting their medical card.
"It's a slap in the face to legalization," said Whitty. "I thought we had worn down the stigma [against cannabis usage]—at least in San Francisco, if not in America."
Mandelman said the move is inconsistent with the city's past policies. "Having supported a whole lot of laws and efforts to decriminalize cannabis use, and knowing that there are a lot of folks—particularly lower income folks—who rely on smoking cannabis rather than consuming it in other forms, it's concerning to me to have legislation that prohibits it," he said.
During the same hearing, Mandelman asked whether secondhand cannabis poses the same risk as secondhand tobacco hearing. In response, he received an email from a Department of Public Health representative that said secondhand cannabis contains "carcinogens like cadmium, chromium, benzene, and more than 33 other identified toxins," is traceable via THC found in children's bloodstream after their exposure, and has chemical constituents that could have harmful cardiovascular effects.
"It is, however, difficult to conclusively say the negative impacts [of secondhand cannabis and tobacco smoke] are equal," continued the DPH email. "This is largely because there are decades of research into the negative impacts of secondhand smoke whereas the research into the impacts of secondhand cannabis smoke is more limited; it is a newer area of study."
Inconclusive science aside, many governmental health organizations have encouraged regulators to include cannabis when limiting tobacco smoke. Berkeley and Daly City are among the 60 Californian jurisdictions that are already home to tobacco smoking bans. Some bans, like that of Santa Clara County, subject cannabis and tobacco to many of the same restrictions.
Residents of the comparatively denser San Francisco are often hamstrung by a lack of access to the kind of private outdoor areas that facilitate smoking bans. The ban would disproportionately affect lower income people, who tend to live in smaller apartments in big buildings (like SROs), while leaving unaffected single family homeowners—who often have backyards anyway.
If the bill is passed as written, punishment for violation of the law could incur up to $1,000 in fees a day, according to the SF Examiner.
"We're going to try to amend it," Mandelman said. "From preliminary conversations I've had with other members of the board—although I've not spoken with the majority—I think there is support for amending cannabis out of the legislation.