At noon today, a group of labor union leaders, LGBTQ activists, and other San Francisco residents marched from Market and Castro to the home of labor activist and lifelong Castro resident Allan Baird to honor Baird's contributions to the labor movement — and to its connections with the LGBTQ movement.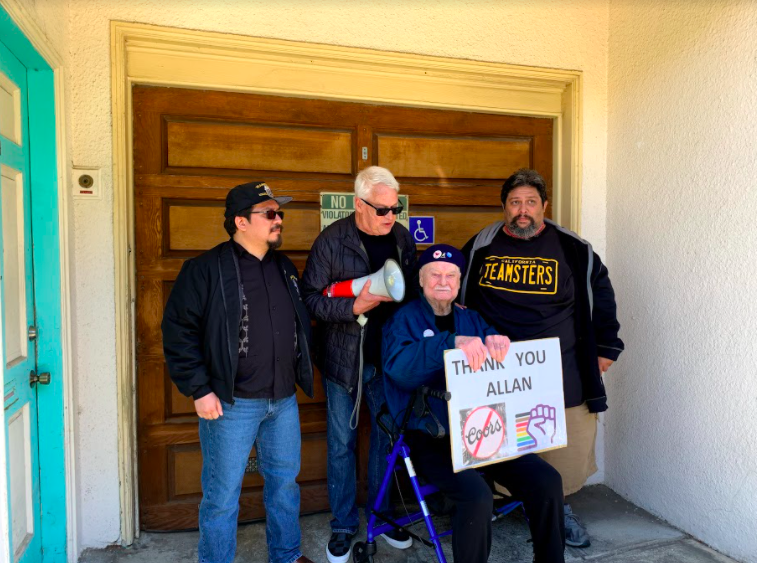 Baird, 89, was the president of Teamsters Local 921 and played a crucial role in building one of the first coalitions between organized labor and the gay community. In the 1970s, Baird, a straight ally, worked with Harvey Milk and the late labor and gay activist Howard Wallace to encourage gay bars to boycott Coors for its union-busting, homophobia, and racism.
Today's rally was organized by LGBTQ rights and labor activist Cleve Jones, who was also involved in the Coors boycott as Milk's close friend and City Hall staffer. Jones was inspired to hold the event when two Teamsters, Tizoc Arenas and Ruben Bustillos, expressed interest in meeting Baird and hearing more about his work with Milk and Wallace.
"Allan didn't really believe that anybody remembered him," Jones said, "so we decided we'd show him that we did."
Jones promoted the event on Facebook and through the San Francisco Labor Council. Although the rally was supposed to be a surprise for Baird, he learned of it yesterday from a neighbor who had read about it in the Bay Area Reporter. "We have more people than I expected, so that part was a surprise," Jones said.
The rally began with a series of speeches by Jones, GLBT Historical Society executive director Terry Beswick, Arenas, Bustillos, and other LGBT and labor union leaders and representatives. Also in attendance were Supervisors Dean Preston and Raphael Mandelman and former Supervisor and state Assembly Member Tom Ammiano.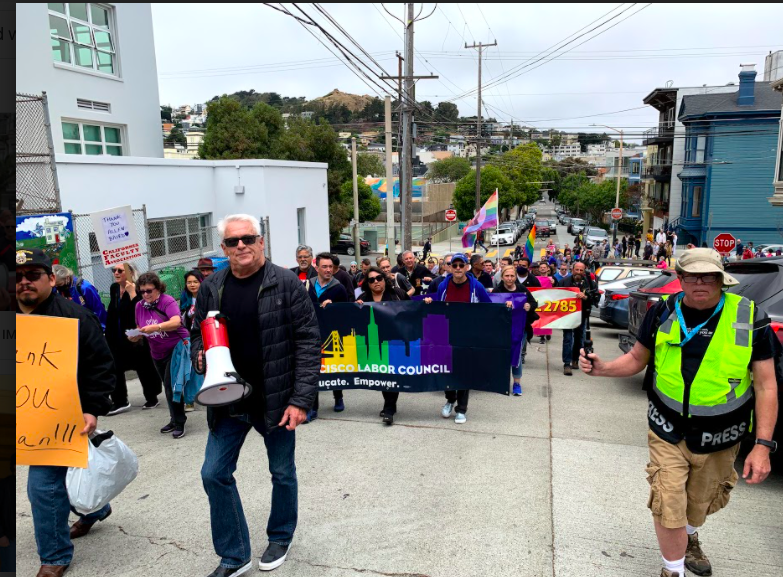 "Allan Baird is my hero," Arenas said. "He is a great coalition builder. To move forward in the movement, that's what we have to do. We have to stop siloing ourselves off from one another and be more cohesive."
Bustillos, a member of the Teamsters LGBT Caucus, agreed. "If it wasn't for [Baird] and his coalition building, who knows where the [LGBT] Caucus would be at this point," he said.
Members of the Musicians Union performed on percussion during the march from Market and Castro to Baird's home. The San Francisco Gay Men's Chorus led a rendition of "Solidarity Forever," with the Musicians Union providing accompaniment.
Baird was honored with letters, plaques, and certificates—including a Certificate of Special Congressional Recognition—honoring him for his contributions, particularly his work on the Coors boycott, his advocacy for affirmative action within the Teamsters Union, and his help defeating the 1978 Briggs Initiative, which sought to bar gay men and lesbians from working in California public schools.
Jones also reunited Baird with the bullhorn that Baird gave to Milk during the Coors boycott. After being elected to the Board of Supervisors in 1977, Milk gave the bullhorn to Jones, who used it for twenty years. The bullhorn has been on display at the Smithsonian, the Harvey Milk Civil Rights Academy, and the GLBT Historical Society Museum. "It's got all sorts of bumps and dents on it from police batons," Jones said. "Now it's home."
The rally concluded with a speech from Baird about his friendship with Harvey Milk and Howard Wallace and about his efforts to build multiracial coalitions with the United Farm Workers and other groups.
"I want to thank the LGBTQ people for everything they do… I really appreciate it," Baird said. Baird concluded by emphasizing his solidarity with trans people: "I support them one hundred percent."
After the rally, Ammiano praised Baird's courage and outspokenness and reflected on Baird's friendship and collaboration with Milk. "It was a very significant bromance," Ammiano said. "We still benefit from it today. They laid down a lot of building blocks."