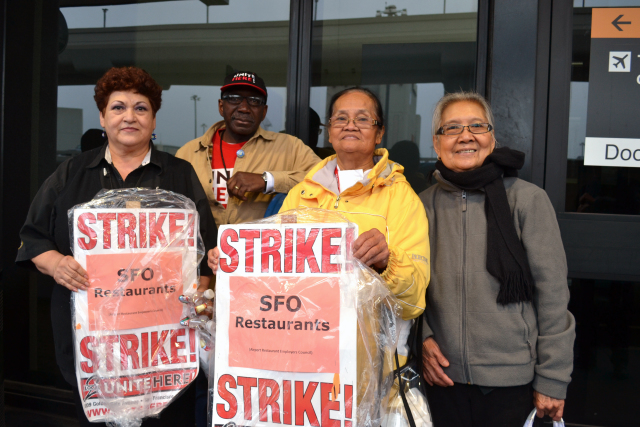 By Tim Redmond
DECEMBER 15, 2014 – When workers at San Francisco International Airport restaurants went on strike last week, Mayor Ed Lee's response was first to try to convince labor leaders to call it off. After two-thirds of the restaurants opened anyway, Lee decided he could back down; "I was ready," he told the Chronicle, "to send food trucks if I had to."
The mayor, of course, was worried that the travelers, already facing delays because of a rainstorm, wouldn't be able to get anything to eat. I don't think any of them would starve to death or suffer malnutrition in the course of a few hours – but they would be inconvenienced.
Commuters trying to get on BART or move along some East Bay freeways during the #blacklivesmatter protests were inconvenienced, too. Some critics have complained that the protesters alienated potential supporters with tactics that slow down travel and force people out of their daily routines.
I'm not a fan of looting, smashing windows, and punching people to make a political point. When I used to go to very, very long meetings in the days of the anti-nuclear movement, we argued forever (and we weren't even drinking, it wasn't allowed) over whether property destruction counted as "violence," which we were all against. My position: It is or it isn't, but it rarely helps the cause.
But interfering with the commute? Making people stop and say: Whoa, what's going on here? I'm not sure that's such an awful thing.

Critical Mass used to get blasted by people who couldn't get their cars out of crowded downtown streets. Anyone want to say, today, that Critical Mass was a mistake? Every time I got stuck behind the mass of bicycles, I'd say to myself: Why, exactly, am I in a car in downtown SF anyway?
I didn't really want to start this fight on 48hills, but when I read this, I thought someone in the San Francisco media needed to speak for the protesters. Consider what James Harrell has to say:
Is my momentary uneasiness fair at this time? No, probably not. I didn't do anything to create this broken system. However, my uneasiness will pass. Will an African-American man who is 6'4 and 220 ever not be concerned while in the presence of the police? Frankly, I can't imagine that reality.

As a millennial, I have the privilege of being familiar with all the protests that have come before, but only in a history class. Because of these protests, I'm able to have the weekend off, get paid time off, use a bus when I break my leg, identify as queer, and live and work while maintaining a relatively great life. If it weren't for folks that fought so hard to assure these rights, all American lives would be worse off. Though many are judgmental of these current protests, all of us benefit from past revolutionaries.
Black people are pretty much inconvenienced by the police pretty much every day. When white people are a few minutes late on the freeway, they might think about that.
There are always black-bloc anarchists in large Bay Area demonstrations. There are also, pretty much always, members of the Revolutionary Communist Party and other sects that speak of the need for violent overthrow of the United States (and capitalism, and pretty much everything else).
There are also, apparently, undercover cops, and possibly agents provocateur.
Other than giving up street protests, I'm not sure what the peaceful activists can do about that. Except to greatly outnumber them, which is what we did at most of the big antiwar rallies.
I am completely convinced that most of the anger in the streets was legitimate, an outpouring of disgust at the idea that the police can shoot young black men with impunity.  I also know, after many years of experience with the San Francisco left, that there are always (a few) people who like the idea of rioting in the streets and breaking stuff. If they get all the news attention, as they have, the news media are missing the point.
Not every protest has a specific demand. Not every spontaneous, or even organized, march in the streets is aimed at a particular piece of public policy or legislation. Sometimes we're just out there to say: What's going on right now isn't okay. Sometimes it's about saying to the nation, and the world: We in this community are so unhappy that we're going to take to the streets in numbers and show you.
Later, after that message is delivered, there's always time for legislation, lawsuits, and the rest of the policy agenda.
When the workers at SFO made it hard for some travelers to get a sandwich or a beer, they made a point to the vendors and to Airport management. (SFO doesn't control the food outlets; those are individual vendors organized through a management group. But SFO does select vendors – and, as with the Giants at AT&T Park, the venue operator has some long-term influence over whether there's labor peace.
So yeah: Inconvenience. Let's look at the larger context.