This weekend's choice nightlife and dance floor affairs, April 10-11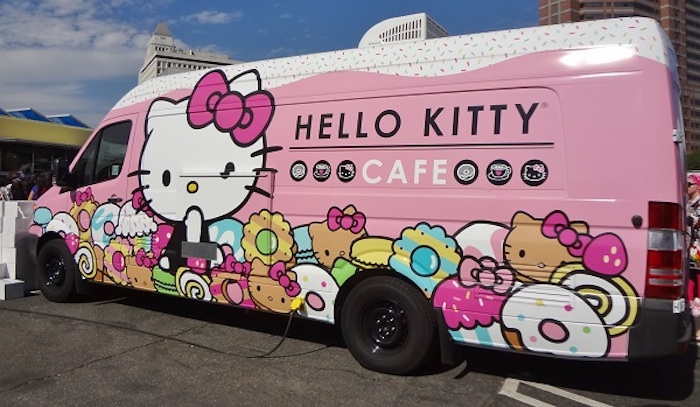 By Marke B.
PARTY RADAR Let me tell you of a magical palace, once located just off Union Square, called the Sanrio store. There, on two stories, one could commune with all manner of adorable, stuffed Japanese royalty: Kero Kero Keroppi, Bad-Batzmaru, Corocorokuririn, Monkichi — even Hello Kitty, flying a life-size biplane! (Some us got a lot of our club clothes there, as well.)
Alas, this happy-happy-happy paradise never served food. How cute that would have been. But girl, it wasn't Ikea. They didn't serve Hello Kitty meatballs there.
Well, rejoice — our Fluffy Topkapi may have vanished into the mist of skyrocketing commercial rents, like some irresistibly mewling Brigadoon, but there will be a Hello Kitty Cafe Truck coming to Japantown's Cherry Blossom Festival Sat/11 and Sun/12, 10am-5pm. I will let you longingly linger over possible oh-so-delightful, pastel-colored menu items that they serve in Hello Kitty Cafes in Japan.
I mean, sure, here are some great parties, listed below. But come on — Hello Kitty Cafe Truck!
>>FRIDAY<<
>>YURI'S NIGHT This worldwide party, named after pioneering cosmonaut Yuri Gagarin, celebrates cosmic exploration — kind of the perfect theme for a great party, yes? Head to Pier 70 for a HUGE (10k RSVPs!) happy hour full of dancing, food, performances, movies, and mind-blowing astronomical things. Let's go where no man has gone before. With cocktails. Fri/10, 4pm-8pm, free but you'll want to get an entrance ticket for quicker entry. Pier 70, SF. More info and entrance tickets here.   
>>DANIELE BALDELLI The legendary Italian has been slinging records since 1969, and has been credited with a prime hand in developing the art of what we now call DJing. Honey Soundsytem teams up with the Face party crew to bring him in for a loooooong overdue visit from this Cosmic Disco master. Really excited for this. Fri/10, 10pm-late, $15-$20. Mighty, SF. Tickets and more info here. 
>>24&YORK The new-old Pops Bar in the Mission might have cleaned up its decor a bit, but it also has dancing now — including this fun classic-to-new "rap music" joint from some good friends of mine. DJs Shane King and Marcellus pop it off. Fri/10, 9pm, free. Pops Bar, SF. More info.  
>>TALE OF US This dynamic duo from Berlin started right out of the gate taking festivals by storm with their subtle, emotive, deep tech sounds. Even better, they'll be joined by DJs from NYC's powerhouse club the Bunker — Bryan Kasenic and Neel — for a taste of underground New York now. Fri/10, 10pm, $15-$25. Public Works, SF. Tickets and more info here.
>>LAST NITE A 2000s indie dance party, you say? Let's all reconnect with the music that helped get us through that horrible period of American History and dance, dance, dance. "It's like we ate Pitchfork, stole your iPod and then rode off on your track bike." Fri/10, 10pm, $5-$10. Make-Out Room, SF. More info. 
>>DRAGULA: HAIRSPRAY FROM HELL Vampire-themed drag party hosts John Waters tribute night. What else do you need to know? Fri/10, 10pm, $7-$13. Tickets and more info here. 
>>SATURDAY<<
>>DEVOTION 12th ANNIVERSARY The house event of the season so far. Several years ago, beloved local DJ Ruben Mancias moved to NYC and took his longtime Sunday EndUp party, Devotion, with him. That party was incredibly diverse and soulful; you got shivers all over when the classic tracks played.  Now he's back, at the EndUp, with this reunion, DJs Spen, David Harness, and many more in tow. 10 hours of house joy! Sat/11, 10pm-8am, $15-$20. EndUp, SF. More info here. 
>>JOHN TALABOT Gah, I love this eclectic, ecstatic, space-y Spanish DJ and composer  so much. He just knows how to make a dance floor feel different, something you need to experience in person — he goes much deeper live. Sat/11, 9:3opm-3:3oam, $20. Public Works, SF. Tickets and more info here.
>>STUDIO 5'4″ This is a "quarterly disco party for pocket folk," i.e. queer people on the not-tall side of things — and their admirers. I can't wait to get down with some shawties.  Sat/11, 8pm, free. Lone Star Saloon, SF. More info here. 
>>SEBASTIEN LEGER Some wonderfully deanceable tech-house sounds from this longtime French music maker, pepping up Audio's dance floor for the fab Modular party's two-year anniversary. Sat/11, 9:30-late, $20. Audio, SF. Tickets and more info here. 
>>FAIRY BUTCH BENEFIT The classic transman club DJ is having a 50th birthday blowout to help raise fund for some ongoing health problems. All the queer club royalty will be there, including DJ Junkyard, bringing tunes from her essential '90s-'00s clubs Junk, Litterbox, and Muffdive. Sat/11, 4pm-8pm, donations starting at $12 at the door. El Rio, SF. More info here.
>>EROL ALKAN "I cannot play music I do not believe in, and I don't want to be someone I'm not." Those wise (and all too rarely heeded) words come from a DJ who always plays from the heart. Cypriot-Brit Alkan has been at it since '93, and will bring some razor-sharp underground tech-house energy to this Lights Down Low party. Sat/11, 10pm-3am, $15-$20. monarch, SF. Tickets and more info here. 
>>POUND PUPPY If your fetish is dressing like an eager gay puppy — or you're just into an incredibly fun vibe, great music, and hot, scruffy guys, this one's for you. One of my have DJs ever, Jeffrey Sfire, brings his magic freestyle and Italo sounds to the boneyard. Sat/11, 10pm, $10. SF Eagle. More info here.