Huge weekend for local queer cartoonists and fans at Cartoon Art Museum, Sat/20-Sun/21.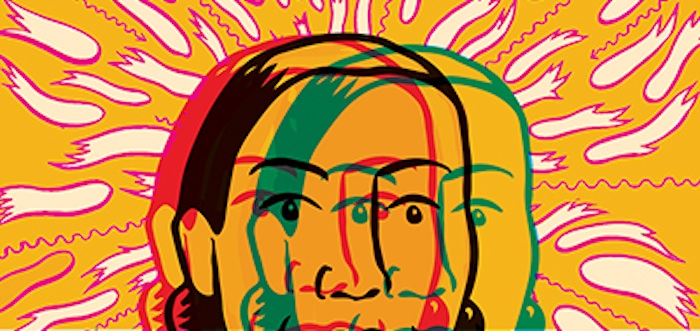 By Marke B.
ART LOOKS You know what's awesome? "Fun Home," the musical based on Alison Bechdel's brilliant graphic novel about growing up lesbian with a closeted gay dad, won, like, a zillion Tony Awards — a mainstream triumph not just for queer narratives but cartoonists in general.  You know what sucks? Our very own, 30-year-old Cartoon Art Museum, the only one of its kind in the West, is being forced to relocate in September due to skyrocketing rents. (It's still actively looking for a new space.)
You know what else is awesome, though? One of the Cartoon Art Museum's final big events before it closes (and one that will help it raise funds to move) is the two-day, talent-loaded Queer Comics Expo (Sat/20-Sun/21) as part of the National Queer Arts Festival, featuring more than a dozen local cartoonists whose work is often as rewarding and groundbreaking as Bechdel's. And you know what sucks about that? NOTHING!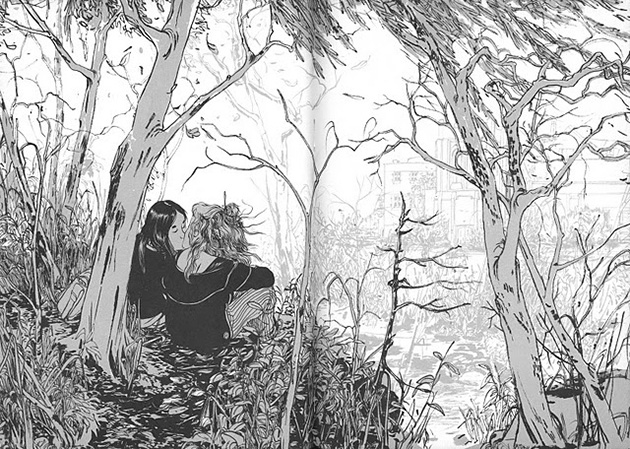 "The queer comics scene is exploding," co-organizer Justin Hall told me.  "We now have several generations of creators making amazing work, from big-name cross-overs like Alison to a new generation of webcartoonists pushing the boundaries of the comics form and what it can say about gender, sexuality, and identity."
Hall, who edited groundbreaking queer comics history textbook No Straight Lines: Four Decades of Queer Comics and is an Assistant Professor at the California College of the Art (the only Professor of Comics on the West Coast), added, "In the past, all of us queer cartoonists knew each other because it was such a small world; now, there are too many of us to keep track of… Which is wonderful!"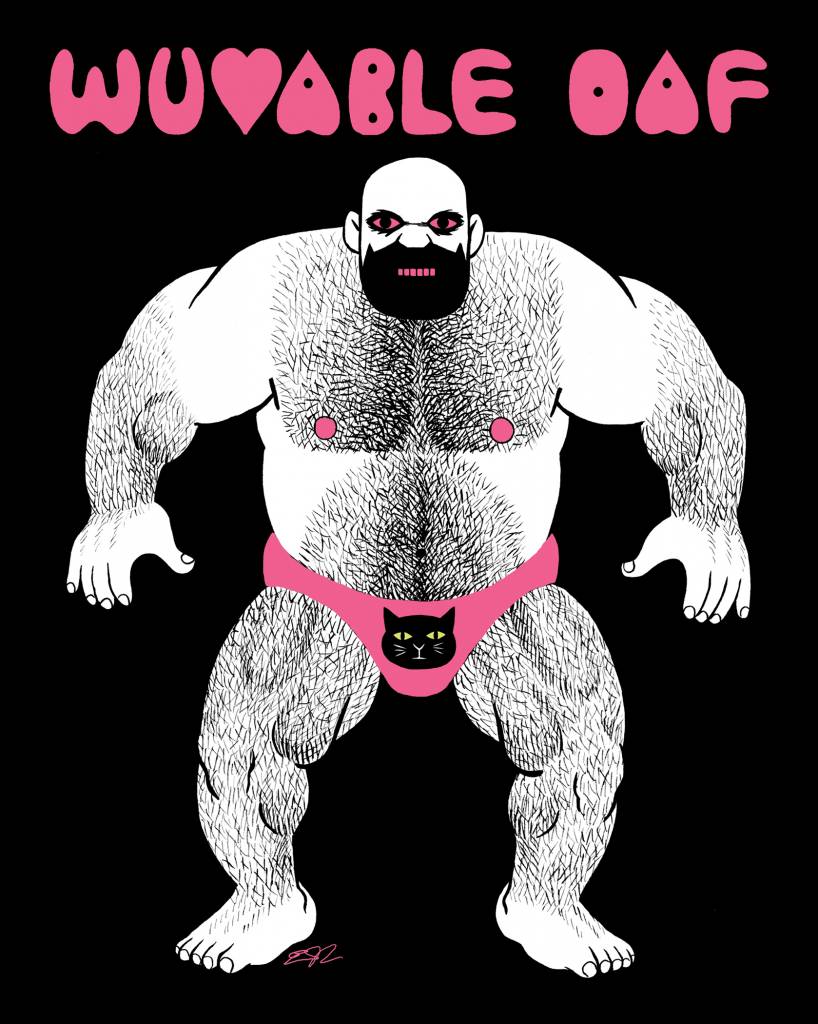 This is the second QCE, but it's gone gonzo since the first one last year.
"Last year's initial single-day event exceeded our expectations, and we had over 200 guests take part in the Expo. This year we've gained several generous sponsors, and we've raised the bar by adding more creators, more programming, and expanded the event to an entire weekend," Nina Kester, the event's head coordinator, said in a press release.
Kester described the event's genesis to me via email. "The idea came from the Cartoon Art Museum's Bookstore Manager, Heather Plunkett. She wanted to do a queer comic convention since she started working at the museum in 2008 and meet a lot of queer artists who came by. The Latino Comics Expo did well when they ran their show at the museum and she wanted to do something for pride and to continue to showcase another side of comics content outside the mainstream. Heather did have a Laydeez do Comics group Queer Comics themed night on August 23, 2013 with Justin Hall and Mary Wings.
"In February I started volunteering at the museum and provided the extra catalyst of time, energy and experience to make an expo out of the night's theme. I had previously organized the yearly comic show 'Freshmeat' while a student at the School of Visual Arts and had a career doing publicity and events for Archie Comics and social media for PEANUTS. I'm also a queer cartoonist as a professional colorist, though I don't currently publish my personal work."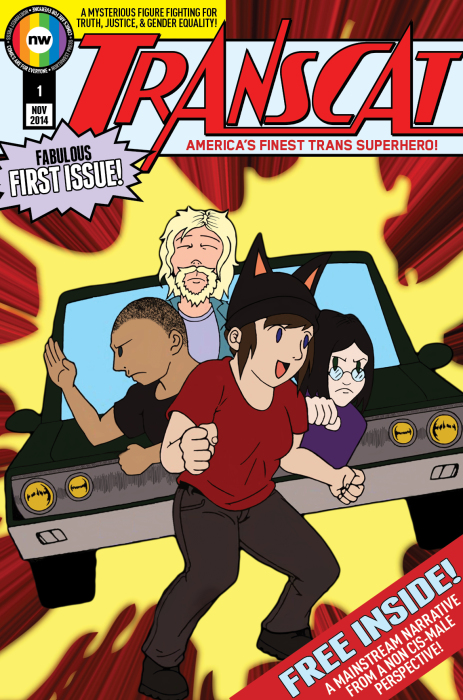 "The museum's director, Summerlea Kashar is exceptionally queer-friendly and has helped facilitate the Queer Comics Expo both years and lent valuable experience from her nearly 2 decades with the museum. This year, the Cartoon Art Museum's curator, Andrew Farago has helped with connections for bringing in new creators."
Director Summerlea Kashar says, "We have always been supporters of LGBTQ artists. We've also done themed exhibitions of women cartoonists, African Americans, and many other segments of the population.
"Our existence in San Francisco places us among many milieux, not the least of which being an incubator and a mecca for the marginalized. One of our first exhibitions of queer comics was in 2006, No Straight Lines: Queer Culture in Comics. We have exhibited a number of queer cartoonists as part of other exhibitions, and worked with students from CCA for a spotlight exhibit in 2010. We have also had exhibits which feature LGBTQ culture and issues, as with our 2011 exhibition of Eric Drooker's Howl animation, based on Allen Ginsberg's poem.
"Our bookstore manager, Heather Plunkett had been in touch with the LGBT Center and discussed the possibilities.  And last year, with the help of a number of volunteers, we held the first Queer Comics Expo. It was such a great experience and we had so much great response that we knew we would have to do it again, and this year we expanded to two days.
"I don't think the interest in LGBT culture has necessarily changed but with this event, we've increased the dialog in our own way.  We hope that we are always a venue for artists and creators to get together and interact with visitors and the general public.  Open them up to art and artists that they were not aware of, give them some insight into the creative process and the history of cartoon art."
This year's expo will spotlight the work of Mariko Tamaki, who teamed up with her artist sister Jillian to produce the gorgeous Skim, "a graphic novel account of coming of age and sexual questioning in a Catholic high school" that was nominated for the Eisner Award and won the Ignatz Award. Mariko and Jillian's latest, This One Summer, was named a Caldecott Award Honor Book and has been nominated for a 2015 Eisner Award.
A who's who of flamboyant expositors, including Ed Luce of "Wuvable Oaf" fame, Mari Naomi, Laydeez Do Comics, Poppers the Pony, Art Activist Nina, and many more are complemented by representation from the two biggest queer comics publishers, Prism and Northwest Press and a series of panels and presentations, including Hall's "Teaching Queer: LGBTQ Comics in the Classroom" and Casey Gilly's "Creating Safe Spaces in Fandom."
Hall told me, "There are other LGBTQ comics events happening these days: Bent Con in Burbank, Flame Con in NYC, and the Queers and Comics conference that was just hosted by the City University of New York. But the Queer Comics Expo is unique, as it's an intimate, creator-focused show hosted by a museum — the wonderful, local Cartoon Art Museum.
QUEER COMICS EXPO
Sat/20-Sun/21, 11am-5pm
$8-$14+ weekend passes
Cartoon Art Museum
655 Mission, SF.
More info here
Facebook invite