Porn patriarchs, Kenyan rebels, cute couples, stud strippers, and even more at the huge LGBT film festival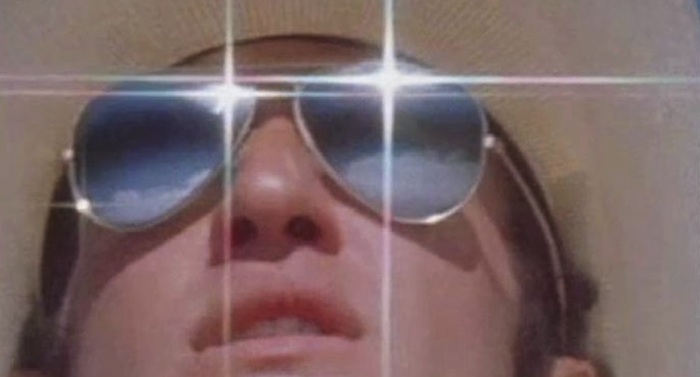 By Marke B.
SCREEN GRABS I remember my first Frameline movie like it was yesterday, not — gasp — 20 years ago. (The world's largest LGBT film festival runs Thu/18-Sun/28; See our critic Dennis Harvey's reviews of some of the major films here.)
It was 1995, the flick was the soon-to-be-legendary Go Fish by Rose Troche, which took a hilarious, freewheeling cinema verite-like look at contemporary lesbian relationships (and the slippery identity politics coded therein). Even better than the movie, however, was the audience. This was when the boyish "baby dyke" look was starting to crest in popularity — think Justin Bieber in combat boots, or Alison Bechdel's Moe with more piercings — and I was surrounded by the hootingest, holleringest crowd of cuties on the planet. The movie really spoke to them (and me), with its awkward protagonist, diverse cast, and search for a "hip-hop Barbie."
That transformational experience can still exist. And even though Frameline has come under criticism for some of its sponsors, it still delivers news of the gay world in a necessary way. This year, from Peter Greenaway's high-art, uncensored take on sexual de-colonization and artistic folly Eisenstein in Guanajuato (Thu/25, 6:30pm, Castro Theatre) to the feisty, affecting South African While You Weren't Looking (Sat/20, 9:30pm, Roxie Cinema) which tells an of-the-moment tale of unraveling lesbian relationships and rediscovered ethnic identities, you'll find a rainbow of big-screen treats. Here are a few I checked out:
>>SEED MONEY: THE CHUCK HOLMES STORY

This eye-opening (and fly-opening) documentary from director/writer Michael Stabile and Ben Leon, the team behind revelatory short Smut Capital of America, tells the story of porn titan and philanthropist Charles M. Holmes — yes, the man our very own LGBT Community Center is named for. In 1971, Holmes started legendary porn studio Falcon Entertainment with a colorful bunch of skin-flick visionaries. Falcon came along right as porn was making the transition from grubby backroom cinema to living room entertainment, and rode two incredible waves of success, one in mail-order delivery and another when VHS and, later, DVDs exploded. The filmmakers make a good case that Falcon helped spread gay liberation by normalizing homosexual desire in the post-Stonewall era, and there are some great clips that bring porn legends like Al Parker to life. Ultimately Holmes, an introverted yet voracious giant, remains an enigma, and Seed Money declines to truly deconstruct his version of "All American" (i.e., young, white, blonde, slender, preppy — basically what would have happened if Tab Hunter went into porn) that dominated porn throughout the 1980s, and alienated many viewers. But the film's a wild, unbridled combination of essential history, toned abs, and feathered haircuts. Sun/21, 9:15pm, Castro Theatre. 
Kenya's NEST Collective delivers a gorgeous gut-punch with this one. Sumptuously black-and-white-filmed segments tell true stories of gay love — in the schoolyard, on the farm, at an academic conference, around the corner from the DVD stand. Despite Kenya's institutionalized homophobia and very real threat of violence and imprisonment, each story creates a poetic, unabashed atmosphere of love, lust, and longing, as the narrators realize poignant truths about their (and our) world. If the stories at first seem overly familiar, that only proves the universality of the gay experience, despite territorial politics. An astonishing final segment, which drifts from horrifying reality through a magical dreamscape into sublime humor, throws a transforming light back on the past segments, and will make some of us realize just how good we have it. Mon/22, 7pm, Landmark Piedmont and Sat/27, 1:30pm, Castro Theatre.
>>WELCOME TO THIS HOUSE, A FILM ABOUT ELIZABETH BISHOP
An ingenious mess, but a necessary and ultimately engaging one. Legendary feminist filmmaker and activist Barbara Hammer takes on the life of one of America's most essential poets — one that, despite being well-documented, remains fascinatingly opaque. The idea is great: to examine Bishop's life and loves via her series of homes. Bishop led a peripatetic life "timorously kicking around the coastlines of the world" from Nova Scotia and Key West to Brazil and beyond, and her poetry is obsessed with geography and location. And, despite her sexuality being taken a face value by herself and her peers, Bishop never publicly or politically identified as a lesbian, so there's much to be explored in her personal life as it related to her times. Her tragic relationship with brilliant Brazilian architect Lota de Macedo Soares is one of the great love stories of the last century — here, Hammer delves deep and also fleshes out many of Bishop's other romances and locales. We get great tours of Bishop's enviable real estate, and an incredible chorus of nonagenarian remembrances. (Bishop's now-96-year-old Brazilian maid jumping up to do the samba is alone worth seeing the film.) But in the end there are too many voices (including the usually wonderful Joan La Barabara's intrusive soundtrack), too many tones, too many images, too much history, and too little poetry in this relatively short film to cohere as either an intelligible portrait or a statement about the relentless drive of love. Bishopfiles like myself, however, will be stoked just to get a peek inside her life. Tue/23, 7pm, Rialto Elmwood and Thu/25, 7pm, Roxie Cinema
A charming, improvisational ensemble piece complete with self-conscious millennials, Instagram-ready seascapes, and slightly naughty hi-jinks that could easily be described as "J. Crew mumblecore" if it wasn't for the great appeal of the cast. Three New York couples — one straight, one lesbian, and one gay — converge for a getaway weekend and fumble awkwardly with their impending relationship troubles over drunken card games and beachside rambles. Director William Sullivan had the actors work from a skeleton script, and cinematographer Derek Dodge flooded them with lovely white light. It takes a while for you to realize that the cast is so pretty and so good at improvisatory dissembling that you've just spent five minutes watching them pick out an outfit. This is a film where it's a major crisis that one of the characters doesn't know how to ride a bike, but he's cute so who cares. Let that guide your viewing decision. (When one of the gay guys asked, "What's wrong with this weekend?" my viewing companion snarkily replied, "It could use a good serial killer, maybe.") Sun/21, 6:30pm, Castro Theatre
This breathless look at the hyper-masculine underground lesbian "stud/AG" stripper scene quickly turns into an examination of how labels in the African American lesbian community (and beyond) can restrict natural expression, then veers into a confrontational condemnation of the power of social media, and finally ends with hashtag activism uplift. The Same Difference may have no clue what it wants to be, but this documentary from director Nneka Onuorah yields some invaluable character studies and a revealing look at the prejudices queer people still hold about one another, despite appearances. Kellz, a stud stripper who's denigrated for wearing a weave rather than shaving her head, Snoop, a swaggering actor who must train herself to take on "feminine" roles (scenes of her fumbling in high heels are priceless), and more — including a pregnant stud and a bisexual beauty — are profiled with sympathetic grace, even though some of the attitudes around them (and online) seem poisonous. You get a little hip-hop, you get a little poetry, and you definitely get a lot of fly looks in this film, a unique take on both the elasticity and confinement of "masculine" and "feminine." Tue/23, 7pm, Roxie Cinema and Sat/27, 6:30pm, Victoria Theatre