More than 30 people gathered last week outside the home of yet another Bayview family losing a home of 19 years. It couldn't be more ironic: The Tello family has worked for decades to rally for social justice — and supporting families at risk of losing their homes.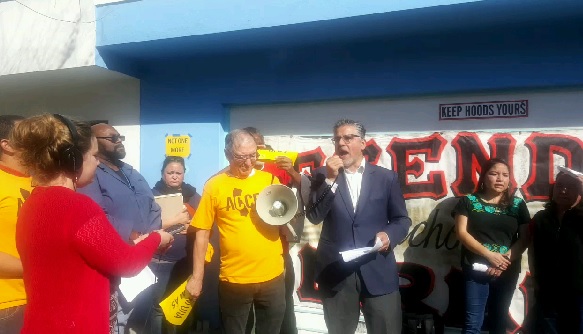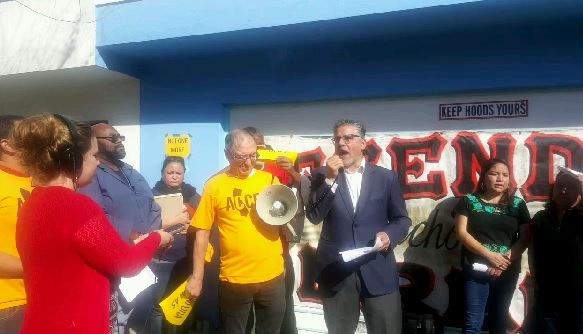 The pending eviction raised a larger question: What is a federal housing-finance agency doing selling mortgages to Wall Street, when that means more foreclosures?
Community leaders stood alongside families and supporters to denounce what they call the complicity of the Federal National Mortgage Association, Fannie Mae. The mortgage behemoth was rescued at the height of financial crises by tax payers, and since then it has grown to become one of the largest financial institutions in the world. The residents of San Francisco are not the first ones to call out Fannie Mae. But how many more homes will be lost?
District 11 Supervisor John Avalos demanded that Fannie Mae stop selling foreclosures to Wall Street speculators. "Low-income families are being driven out of our neighborhoods," he said. "This displacement must be stopped.
A recent pool of loans sold by Fannie Mae went to Goldman Sachs. Richmond City Council Member Gayle McLaughlin, who has long supported the residents of Richmond against evictions, showed up in support of families at risk of eviction in San Francisco "We want Fannie Mae to commit to not sell off anymore mortgages in any city and in our state as a whole to Wall Street investors. We want them to go to the mission-driven nonprofits and we want them to work with the Tello family and get their loans into the hands of one the nonprofits," she said.
Juana Teresa Trello, 29, has been fighting to keep her parents' house as they struggle with a pending eviction. "It's not a coincidence that poor people of color are being evicted out of neighborhoods," she said. "We live in what they call a model block in Bayview, and we know that the authorities will find any reason to get us out of here."
Jesse Tello, Juana's dad, had a work-related injury that forced him to retire, and he got behind on his mortgage. Fannie Mae wound up with note. "We have been given the illusion that they are trying to help us but so far we have received mortgage notices from several companies," she said.
As the crowd continued to chant "Ni Una Más" (No more) Gabriele Medina, policy manager with the Mission Economic Development Agency, began to address the rally. "There's a system of displacement going on against the Black, Brown and Asian American community," he said. "San Francisco is on its way to become the whitest city in California by 2040. We can do something about this, these predatory foreclosures and loans are one example and part of the toolkit that is targeting communities of color and working-class people in cities like San Francisco. Cities where we can get services, cities where we can educate our children, cities that we were born and raised, cities where we take refuge in when we are not welcome anywhere else, that's San Francisco.
"Eight thousand Latinos have been pushed out of the Mission since 2000. That's nearly a third of the Latino population in the Mission District. In Bayview, we are looking at nearly 4,000 African Americans being pushed out since 2000, this is systemic, this is not by accident. This is profit over people."
This is just one of the many protests planned, as Fannie Mae and Freddie Mac continue, nationally, to sell-off pools of severely delinquent mortgages to Wall Street speculators. Both agencies have each announced February sales totalling more than10,000 mortgages. According to data released by Fannie Mae, in November 2015, the agency sold 7,000 loans nationally to Fortress Investment Group and Goldman Sachs.
According to the Alliance of Californians for Community Empowerment, "While deemed 'bad debt' by the sellers, most of these homes are still occupied and sit in communities where homeownership preservation and affordable housing is sorely needed."
Last year, the Board of Supervisors unanimously approved Resolution (82-15) in support of a San Francisco Controller's report revealing an alarming 3,002 distressed mortgages, mostly in Black and Brown south and southeastern neighborhoods. The resolution urged Mayor Lee's Administration to fight to "sell these at-risk loans to qualified non-profits that have the funding and infrastructure to purchase and restructure the loans for the benefit of helping homeowners secure affordable and stable mortgages that can lead to long-term economic security."
Ever since then, there have been repeated attempts including a letter sent in January 2016 signed by eight supervisors, urging Mayor Lee to help stop displacement of Black and Brown community members from city neighborhoods.
Lee has yet to responded, but for the Trello family there's no option but to keep resisting an eviction. Trello feels their struggle isn't just personal "We are here to tell the community that we will not go and that we will continue to stand by others who are at risk of losing their homes."