The district attorney's special task force investigating the San Francisco Police Department issued a devastating preliminary report tonight suggesting that pretty much everything in the department is a mess.
It's yet another indictment of the leadership of Chief Greg Suhr, and will add to the calls that he step down or be fired.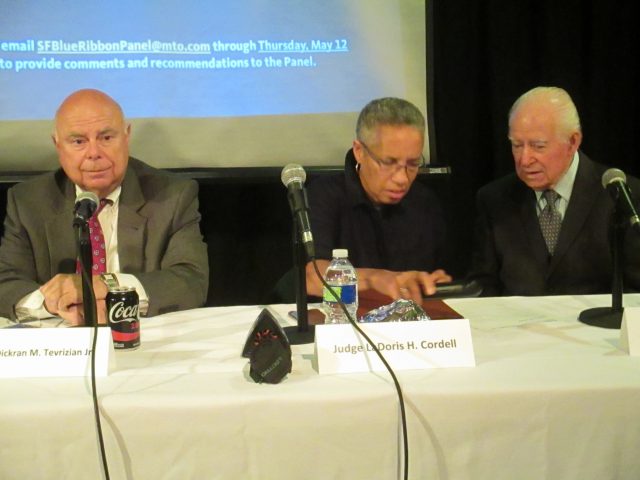 The Examiner had the preliminary information this morning, but the actual presentation was even more dramatic. A series of lawyers, mostly from big local firms, who worked pro bono to research the department, presented reports that showed an agency riddled by outdated policies, ineffective procedures, an utter lack of transparency, and patronage and nepotism.
Overall, the report shows, the department allows rogue officers to operate with impunity and there's a profound lack of accountability at all levels.
Oh, and as Raymond Marshall, an attorney with Sheppard Mullin, noted, "we find that the SFPD is, in fact, influenced by the [Police Officers Association] and the POA's influence has been an impediment to open dialogue and sustained reforms."
The panel, run by three distinguished judges, including LaDoris Hazzard Cordell, Dickran Tevrizian, and Cruz Reynoso, who was one of the best justices of the California Supreme Court ever in history, was convened by Gascon, a former SF police chief, but operated independently.
One of its major recommendations: An independent agency needs to audit the Police Department – and there's nobody to do that right now. The Police Commission lacks the staff (and frankly, the political will). The Controller's Office hasn't done performance audits, and lacks the expertise. The Office of Citizen Complaints responds to incidents only when someone files a complaint, and has only one policy person on staff.
That's a really good argument for creating an Office of the Public Advocate, something Sup. David Campos is proposing. The city could move the OCC under that office, and the public advocate could handle the audit function.
Among the other preliminary findings:
The SFPD has fine policies around racial disparities in policing, but those rules aren't getting followed. At best, Danielle Coleman, a lawyer with Morrison and Foerster, noted, "officer compliance with data collection is incomplete."
African American and Hispanic people are far more likely than whites or Asians to be searched after traffic stops, she said – although there are far fewer instances when those searches lead to the discovery of anything illegal.
Rachel Davidson, who works with Sidley Austin, reported that the hiring and promotion process is a disaster – there are no clear rules, there is no transparency and no published criteria.
"There is real potential that qualified candidates are passed over," she said.
More: "The disciplinary system is a bit of a mystery. Candidates with disciplinary records for bias can advance through the promotion process."
The background investigation process for new hires is "a black box," she said. As many as 75 percent of the background investigators are former SFPD officers, and it's not clear what rules they use for screening candidates.
There is, she said, "actual and perceived nepotism" in the department. No surprise there; it's an open secret. But the panel made clear that it's an issue that must be addressed.
Michelle Park Chiu, of the office of Morgan Lewis, noted that the SFPD Use of Force policies haven't been updated since 1995. The department, she said, "does not collect enough data to see if the use of force disproportionately impacts minority populations.
When it comes to discipline and accountability – in my mind the most important issue in the department – the report was exceptionally critical. Nicholas Graham, an attorney with Munger Tolles, noted that there's a radical lack of transparency in discipline – the public basically has no idea whether officers are ever held accountable at all – and noted:
"The discipline imposed by the chief of police is almost always mild, mostly just admonishment. There has not be one sustained complaint sent to the Police Commission (which can impose discipline of more than 10 days' suspension) since 2012."
In that period, there have been more than 2,000 complaints.
The Office of Citizen Complaints, he noted, "has not sustained a complaint of biased policing since 2012," although more than 200 have been filed.
It's a scathing description of a department that can't follow its own rules and policies – and a mayor and Police Commission who can't enforce any discipline.
John Crew, a former police-practices lawyer for the ACLU, noted in his public comments that "all of this should not be necessary." He said that many of these problems were not new, but that the city has shown "the lack of political will to deal with these issues."
He noted that Suhr is the highest-paid police chief in the country (at $300,000 a year) and that even entry-level officers have some of the best pay and benefits. "We have invested in professional law enforcement," he said. "And what we got was amateur hour."
Indeed.
Here's the scary thing: Suhr can't last, and will likely retire soon. But there is nobody better in the command staff — and the POA has such a grip on the department that it will be hard to bring in an outsider. Still, that seems to be the only solution.