Hundreds gathered at Civic Center on Saturday to protest President Trump's ban on travellers from Muslim countries regardless of legal immigration status. 
Last Friday, through an executive order Trump banned citizens from Iraq, Syria, Iran, Libya, Somalia, Sudan and Yemen from entering the country. Trump has also insisted on building a wall with Mexico and  signed an executive order directing enforcement action against sanctuary cities. 
Since the executive orders were signed, hundreds have come out in protest to demand the orders be reversed as they feel they're racist and against American values. 
Madiha Khan, 23, says she's scared she would have to go back to a place she doesn't recognize as her home "this is my home" #NoBanNoWall pic.twitter.com/UUOLb1eJ3V

— Sana Saleem (@sanasaleem) February 5, 2017
Madiha Khan, 23, is undocumented and fears Trump's policies will force her out of the country: "I'm here because I'm undocumented, I grew up a Muslim and I'm a woman and I feel like all three of my three intersectionalities of my identity are being targeted," Khan said. "I fear for my family and for myself, I fear deportation from a land that is all I know. I've lived here since the age of seven and now I fear that I'll have to go back to a country that I do not know as my home. This is what I know as home, this is where I will stay and this is where I will resist." 
He asks: "Do you think that infant is a terrorist?" Crowd chants back a unanimous "no" #NoBanNoWall pic.twitter.com/llkAoLWynZ

— Sana Saleem (@sanasaleem) February 5, 2017
Ismael A. Mansoor, Yemen's Honorary Consul General in San Francisco, narrated the story of a Yemeni family being impacted by the ban: "The mother was traveling from United Arab Emirates with her daughter, an infant, just one and half months old," Mansoor said. The mother was told she was welcome in the United States as she's a US citizen, but she was told her infant can't enter. Mansoor then asked the crowd: "Is that infant a terrorist? Is she a terrorist?" the crowd chanted back unanimous "no".
'This is my home:' Yemeni-American reunites with family, says about 50 others detained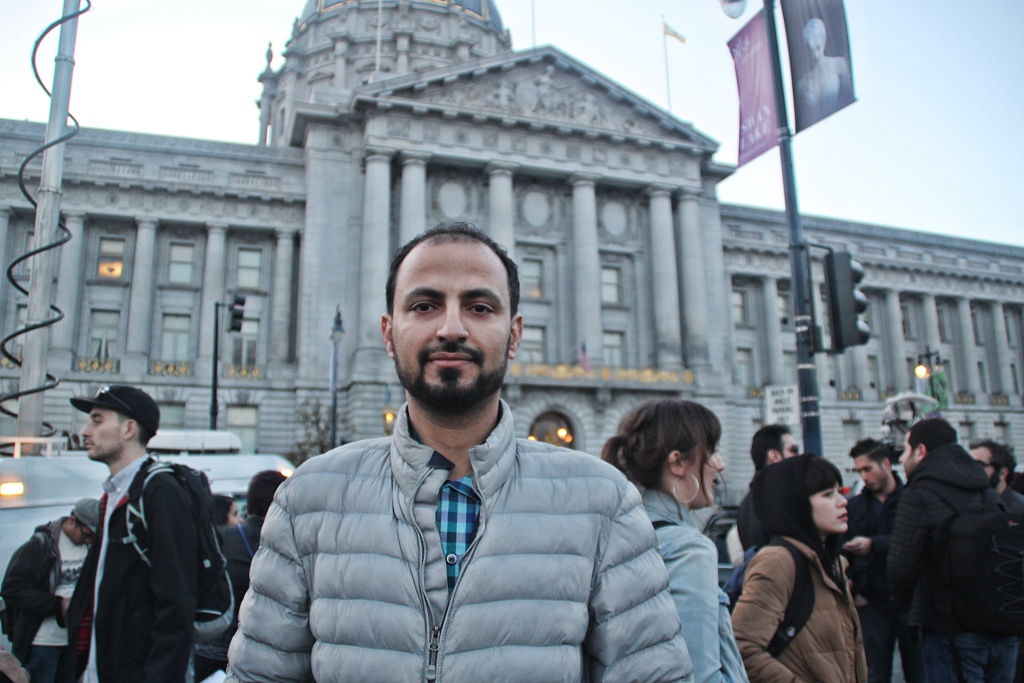 For Abdul Rakeeb Hadwan, the Bay Area has been home since 2004, when he fled Yemen along with his family. However, Hadwan's refuge now haunts him: "When I heard the news I was scared. There were three four nights I didn't sleep. I'm scared for my kids and for my family and keep thinking what's going to happen to us." Hadwan still has family back in Yemen, but is thankful that his parents were able to come to United States.
Hadwan narrated the ordeal that forced his parents out of Yemen: "Our country is at war. It is almost like a civil war. Our house was almost destroyed in the war and there was big fights in the area we lived in. My mum had to travel 19 hours just to get to another city to get a visa to come here."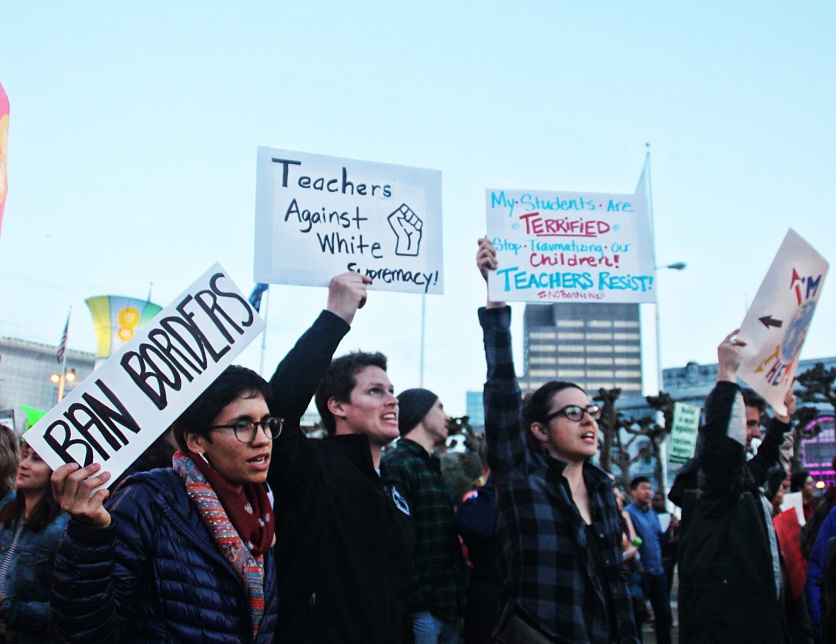 Katie Kelly-Hankin, David Nutt & Monica Balanoff are public school teachers who have had to console their students as they grapple with fears and uncertainties under Trump's presidency: "I'm here because a lot of students I work with came to school crying and terrified the day Trump was elected. I've had students come in crying for many days since then including just this week afraid that they'll be taken away from their parents, put up for adoption forced to go to Mexico," Kelly-Hankin said. The children's fears are founded in Trump's executive order on immigration & his stance that he will be cracking down on undocumented immigrants.
According to Migration Policy Institute, there are 208,000 undocumented children under the age of 16 in California. Children who are legal residents but have parents who are undocumented are risk of being separated from their family. 
Kelly-Hankin said students of color felt uncertain and terrified: "My black students have asked me if they'll be sent back to Africa because they've never been there before." 
Nutt teaches second grade children about activism to help them understand their rights: "My students asked me the day Trump was elected why he hates Mexican people. It's very hard for me to speak to them about hate and bigotry in a way that's realistic and reflects the world we live in but in a way that can still make them feel that they've agency and ownership of their life." 
Balanoff was overwhelmed as she stood alongside her colleagues at the protest: "I continue to be outraged by what's happening. I feel like continuing to protest feels really important at this moment because I'm very afraid that people will become apathetic and normalize all the things that are happening."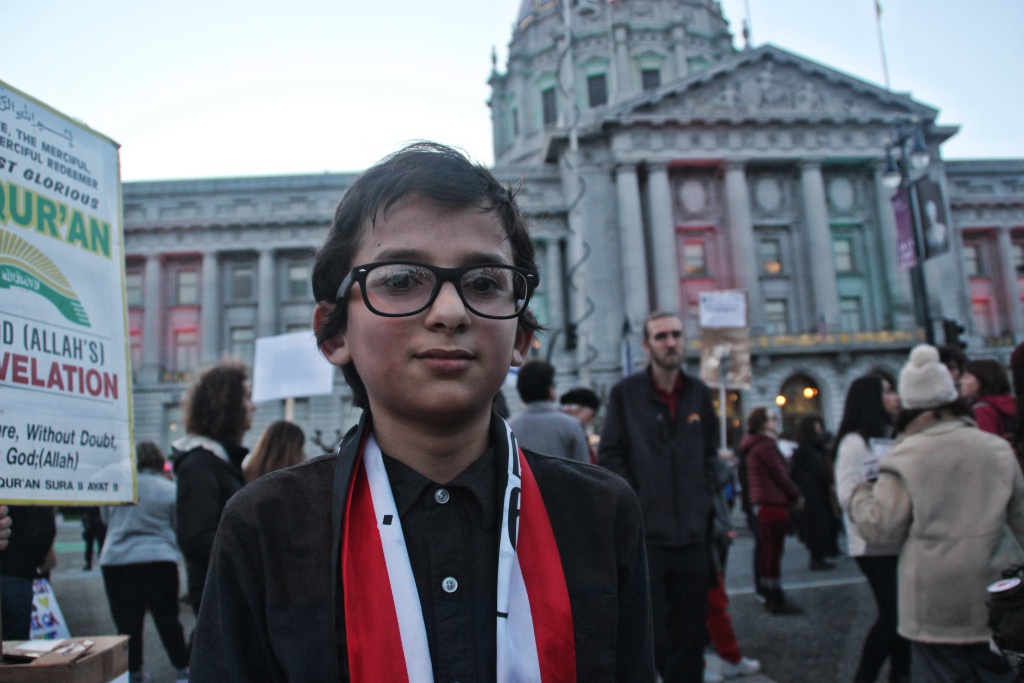 old Yemeni American who is heart broken and outraged by the ban: "Honestly I felt kinda sad and angered that Trump had the audacity to ban seven countries. I feel angered and triggered, I felt like I had to do something and that's why I'm here to protest." 
There are more protest planned in the coming week as the community deals with anger and grief.