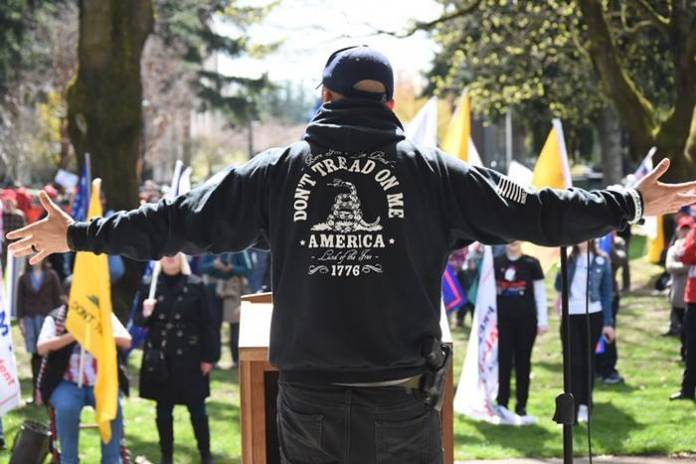 San Francisco's top political leaders stood this week in opposition to a right-wing group's planned rally next week at Crissy Field. At a press conference held Tuesday, Mayor Ed Lee expressed outrage that the National Park Service granted a permit for the rally. 
Lee isn't alone in his outrage against the National Park Service. House Democratic leader Nancy Pelosi has also questioned whether the permit was approved "under the guidance from the White House." 
The permit is issued to "Patriot Prayer" group to gather Aug. 26 at Crissy Field in San Francisco. According to the Southern Poverty Law Centre, which tracks hate groups, Patriot Prayer is a religious group but its purpose is "an attempt to provoke black-clad ideologues on the left into acts of violence."
There are a lot of security fears given the violent events in Charlottesville the past weekend that saw one person killed and dozens injured. Sonja Hanson, spokeswoman for the Golden Gate National Recreation Area says "The park will review and assess safety," and that the authorities are "planning accordingly."
Despite reassurances San Francisco's leadership continues to be concerned about safety issues concerning the rally, "We have demanded the National Park Service re-evaluate the permit in this case," Lee said.
Who is behind the group 'Patriot Prayer?'
Patriot Prayer is an "alt-right" group based out of Portland, Oregon. The Southern Poverty Law Center describes it as a group that has attracted white supremacists and that the group specializes "in rallies aimed at provoking far-left and anarchist groups." 
The group organized several events in Portland and Seattle and violence has been documented at events organized by the group. The group also participated in "March Against Sharia" in Seattle, which was organized by ACT for America, labeled an anti-Muslim hate group by the Southern Poverty Law Center. 
Patriot Prayer's leader Joey Gibson is a Vancouver based alt-right blogger who has in the past organized events like the "free speech rally" in downtown Portland which attracted "alt-right" and "white supremacist" speakers from across the country. Gibson worked as a broker for Summa North real estate until June 30th, after which he left his job allegedly due to pressure from leftist activists.
Gibson is known as a polarizing figure in Portland and has recently become more ambitious with organizing alt-right and white supremacist rallies. Most recently, Gibson organized a "freedom rally" in downtown Seattle only a day after violent clashes in Charlottesville, Virginia. 
On its Facebook page, the Patriot Prayer group posted: 
Seattle is running our state with a pedophile as a mayor. The West Coast has slowly been infected with communist ideologies throughout our entire culture. It is a belief that the individual is weak and that we are all victims. This is the lie of the century. No matter who you are, we are all amazing people with the ability to do anything that we put our minds to. These liberal strongholds run off of hatred and negativity. Patriot Prayer will bring in a positive message to Seattle that the people are starving for.
Gibson denounced the killing of Heather Hyer at the rally in Seattle. But despite Gibson's tall claims of "peace and love" the Southern Poverty Law Center identified Gibson's followers and marchers as, "an agglomeration of Trump-supporting 'Patriots,' including some white nationalists and skinheads, as well as 'III Percent' militiamen and LaVoy Finicum fans."
Counter protests:
Several counter-protests are already planned including one this Friday announced by Sunset Resistance Council, a group that describes itself as "hyperlocal resistance against Trump & his puppeteers, foreign & domestic," that plans to hold a "nonviolent sit-in" against National Park Service issuing a permit for the "white supremacist" rally. 
The sit in is scheduled for Friday, Aug 18 outside National Park Service's office on Bush Street. 
On the event's Facebook page Sunset Resistance Council says it will "Show the Regional Director, Laura Joss, that white supremacists and Nazis are not welcome in SF. The NPS will have no "business-as-usual" until they too condemn these white extremist terrorist groups."
Other counter-protests include "Unafraid Rally" which is scheduled at the same time as the "white supremacist" rally on August 26th, at 2 PM in Crissy Fields. The event's Facebook page says it's "Calling all Drag Performers and Sparkly Freaks on Saturday, August 26 at Crissy Field to protest". So far 1200 people on facebook have said they will be attending while 2700 are interested. 
That's not all, while drag queens plan to rally at Crissy Fields the "SF LovedUp Mobile Dance Counter-Rally" is scheduled on the same day at 1 PM. The event's Facebook page invites people to "Show the alt-right, white nationalists that SF is the city that knows how; by providing an alternative to hate, confrontation and aggression", the organizers are asking people to "Dress in your amazing colorful fabulous best AND bring a battery powered boom box. The more boomboxes the more music, the more counter-rally goodness. We're talking a couple hundred happy people, with a sound system in everyone's hands."
The organizers plan at the Marina Green and say their plan is not confrontational "THE POINT IS NOT TO INTERRUPT OR CONFRONT THE WHITE NATIONALIST RALLY, but to provide a nearby, better, inclusive, visible alternative" the page says. 
So far over 750 people on Facebook have said they'll be attending and some 3900 are interested in the event. 
Update 8/16/2017 at 6:11 pm:
Senator Dianne Feinstein is the latest democrat to call on the National Park Service to deny Patriot Prayer a permit to rally in Crissy Fields, San Francisco.
In her statement Feinstein says she believe that "there's a strong potential of violence during this demonstration," and urges General Superintendent Cicely Muldoon to reconsider "decision to issue this permit in the name of public safety."
Update 8/16/2017 at 7:45:
According to a statement issued Wednesday evening National Parks service is soliciting response on the right-wing rally planned on Aug 26th. The final permit hasn't been issued yet. A final decision is expected to be made by the end of next week, one day before the rally.
This post will be updated with as new information becomes available.