SCREEN GRABS Not a lot going on this week in the realm of mainstream releases. But there's no end of interest on the arthouse and rep-house circuit, with the Silent Festival's annual one-day winter blowout and a couple major treats for grownup animation fans.
Notable openings on Friday include two at the Roxie: Juan Sebastian Mesa's Venice prize winner The Nobodies aka Los Nadie, a B&W slice of teenage metalhead life in Medellin, and Luke Korem's Dealt, a documentary about famed card-trick magician Richard Turner, whose prowess is all the more amazing considering that he's blind. There's also Jason Headley's black comedy A Bad Idea Gone Wrong at the Alamo, and Danish auteur Joaquim Trier's (Reprise, Oslo August 31st) new Thelma, a curious character study-cum-thriller with supernatural elements that opens at Landmark theaters.
But for some of you — and you know who you are — all else will be overshadowed by the arrival of the year's most eagerly-awaited movie. No, we're not talking about Star Wars: The Last Jedi, or even the imminent latest Paul Thomas Anderson, but rather…
THE DISASTER ARTIST 
Even in the annals of stupefying cinematic vanity projects, there is nothing quite like writer-director-producer-star Tommy Wiseau's 2003 The Room, the midnight-movie sensation of the new millennium. If one learns anything best by making mistakes, there is probably no better book about moviemaking than his friend and co-star Greg Sestero's The Disaster Artist, which chronicled The Room's hapless production. 
Now another multi-hyphenate, the more presentable (and explicable) James Franco, has adapted that tome into by far the best and most accessible film of his own directorial career to date. He's also got arguably his best role since Spring Breakers in playing Tommy, with brother Dave as Greg. Wiseau and Sestero's path from SF acting classes to big-screen infamy is amusingly retold in a comedy that deftly manages to sidestep ridiculing its principal subject.
Instead, this portrait of an admittedly inexplicable personality achieves a certain open-hearted pathos as he discovers the realization of his heart's desire only provokes public laughter. With its array of famous faces in small parts (Zac Efron, Megan Mullally, Seth Rogen, Adam Scott, Sharon Stone, et al.), Artist is an accessible crowdpleaser. But for full appreciation, you really, really should see The Room first. At Bay Area theaters. 
A DAY OF SILENTS
San Francisco Silent Fest's annual winter bash offers one very full day of retro celluloid gold. Many devoted patrons will be familiar with at least a couple of the six features on tap: Lotte Reiniger's 1926 German The Adventures of Prince Achmed is an exotic fairy tale famous as the oldest surviving animated feature, done in a style redolent of Far Eastern shadow puppetry. Henry King's 1921 Tol'able David is an enduring US classic with Richard Barthemless as the sweet-natured country boy who must prove himself a man when some criminal relatives turn up to terrorize his family as uninvited "guests." 
There are plenty of relative rarities and newly restored films as well. For comedy, there's not just Lubitsch's 1925 Lady Windermere's Fan — an improbably successful adaptation of Oscar Wilde sans dialogue — and the prior year's wacky obscurity Last Man on Earth, which imagines a distant future (1954!) in which women have adopted all the traditional masculine roles after nearly all the menfolk die out. The Rat (1925) is an action-packed intrigue and vehicle for U.K. stage star/composer Ivor Novello that was so popular it generated two sequels. 
Lastly, Sex in Chains from future A-list Hollywood director William Dieterle is a very serious 1928 German drama about an improbable topic: Sexual frustration in prison. While pleading for legalization of conjugal visits as a solution, it does not shrink from implying that convicts will find alternatives among themselves. As usual, all programs will feature live musical accompaniment. Sat/2, Castro Theatre, SF. More info here.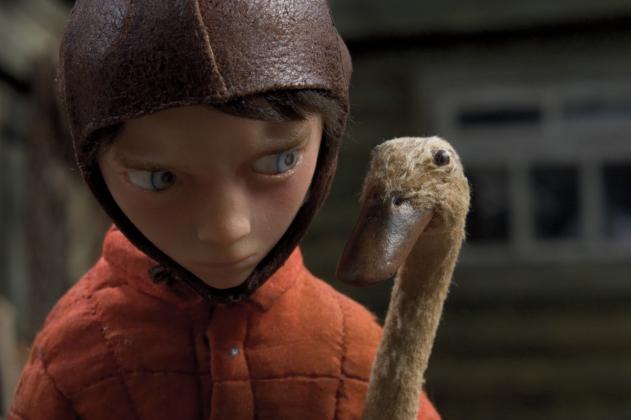 POLISH ANIMATION: 70 YEARS
At a time when U.S. cartoonery was considered strictly kid-stuff, numerous Eastern Bloc nations began encouraging artists to use the form in expressing more complex, grownup, even abstract ideas in both style and content. A particular hotbed was Poland, as borne out by this four-part PFA retrospective highlighting work from the late 1950s onward. The "Masters of Animation" bill features such legends (at least to serious animation fans) as Walerian Borowczyk and Jan Lenica; two "Festival Favorites" programs encompass a diverse range of award-winning titles spanning decades; while "Emerging Artists" finds a new wave of talent expanding the terrain yea further. On each program you'll find caustic views on the eternal battle of the sexes, black comedy, political allegory, diverse techniques, and a notably high percentage of impressive work by women artists. Sun/3-Wed/20, Pacific Film Archive, Berkeley. More info here. 
BRITISH ARROW AWARDS
American advertising can be clever, but it's often noted that across the Atlantic, they are cleverer—perhaps because audiences in most EU countries (never mind the "Brexit") can handle a higher degree of wit and/or envelope-pushing. Now in their 40th year, the British Television Advertising Awards or "Arrows" honor the year's best UK commercials, with categories that encompass outstanding performances (yes, including by animals), technical achievements, animation, and more. This latest best-of program offers 75 minutes of salesmanship as art. Sundays, Sun/3-Sun/17, YBCA Screening Room, SF. More info here. 
THE BREADWINNER
Irish animator Nora Twomey, who co-directed Gallic fairy tale The Secret of Kells eight years ago, is back with a more naturalistic drama in cartoon form. An already poor Afghan family's fortunes get drastically worse when the Taliban gains control; the father is dragged off to prison for mouthing off to one young fanatic. The only male left behind is a toddler; his wife and daughters are prevented from working or even venturing outside for water and food, by oppressive Sharia law. Finally Parvana (voiced by Saara Chaudry) begins posing as a boy to save them, a sacrifice that becomes an intoxicating taste of freedom. A straightforward, somewhat familiar tale adapted from Deborah Ellis' YA novel, this is no Persepolis in artistic terms. Still, it's an effective exploration of similar themes that would make a good spur for discussion with younger viewers over age 10 or so. Opera Plaza, SF. More info here. 
A FACE IN THE CROWD
A number of older movies have seen their profile leap in the last year or so, as people grasped for screen precedents to the stranger-than-fiction reality of President Trump. Idiocracy aside, none have been more frequently cited than this cynically nasty 1957 update of Meet John Doe, in which a creepy but insinuatingly folksy hick (Andy Griffith as "Lonesome" Rhodes) is promoted by media attention to a position of dangerous power and alleged moral superiority in complete conflict with his true nature. 
Written by Buzz Schulberg and directed by Elia Kazan, this caustic classic demonstrates you can indeed fool most of the people most of the time. It's got a dynamic cast including Patricia Neal, Tony Franciosa, Lee Remick and Walter Matthau. Griffith was so skin-crawlingly good as this petty huckster turned homily-spewing national con man, it's a wonder that the public accepted him as the true-blue protagonist of sitcom The Andy Griffith Show for eight hugely popular seasons starting just three years later.  SF Examiner's Broke-Ass Stuart hosts a discussion panel to accompany this one-night, 35mm revival screening, presented by the Jewish Film Institute. Thurs/7, Roxie, SF. More info here. 
NORTH BY NORTHWEST
In his lighter moments, Hitchcock was doing James Bond at the movies before James Bond did—getting dashing heroes into a mess of dangerous, somewhat deliberately outlandish derring-do in films like The 39 Steps and To Catch a Thief. Perhaps his greatest exercise in that vein is this beloved 1959 action-adventure in which an understandably harried Cary Grant is the advertising executive mistaken for a high-level CIA agent. His subsequent perils famously include being chased by crop-dusting plane and dangling from the profiles of Mount Rushmore. Variably helping or hindering him are characters played by Eva Marie Saint, James Mason, Martin Landau and Jessie Royce Landis. Definitely helping Hitch is Bernard Herrmann's stirring score—which you'll hear played live (conducted by Richard Kaufman) to accompany these special screenings, which kick off SF Symphony's 2017-18 Film Series. Fri-Sat/1-2, Davies Symphony Hall, SF. More info here.