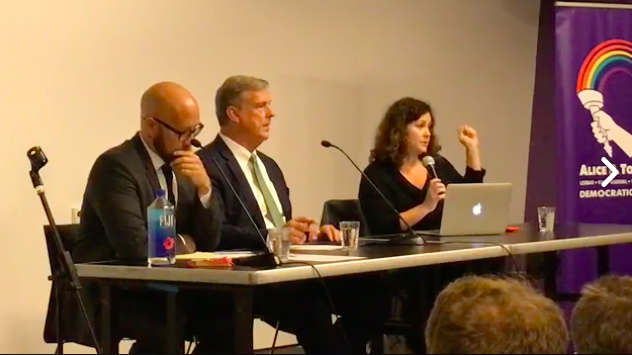 The District 8 supe debate was generally polite and cordial, and since both candidates are focusing mostly on district issues, there were plenty of points of agreement. Incumbent Jeff Sheehy and challenger Rafael Mandelman both think the city, and the district, need more affordable housing. Both think property crimes are a serious problem.
Both said the three previous occupants of the seat – Mark Leno, Bevan Dufty, and Scott Wiener – had done a good job. Both said we need to raise the salaries of public school teachers. Both talked about their long records as activists. (You can watch the whole debate on our 48 Hills Facebook page here.)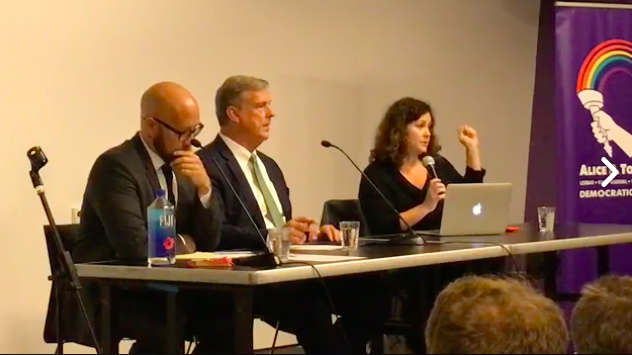 Most of the questions by moderator Marisa Lagos seemed to allow the candidates to focus on areas of agreement: She never asked either candidate to say where they differed. She never asked Mandelman to say what issues drove him to challenge the incumbent. She never asked Sheehy what positions on issues would make him a better choice.
But when you look a little deeper at the discussion, a few key distinctions emerge – and they are likely to shape the campaign.
Mandelman repeatedly talked about how Mayor Ed Lee has failed the city. "I think this city has suffered for years from a lack of leadership," Mandelman said. And while he said he liked and respected Lee, "he should not have run" for mayor.
Sheehy said that his "biggest defect" was that he was appointed by the mayor (an admission that Lee is not popular anywhere in town, including D8). But he also said Lee is "a good guy who is dedicated to making the city better."
So to the extent that the record of the current administration is an issue, Mandelman has made it clear that he is not a fan, and Sheehy has made it clear that he has only limited criticism of the man who appointed him.
Sheehy supports arming the San Francisco police with Tasers. Mandelman said that "perhaps this is not the best moment" to give the cops another weapon, considering all the problems with the department's use of force.
And on housing, we got some insight into the fairly stark differences between the two. Sheehy opposed the Mission Moratorium, and he told the crowd that it was "one of the most misguided things I have ever seen. How do we solve a housing crisis without building housing?"
That's the position of the Yimby Party and others who believe that the private market will somehow solve the housing crisis, that the construction of enough luxury housing (and all market-rate housing today is luxury housing) will trickle down to the rest of us.
Mandelman said he supported the 18-month moratorium on market-rate housing, saying that the Mission was facing a crisis of luxury housing coming in with very little affordable housing.
That puts Mandelman on the side of the people who say that the market alone won't solve this crisis and that there are times when the government has to tell for-profit developers that we simply can't go on the way we are.
There was a little bit of an interesting argument about tenancies in common, which are a back-door way to turn rental units into condos – and which are at the root of many of the Ellis Act evictions in the city.
Speculators buy buildings with tenants who are under rent control, paying a relatively low price. Then they evict all the tenants and flip the units as TICs.
Sheehy's response was that it was difficult to get financing for TICs – which is not true; if it were, there would be no Ellis Act evictions. Almost every Ellis Act eviction leads to a building sold as TICs.
Mandelman pointed out that Sheehy, years ago, supported a measure that would have allowed thousands more rental units to be turned into condos – something every tenant group in town opposed.
Sheehy said that he wanted to allow existing residents to buy their apartments, preventing future displacement.
Both candidates clearly want this race to be about who can best represent the district. But there are some key differences on the central issues facing the city – and they started, slowly and cautiously, to emerge at the first debate.
Rent your neighbor's car on Getaround. Sign up today, and enjoy $50 off your first trip: http://get.co/48h. [Sponsored]