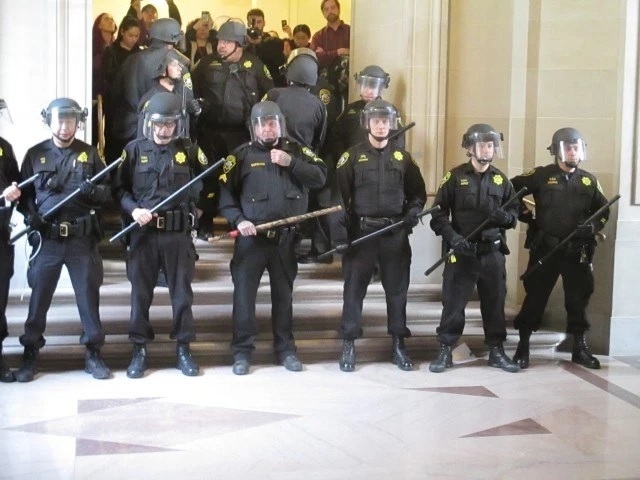 Tuesday/1is International Workers Day, celebrated in countries around the globe, but not (officially) in the United States. It's also the day when 48hills celebrates its Fifth (!) Anniversary as a community-supported, nonprofit daily news outlet.
I wasn't really sure when I (unexpectedly) left the Bay Guardian five years ago that this idea would work. But we've survived and thrived thanks to all of you, our readers and supporters, and we are, I hope, helping establish a new model for daily journalism in American cities.
Come celebrate with us Tuesday, 6:30pm, at the Mission Cultural Center. Tom Ammiano and Rose Aguilar will be speaking. Casa Sanchez will be providing excellent snacks. Beer and wine specials. Check out the details here.
It appears that most of City Hall —  including the Mayor's Office, the Department of Human Resources, and most likely the Board of Supes – is united in demanding that the San Francisco Police Officers Association agree to stop blocking reforms in exchange for a hefty raise in contract talks.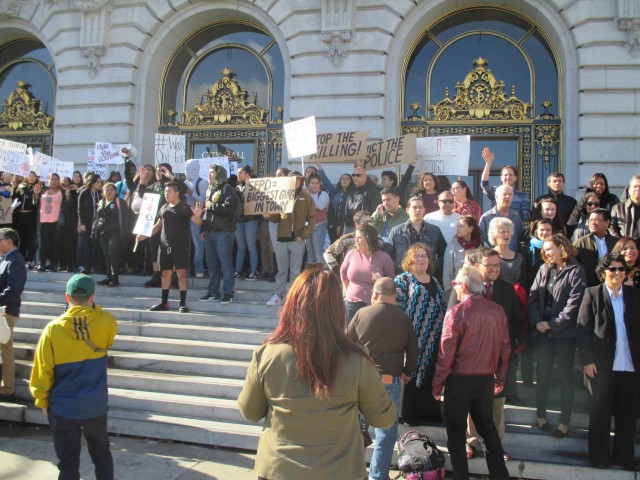 "This is unprecedented," John Crew, former ACLU police practices lawyer and a longtime accountability advocate, told me.
The POA and the city have been in talks on a new contract for months, but negotiations broke down and the matter is now in arbitration. We were worried at first about what that might mean, given the role of the mayor and his consultant, Nathan Ballard, who also worked for the POA.
But to the surprise of a lot of observers, the city's labor negotiators, who work for the mayor, have insisted on what's known as Proposal #22
requiring the San Francisco Police Officers Association to request to meet within 14 days of any changes involving United States Department of Justice recommendations, and to waive factfinding and impasse procedures if no agreement is reached.
This is a huge deal: the POA has been using "meet and confer" provisions in the contract, which are supposed to cover changed in labor rules, to delay desperately needed reforms that have nothing to do with work rules.
The city is demanding that the arbitrators include that proposal in any final contract.
It's also a sign of the changing political times. The POA has had undue political influence on elected officials for decades, even as it has fought efforts to bring women and people of color into the department, has defended racist and brutal cops, and has sought to overrule civilian oversight of law enforcement.
But the continued rash of police killings of people of color, with impunity, has so disgusted the body politic that even former allies like Mayor Farrell are apparently willing to stand up to the POA, at least on this reform issue.
The Board of Supes will hear a resolution Tuesday/1urging the arbitrators to include Proposal #22 in any final deal. I wonder if anyone will vote against it.
The Budget and Finance Committee will hold a hearing Thursday/3on what the board's budget priorities are for 2018-2019. It will be a long list – but also a chance for the public to see what the supes think is most important.
Also on the supes agenda is a minor item that means a lot to some of us who have been pushing to public power for decades. The resolution from Mayor Farrell seeks to declare May 6, 2018 the 100thanniversary of the arrival of clean Hetch Hetchy power to San Francisco.
Please read the resolution. Then read the real history. The only reason that the city was allowed to build a dam for water in Yosemite National Park was a compromise between environmentalists, who hated the idea (John Muir founded the Sierra Club in part to stop it) and people who believed that electricity was too important to the nation's future to be controlled by private companies.
I have spent weeks in the National Archives in Washington researching this. Congress put a clear, unequivocal condition on the permit to build a dam on the Tuolumne River: the dam had to be used not just as a municipal water supply but as a hydroelectric system that would supply public power to all of San Francisco. The record makes clear that the deal intended to stop Pacific Gas and Electric Company from controlling the Northern California grid.
Put simply, the Raker Act was aimed at ending PG&E's ability to create a private-power monopoly in San Francisco.
That never came to pass, because for 100 years, PG&E has bought off, bullied, bribed, and otherwise controlled politicians and the voters to keep the city from building its own electrical distribution system.
That may start to change if Prop. A passes in June. But in the meantime, it would be nice if someone at the board would correct the record before we pass this lovely resolution.