"Television is not nor has it ever been the ultimate form of drag," Oaklash Drag Festival co-founder and performer and East Bay-based drag queen Mama Celeste, a.k.a. Greg Tartaglione, writes in an email interview with 48 Hills. She's not-so-subtley shading a certain televised drag competition that's spawned countless imitators who may not realize the electric connections a live and rowdy crowd can bring. Surely Oaklash's multitudinous 100 performers will be preaching this to the choir at the second edition of the festival this weekend (Fri/26-Sun/28), which will include two extensive, eight-hour days of performance.
Mama Celeste and fellow performer Beatrix LaHaine started the festival last year to "give the Bay Area the kind of representation it deserved," says Celeste. In 2018, that meant bringing over 50 drag queens and kings from Oakland, San Francisco, and San Jose for an intermission-less six hour show.
"It was exhausting and amazing," Celeste says. "Everyone pulled out all the stops, from a clown on a Segway scooter performing to Britney Spears' "Circus" to a queen shooting water out of syringes stuck through her cheek. The audience was living!"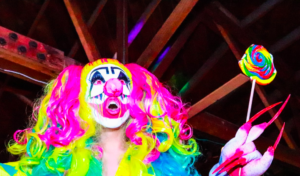 The diversity of Oaklash's 2019 acts speaks to one of the ways in which Bay drag steps back from more mainstream incarnations. Certainly, the disconnect between Bay Area performers and RuPaul's Drag Race has been much commented on—and the region's near total lack of representation on the VH1/Logo TV megalith is certainly remarkable. But even if the rumors are true that the deep freeze is due to long simmering feuds between Ru and Bay legends, the Bay's flavor of drag is anything but mainstream. 
The current scene may well be influenced more by local history than current trends. From the days of political activist and performer José Sarria—the Widow Norton, who founded the Imperial Court system and one of the first openly queer person to run for office in the United States—Bay drag has been about far more than perfectly beat faces and expert tongue pop. Here, the Cockettes obscured the accepted social order with sequins and bearded drag, and the Sisters of Perpetual Indulgence have wielded their looks as activist beacons for decades.
"It's always been obvious to me that the drag community in the Bay Area isn't like other drag communities," says Peaches Christ, who will perform at Oaklash with a host of legends like House of More! matriarchs Glamamore and Juanita More! and emergent stars like Nicki Jizz and Lisa Frankenstein. "I think I realized it before I even arrived in 1996," Peaches continues. "When I hosted John Waters' visit to Penn State University he told me about the Cockettes and how he and Divine and Mink would do shows with them. I'd never heard about any drag troupe that sounded anything like the Cockettes!"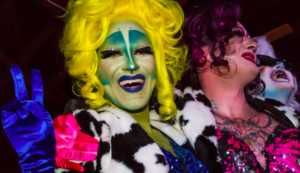 "The Castro is known for its flawless beauty queens, SoMa is known for its gender-bending punk aesthetic," says Mama Celeste. "But as rent has spiked in San Francisco, more and more artists have been moving to the East Bay which has created this amazing melting pot of all the scenes." Oaklash's lineup pays homage to 2019's socioeconomic realities with its East Bay location, for the second straight year at eclectic venue Classic Cars West.
Oaklash also typifies the time-honored Bay tradition—at least in recent decades—of a pan-gender scene that does not hew to rigid definitions of who should be on stage. Some of the Bay's most famous drag and performance nights over the years have featured artists who work gender into their art, from music to conceptual art, always welcome on Bay drag stages. This year, Zedgar Infiniti, Dollii, The Gooch Palm, Saturn Rising, and 15 DJs show the breadth of the festival's drag community.
That's particularly important in the face of occasional mainstream pressure to limit drag to the purview of cis gay men. "My art crosses all gender lines and allows anyone experiencing to imagine me as themselves or relate in a way that inspires their own experience," says Saturn Rising. "It's an escape and an affirmation all in one."
"Drag is about performance, and presence, and being shocked and awed by the beauty of the seven-foot rhinestoned goddess whose sweat is dripping on you in the front row," says Mama Celeste. Ample motivation to get yourself into IRL drag nirvana, a.k.a. this weekend's Oaklash front rows, to see the past, present, and future of Bay Area drag get its due. 
BACKLASH: OAKLASH KICK-OFF PARTY
Fri/26 8pm-1am, $10-15
Eli's Mile High Club, Oak
More info and tickets here.
OAKLASH BAY AREA DRAG FESTIVAL
Sat/27-Sun/28 2-10pm, $20; presale sold out, tickets available at door
Classic Cars West, Oakland
More info here.