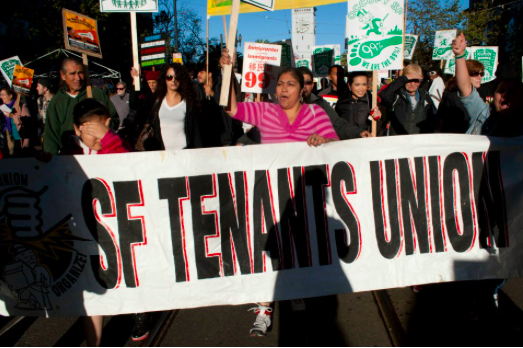 Sometimes even long-time San Franciscans take the city's rent control regulations for granted, but we need to remember that we have tenant projections today because ordinary people fought for them in the past. Their efforts are worth contemplating: though oft-neglected in personality-centered accounts of the city, they are an inspiring reminder of how much we can accomplish when we organize together.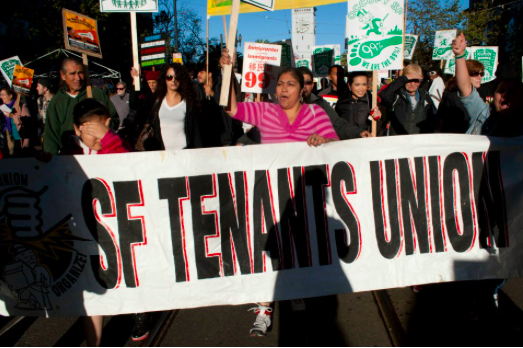 San Francisco's Residential Rent Stabilization and Arbitration Ordinance law grew out of community-based organizing around housing issues that really picked up steam in 1968. Some believe that the spark was a rent strike in the Haight Ashbury involving five buildings owned by the same landlord.
The Haight Ashbury was the epicenter of the DIY, countercultural scene. The organization I work for, the San Francisco Tenants Union, opened its doors there in these heady times at 1310 Haight St in 1970 (it was originally the Tenants Action Group, or TAG). Nearby was the Haight Ashbury Free Medical Clinic and also Huckleberry House (which provided services for runaway youth). TAG eventually moved into the back of the Haight Ashbury Switchboard at 1539 Haight St.
Then as now, our organization was a mutual aid collective in which volunteers counsel tenants and help with office duties. Occasionally there was enough money to hire an office manager, but with our deliberately horizontal structure, volunteers and staff made — and make — decisions equally and collectively in steering meetings.
From the beginning, the counseling clinic was seen as a political project. Advising tenants on their rights was not merely a service, but also a tool for self-empowerment and a way to build tenant solidarity across economic class. That is why, today, when you visit us for counseling, you sit in a room with other tenants—this helps people build connections and learn from one another's problems. It is also why we ask you to join as members; we want to build a participatory tenants movement.
In 1979, advocates pushed a ballot measure (Proposition R) that would have allowed vacancy control, a relatively restrictive form of rent control that caps rents rather than allowing anything-goes market prices when a unit becomes vacant. Prop R also included eviction protections and condominium conversion limits. Vacancy control greatly reduces landlords' incentive to evict because it limits the amount that they can raise rents whether the unit is occupied or not. Had we won and kept vacancy control for all these years, we would not see the extreme rent increases in boom times because rents would be regulated.
Rent control isn't just a policy promoted by longhaired radicals. The state has also seen its value at times, and enacted it in key munitions-production locations during wartime as well as during the construction of the Alaskan Pipeline. The question arose for the federal government: why should a private landlord reap tremendous private gains—or "windfall profits"—from inflated prices because a flood of workers have come to participate in a state-supported effort? The same question could apply to our current flood of well-paid tech workers.
In California, Proposition 13 provided an additional reason for the eventual passage of rent control. Prop 13 rolled back and capped future increases of property tax—price control for owners. It was sold to tenant voters by claiming that property owners would pass the savings on to renters by lowering rents. Interestingly, landlords did not unite in supporting the tax savings. At the time, the California Housing Council—which represents corporate landlords and apartment developers criticized Howard Jarvis' Prop 13, saying that it went too far and would all but guarantee the passage of rent control by stirring up tenant activists. Their fears proved correct and, when lower rents failed to materialize, this sparked what was called a "tenants' revolt" in many Californian cities.
Weeks before the 1979 vote on Prop R, the San Francisco Board of Supervisors, along with Mayor Feinstein, passed a weaker, 60-day rent freeze, which allowed them to placate some of the concerns about out-of-control rents. Although this doomed Prop R, San Francisco now had rent control.
Since the 1979, the city's rent ordinance has been much improved thanks to local advocacy and neighborhood groups organizing to take care of each other. Other organizations formed that specialize in housing problems. Housing Rights Committee (1979) are experts in public housing, SRO, and Section 8 housing. There are language-specific organizations counseling tenants in Spanish, Chinese, Tagalog, Russian, and Vietnamese and special non-profit law firms that you can visit when you can't avoid hiring a lawyer.
The Tenants Union moved into its current building at 558 Capp St in 1980, which it shares with the National Lawyers Guild. From 1988 until his untimely death in 2014, Ted Gullicksen was our longest running "office manager."
State level efforts to repeal Costa Hawkins and the Ellis Act—two state laws that do the most damage to tenants' rights—in the cesspool that is Sacramento show us that local organizing is still the most powerful way to protect tenant residents. Thanks to activism by delegates, the Democratic Party officially supported Yes on 10, which would have repealed Costa Hawkins, but mainstream Democratic politicians were almost completely silent on the issue during the campaign. Our local representatives jostled with each other to get in photo-ops with wealthy benefactor Marc Benioff once he publicly embraced Prop C, but rarely risked speeches supporting Prop 10.
In fact, Nancy Pelosi had scheduled an appearance to promote supervisor candidates endorsed by our Labor Council but cancelled when she learned that Prop 10 would also be featured because she deemed it "too controversial." The lesson is that we cannot wait for Democratic personalities to pass these reforms on their own. Politicians are only as bold as we make them.
The battle over who controls and gets to exclude others from property is centuries old. The state can choose to distribute "rights" to benefit individuals or society more broadly. Pioneering tenant advocates fought for the right to stable, affordable housing whomever it was owned by. Their victories and also their setbacks are what make up the complicated history of San Francisco's tenant rights movement. We should keep their inspiring organizing in mind as we protect and further the project.
You can celebrate 40 years of rent control with the San Francisco Tenants Union on June ll, 2019 at 6 pm.