Before winding up, for the time being at least, our survey of cinematic comedies that will lighten up your house arrest sojourn (part one here and part two here), it's worth mentioning that the world of moviegoing—as opposed to movie staying-in—is asleep but not dead. While we all look forward to getting out to theaters again, local venue staff are naturally out of work in the meantime. You can help preserve those venues and their workers in various ways, including purchasing passes for future attendance, participating in tie-in movie streams that benefit individual theaters, donating to emergency employee funds, and more.
Pardon us if we leave anybody out, but you can find out about those and other options by visiting your preferred local venue or organization's website, including the Roxie (www.roxie.com) Balboa/Vogue (www.cinemasf.com), Alamo Drafthouse (www.drafthouse.com), San Francisco Cinematheque (www.sfcinematheque.org) and 4-Star/Presidio/Marina (www.lntsf.com). The Castro appears to be sitting things out entirely for now, with no alternative programming or other activities listed on its currently bare website. BAMPFA and SFMOMA both have some institutional resources and exhibits available online during the shutdown, with the latter having launched a weekly online screening series that's started with Bruce Conner's 2008 Easter Morning.
Yeesh, just writing that list of closed exhibitors was depressing enough to necessitate some comedy therapy. So here is our third and last (for now) helping of recommended funny movies you can find via various paid and/or free streaming avenues:
Sherlock, Jr. (1924)
Though Chaplin was more beloved and Harold Lloyd perhaps more popular, no silent comic had a more brilliant run through the silent "golden age" of the 1920s than Buster Keaton. Sadly, that decade contained his genius a little too neatly, as his (often uncredited) directorial work began in earnest with the great 1920 short One Week, while his last first-rate feature Spite Marriage arrived in 1929—after that, his career swiftly ran aground thanks to a lucrative but ill-starred contract with MGM that stripped him of creative control. By 1934, their mishandling had dimmed his star such that he was reduced to making shorts again at a "Poverty Row" studio.
A decade earlier, however, nearly every movie with and by "The Great Stoneface" was a miracle of invention. The mid-length (at 45 minutes) Sherlock Jr. shows the sophistication with which this knockabout vaudevillian had grasped the potential for cinematic technique to expand comedy well beyond slapstick. He plays a  projectionist/janitor who falls asleep on the job, and while dreaming imagines himself clambering onto the screen to interact with its fictive characters—an idea Woody Allen lifted sixty years later for The Purple Rose of Cairo. The resulting surreal whimsy, encased in a larger story of small-town romantic pining, remains a conceptual marvel that sure doesn't play like something nearly a century old.
Dick (1999)
There were a fair number of Nixon White House spoofs during the era itself, from Cockettes short Tricia's Wedding to several uninspired features. But definitely the best Watergate comedy came much later—too late, apparently, to attract much of an audience, though it's been appreciated somewhat more since its original release. A young Kirsten Dunst and Michelle Williams play typical teenagers living in early 1970s D.C., who stumble into becoming the President's (Dan Hedaya) official dogwalkers and confidantes—as well as unwitting leakers to that whole bugging-the-DNC business.
This silliest possible explanation to the question "Who was Deep Throat?" is often inspired, with a great comedy cast including Will Ferrell and Kids in the Hall's Bruce McCulloch as Woodward & Bernstein, plus Harry Shearer, Jim Breuer, Ana Gasteyer, Teri Garr, Dave Foley, Ryan Reynolds and many others as various real-life and fictive figures. Wait till you see (and hear) what this movie comes up with to solve the mystery of "the missing eighteen minutes" erased from Nixon's surreptitiously recorded office audiotapes.
Kentucky Fried Movie (1977)
In the actual Me Decade, of course, America was going to Hell in a handbasket, morally speaking—at least according to Nixon and his "silent majority," which took great offense at the new freedoms (sexual and otherwise) bred by 60s youth movements. Even before Saturday Night Live surfaced in 1975, envelope-pushing skit comedies had appeared on the big screen, from Robert Downey Sr.'s Putney Swope and Brian De Palma's Greetings to 1974 drive-in favorite The Groove Tube.
Most of those movies haven't aged very well. An exception is this largely still-funny endeavor from the future director of Animal House and the future scenarists of Airplane! Some segments are just one-note juvenile jokes, others uneven, but enduring highlights include the sexploitation parody trailer Catholic High School Girls in Trouble, disastrous dating how-to demonstration The Wonderful World of Sex, and climactic A Fistful of Yen. The latter is a half-hour, pitch-perfect spoof of the "kung fu" movie craze of dubbed Hong Kong action flicks that was kickstarted (ahem) by Bruce Lee. Featuring a few familiar faces (Donald Sutherland, Henry Gibson, Bill Bixby), but mostly utilizing then-unknowns, Kentucky Fried Movie is a nostalgic flashback at its worst, a model for clever media satire at its best.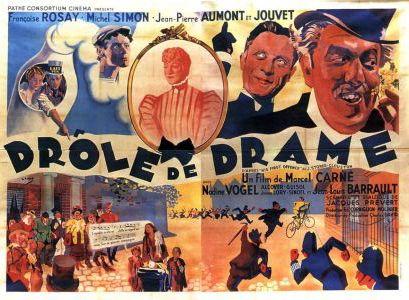 Bizarre, Bizarre (1937)
Immediately afterward, Michel Carne would embark upon making some of the greatest French dramas of the time, including proto-noir Port of Shadows, Jean Gabin's arguable finest hour Le jour se leve, and many people's favorite movie of all time, the epic romance Children of Paradise. But with his 1937 sophomore feature (called Drôle de Drame in France), he aimed for an antic surrealism more out-there than the comedic inventions of either his fellow countrymen Rene Clair (a predecessor) or Jacques Tati (who arrived some years later).
The nonsensical plot involves a botanist (who's secretly a successful crime novelist) and his wife struggling to maintain respectability when a snooping cleric crusading against lurid pulp literature becomes suspicious of their activity in that realm. Possibly-criminal further intrigue ensues, but this Victorian era premise is just an excuse for a series of duly bizarre sight gags of a variably farcical and anarchic nature. Involving such esteemed players as Louis Jouvet, Michel Simon, Francoise Rosay, Jean-Pierre Aumont and Jean-Louis Barrault, it's catnip for those whose sense of humor leans towards the absurd.
A Town Called Panic (2009)
You might say the same of this spinoff from a Belgian stop-motion animation series that was shown in the U.S. on Nickelodeon. The feature from original creators Stephane Aubier and Vincent Patar again centers on the adventures of Cowboy and Indian, two childishly impulsive plastic action figures who live in a house with their often understandably short-tempered paternal figure Horse. Ever on the verge of crisis, this makeshift family gets there once again when an attempt to celebrate Horse's birthday goes disastrously wrong, prompting emergencies that encompass house collapse, bear attacks, and a journey to the center of the Earth.
Not at all strictly for children, though they will probably find it very entertaining, this universe of delirious silliness mixes the naive, ridiculous and raucous to ends that are visually delightful even when the gags occasionally fizzle. Though everyone doesn't "get it" (and the movie pretty much sank without a trace at U.S. theaters), it must be confessed that when I first saw the big-screen Panic, I experienced choking-hazard-level hilarity.
Evil Dead 2: Dead Before Dawn (1987)
Not at all for children—somebody should probably take your preadolescents away if you show it to them—is this hysterical sequel to future Spider Man director Ted Raimi's 1981 debut feature, shot with friends in rural Tennessee on a budget in the low six figures. That movie is priceless enough. But when Raimi got the go-ahead to do a followup on about ten times the financial resources, he created possibly the greatest horror comedy of all time. It's less a sequel, really, than a spectacular remake-slash-parody of the already not-entirely-serious (albeit fairly scary) original.
The inimitable Bruce Campbell is back as Ash, the first film's sole survivor, who against his better judgement returns with a new group of friends to a remote, spooky forest cabin just like the one that claimed his college pals previously. Wouldn't you know it, this joint also has demons just waiting to be summoned to malevolent life, quickly leading to results halfway between a grisly zombie movie and a Looney Tunes cartoon. Driven by extremely dynamic direction and Campbell's manic performance—Ash's fight with his own severed hand is slapstick gold—this is probably the most hilariously gory (and gorily hilarious) feature ever made. Either it's not your sort of thing…or you've probably already seen it a dozen times.
Horse Feathers (1932)
Probably the most perfect Marx Brothers movie is 1933's Duck Soup, in which Groucho's Rufus T. Firefly is appointed to lead Freedonia, a nation he promptly and recklessly leads into war. That portrait of political insanity may cut a little too close to the bone at present—even back then, it got banned from Italian exhibition by an offended Mussolini, whose legacy of blowhard fascist populism seems awfully relevant today.
So instead let's opt for the quartet's just-prior film, in which Groucho's appointment as a university's new president wreaks equal havoc. Chico and Harpo are bootleggers; Zeppo (who'd retire from the act after Soup) is a student; Thelma Todd is the blonde most likely to be chased over and around furniture. Featuring the most ludicrous football-game climax in cinematic history, as well as Groucho's production-number anthem "(Whatever It is) I'm Against It," this cheered up a lot of people during their Great Depression—no reason why it can't do the same for yours. If you notice Chico is sitting down a lot here, that's because he still injured from a serious car accident just before shooting began.