Shahid Buttar's campaign against Rep. Nancy Pelosi was always a longshot. He was challenging the person most responsible for challenging Donald Trump, and while Pelosi has angered some progressives for not moving faster on impeachment and other issues, Buttar is not Alexandria Ocasio Cortez or Jamaal Bowman.
And now he is almost certainly done.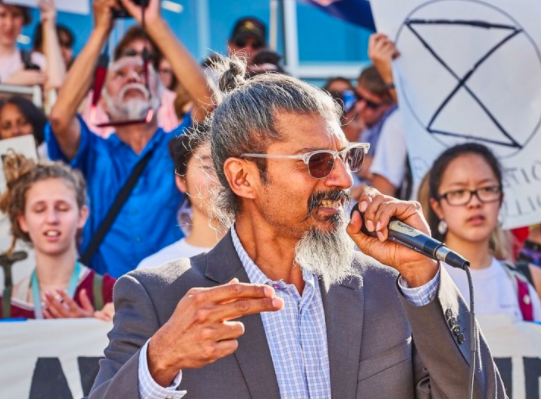 An explosive Medium post by a prominent New York comedian and actor accuses Buttar of repeatedly sexually harassing her. Mission Local reports that campaign staffers have complained about a misogynist, toxic workplace.
The allegations by Elizabeth Croydon are horrifying:
Another instance that is intimately embarrassing and traumatic for me to talk about happened about a decade later. After a Guerilla Poet Insurgency meeting/performance, a small group of us sat around at a table to catch up, including Shahid. One of my friends asked how long it had been since people had had sex. Others answered. I responded that I had been celibate for some years. Shahid's response shocked and embarrassed me. "Oh my god, that is way too long! How can you go without sex that long? That's insane! I couldn't do it, you poor thing. It must be so hard." I told him that my celibacy was a voluntary decision because it helped me cope with surviving sexual assaults, batteries and other misconduct. I felt degraded, nauseated, and revolted that he would mock me in front of friends who looked to me as an outspoken voice for women.

Later when the group walked back to the communal house where Shahid used to live, he said "I still can't believe you aren't getting it." Shahid turned to the woman that he was with and said. "Can you believe Liz has been celibate that long, honey? Oh my god what is wrong with you? Don't worry Liz, we'll find someone to fuck you. Someone will do it. Someone has to FUCK you, Liz. I'd do it but I'm taken." I turned around to see Shahid smiling spitefully as he had done years ago in his kitchen as if to taunt me for rejecting him years before. I repeated that celibacy was my choice and asked him to let it go. Once we got to the house, Shahid again started telling people that I hadn't "been fucked" in a long time and asked other men if they wanted to have sex with me saying that he had to recruit someone to do it. I reminded him I was a survivor of several sexual assaults and batteries. While ridiculing me was being framed as "humorous" it never had a humorous tone. I did my best to hold my composure but the truth is, my PTSD had been triggered. The more he taunted me, the more painful and vivid memories of the sexual assaults flooded my mind. I remember crying all night until my eyes were swollen because of the contempt and degradation I was shown in front of other women.
Buttar, of course, denies the allegations. In a statement on Twitter and in an interview with Mission Local, he said:
"I feel very strongly that survivors need to be heard. I'm grateful that all the facts may come out. She describes a communal and group house I had in D.C. in 2005 to 2008. We were both performers in a group called D.C. Guerilla Poetry Insurgency. This was a place we frequently held events. That much is true. The rest is not."
but Democratic Socialists of America is moving to revoke its endorsement, and I suspect that a lot of these folks who are listed on his website are going to be facing the same decision.
There is a lesson here for DSA and other local and national figures who endorsed Buttar because he said he was a democratic socialist who supported the right issues. Which he said, and which he did.
This is San Francisco. This city has a well-established local progressive movement, which includes both grassroots activists and organizers and elected officials. There are lots of people who have been part of that movement, visible in it, active and working with others, for many years.
Buttar worked on national campaigns for the Electronic Frontier Foundation, but when it came to grassroots local activism, over issues like displacement and evictions and immigrant rights and police misconduct and so many other things, Buttar was not part of that movement. When he announced he was running for Congress, a lot of community folks had no idea who he was.
That's a problem. As it turns out, it was a major problem.
As Rebecca Solnit famously said, a vote is not a love letter; it's a chess move. The future of the congressional seat held by Nancy Pelosi is critical.
Pelosi has promised to retire after her next term (when she will be 82). She says if Hillary Clinton had won the presidency, she would have retired in 2016.
It's always tempting to go with the radical of the day, but in this city, we have to think long-term. In two years, San Francisco will elect a member of Congress who will likely be there for a generation. Should that be State Sen. Scott Wiener, who clearly wants the job and would be a formidable candidate? Or should it be former Sup. David Campos, who would be the first person who arrived in this country as an undocumented immigrant elected to Congress? Or should it be Jane Kim, who might have the support of Sen. Bernie Sanders? Or should it be Pelosi's daughter, who has made noises about wanting to run?
These are real questions, with real, lasting impacts, that progressives need to talk about now. Buttar's campaign was, by most accounts of people who pay serious attention to local politics, a diversion.
DSA, which has become a major, essential part of the local progressive movement, will have to come to terms with this, and they will. So will the San Francisco Berniecrats, Progressive Democrats of America, and the Tenants Union.
But all of us have to think in the future about how we choose and endorse candidates for something as important as a lifetime seat in the US Congress.