Waging Change, a movie by Berkeley filmmaker Abby Ginzberg about the tipped minimum wage, was set to screen at the Castro Theatre in March, but was cancelled due to the pandemic. Now, in honor of Labor Day, the movie will screen online for free followed by a Q&A on Thursday, September 10 at 5pm.
Saru Jayaraman is featured in the movie and will be one of the people in the discussion after the screening. She directs the Food Labor Research Center at the University of California, Berkeley, and she is co-founder and president of the Restaurant Opportunities Centers United, as well as co-founding One Fair Wage. The San Francisco Chronicle selected her as its 2019 Visionary of the Year for her work to end the tipped minimum wage.
When Ginzberg heard Jayaraman speak a few years ago, she was stunned to hear that in many states, tipped workers make only $2.13 an hour.
"I was floored," said Ginzberg. "I literally couldn't believe it. I'm a relatively well-educated person in labor issues, and if I didn't know, I could guarantee millions of other people didn't know."
Ginzberg, a Peabody-award winner, who recently made a movie about Oakland Congresswoman Barbara Lee, Stay Woke: Barbara Lee Speaks for Me, made Waging Change in response. It features Congresswoman Alexandria Ocasio Cortez; actors Lily Tomlin and Jane Fonda, who have been working to end the tipped minimum wage in Michigan; and former food policy Op Ed writer for the New York Times Mark Bittman.
The documentary follows workers in Chicago, Detroit, and New Orleans and their efforts to end the federal tipped minimum wage for restaurant servers and bartenders and the #MeToo movement's efforts to end sexual harassment.
The two issues are linked, according to Jayaraman. She says she realized that while on a tour for her book, Behind the Kitchen Door.
"All these women came up to me to share the most horrific stories of being sexually harassed in restaurants. They'd gone on to work in other jobs, but it set the standard," she said. "When we asked, 'Did you experience unwanted sexual behavior?' 90 percent of workers said yes. When you have a subminimum wage, women are forced to live off their tips, and they're essentially told, 'Objectify yourself.'"
After graduating from Yale Law School, Jayaraman worked with immigrant workers in Long Island. On 9/11, 73 workers died at a restaurant at the top of the World Trade Center, Windows on the World, and 300 lost their jobs. Fekkak Mamdouh, a Moroccan immigrant who had been a waiter at Windows on the World, reached out to Jayaraman for help, and the two of them founded ROC United, to improve restaurant workers' wages and conditions.
The issue of tipped workers is one many people can understand, Jayaraman thinks. One out of two Americans work in the restaurant industry at some point, she says. Or their children work in restaurants. Or they eat out.
"When you tip, you think you're giving them something extra, but you're subsidizing a multimillion-dollar industry," she said about states where the wage is $2.13 (California is not one of them). "It epitomizes the dangerous future this country is heading toward with growing income inequity and unbridled power on the part of corporations. People generally know there's inequality, but they don't understand the scale of it. It's not just low wage – it's no wage after taxes, and it comes out of Jim Crow."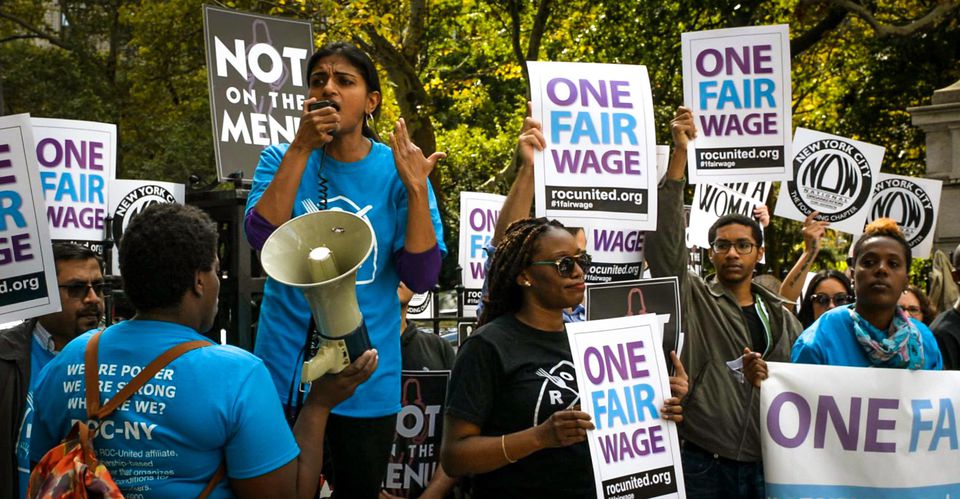 Jayaraman and others are fighting the National Restaurant Association, which they call the "other NRA," which has lobbied the government to keep the federal minimum wage for tipped workers at $2.13 an hour since 1991.
Ginzburg spent three years making the film. She planned to end it with a success story – Initiative 77, raising the minimum wage for tipped workers in Washington D.C., passed in October 2018, in spite of strong opposition from the NRA. But a few months later, lawmakers overturned the initiative.
"The DC city council basically nullified what the voters did," Ginzberg said. "I filmed for another year and I had to finish it because it was in a film festival. Then the House of Representatives voted to eliminate the tipped minimum wage, and that gave me an ending."
Ginzberg hopes people will get involved with this fight. She says recently the Biden campaign came out in favor of ending the tipped minimum wage and raising it nationally to $15 per hour. Before things shut down, she did live screenings, including at DOC NYC, and she says the movie generated a lot of interest.
"I ask at screenings how many of people had heard about this before they came, and maybe 10 percent have," she said. "We're trying to educate people."
WAGING CHANGE
Thur/10, 5pm
Online, free with registration