UPDATED with a statement from BAAAHS founder Xian below.
Pictures and videos of a crowded gathering at Ocean Beach flooded many nightlifer's social feeds on Saturday night. Dancers, many masked but also some not, raised their hands to throbbing disco and techno. Fires, including a scaled-down Burning Man effigy, burned in the distance. Revelers called out to one another and hugged. While some partiers seemed to separate into small groups, it was hard to tell if social distancing was being uniformly observed.

In several posts, parked at one end of it all was a lit-up school bus with DJs and large speakers. This was BAAAHS, a stripped-down version of the Big Ass Amazingly Awesome Homosexual Sheep, one of the most visible queer presences on the playa during the annual Burning Man festival, traditionally held the week before Labor Day, but canceled this year due to COVID. (A virtual Burning Man was held online as an official alternative celebration.)
There are videos and photos of other art cars and dance gatherings at the beach, too—BAAAHS was not the only group there, but among the most visible.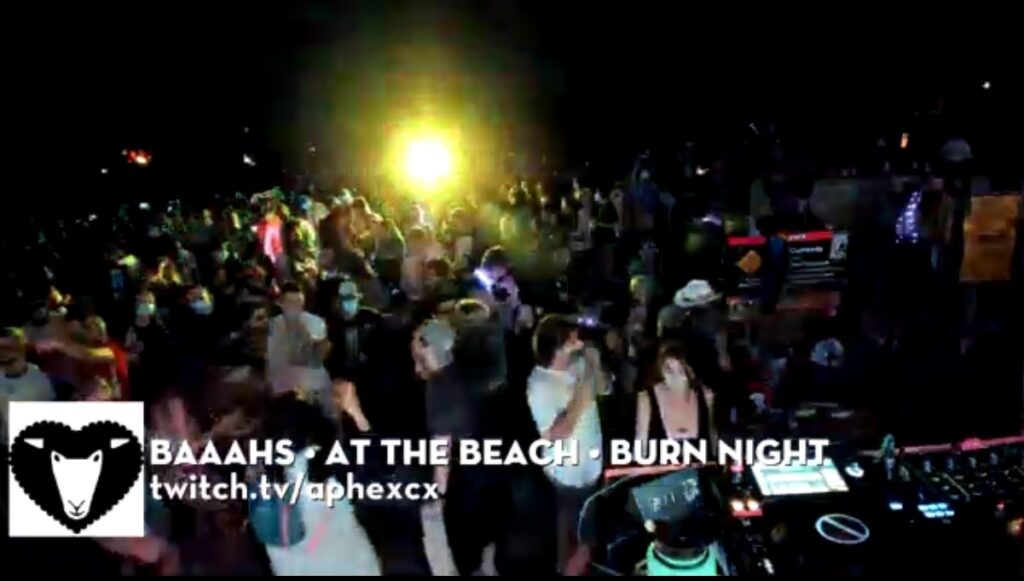 BAAAHS, usually decked out as an actual giant sheep with laser eyes and mirrorball testicles, is a sound camp that travels throughout Burning Man to bring queer dance music sounds to the often very heterosexual affair. Outside of Burning Man, the less showy version of BAAAHS pops up everywhere from Folsom Street Fair to Twin Peaks, stoking parties both well-permitted and extra-curricular. Over the seven years of its existence, the volunteer-driven BAAAHS has become a symbol of San Francisco underground community and goodwill, despite the usual prejudices against Burning Man.
As mentioned above, BAAAHS was not the only sound camp with a presence that night. But a series of events turned the beach into what by many accounts appeared to be a dangerously crowded situation, of which BAAAHS was a part.
The next day, the mayor blasted the party in a series of tweets that also announced the closing of Ocean Beach parking lots to avoid a repeat on Sunday—on one of the hottest day ever recorded in San Francisco. A backlash gathered steam on social media, fingering a privileged Burning Man ethos that puts personal pleasure over community well-being, a sophomoric rebellion against authority that invites real danger.
But here's the thing. Many of the BAAAHS crew are good friends of mine. They are incredibly smart and well-connected people. And that's what scares me the most. These are no woo-woo hippie leftovers skating the edge of COVID-denial libertarianism. What happened?
As far as I can piece together, a number of separate small parties gathered Saturday afternoon on Ocean Beach and Baker Beach—Burning Man's 1986 origin point—to commemorate the festival. BAAAHS was among them, intending to throw a small, socially distanced daytime gathering in the Ocean Beach parking lot as it had done in previous weeks.
But once night fell, many more people joined in the scene for bonfires and dancing. BAAAHS quickly became a magnet. A sprawling dance party spread from the bus, parked at the sea wall, and stretched down Ocean Beach, joining other party situations. The police came by several times, and even hung around, but didn't shut things down. According to BAAAHS, free masks were distributed and "rangers" wove through the crowd to remind about social distancing. There were frequent announcements over the PA to wear masks and social distance. The party was allowed to continue until 1am, when police finally shut it down.
Outdoor gatherings of more than 12 people are forbidden under current restrictions. So the question remains: Why didn't anybody just turn the music off once things got really big? Was keeping the party going worth putting thousands of lives at risk?
In a broader context of the beach party—and BAAAHS is not the only group at fault here—there are other questions, too. Why were people burning fires when the air quality index was over 200 in parts of the city? Why didn't Mayor Breed know what was happening over the course of entire night of partying? Why did the police delay shutting things down? Would a non-police city liaison like Amsterdam's Night Mayor or a party version of the homeless HOT Team have been able to convince beach partiers (and all the house and street parties still happening) of potential harm in the moment? What does it look like to have a mostly white crowd dancing during a pandemic that is deeply affecting communities of color?
Did everyone at the beach that night trundle out the next morning to hangover brunch or the park, putting others, especially essential, underpaid workers at extra risk? It just all seems like a really bad scene.
Another sad part of this is that the city is in the process of loosening restrictions this month that might allow for gatherings of up to 50 people outdoors for certain purposes. (There is no mention of nightlife in the plan.) Will the Ocean Beach party set things back for everyone? According to one estimate, there is still a ~72% chance that someone in a gathering of 100 people in SF has COVID. Nightclub owners and others are making huge sacrifices rather than expose the community to the virus. What was everyone thinking?
I reached out to BAAAHS with some questions—but rather than take responsibility for what happened or issue an apology, I got well-vetted PR responses. Expected, but still disappointing. The responses do detail BAAAHS' precautions in terms of regular safety evaluation, masking, and distancing. You can read them below. This whole affair is definitely a failure of responsibility on many peoples' part, and on the part of the city itself. But it's also a strong indicator that leaving it to even the smartest party people to regulate themselves is not working. We need something more.
48 HILLS The event started as a small party on the beach, yes? What happened that caused it to grow into a gathering of several hundred?
BAAAHS Over the past few weeks, BAAAHS has been having small, distanced, and safe outdoor gatherings on the Great Highway in an area that allows for the maximum distancing of anyone that stops by to enjoy the music or dance. In each instance, We have not publicized these events on social media or any other means in advance to avoid a large congregation gathering and potentially creating a potentially COVID-19 unsafe situation.
In the past, all the times we have had these pop-up events, we have been extremely vigilant about making sure the crowd is reminded to maintain proper distancing from anyone they do not cohabitate with. Individuals and the group as a whole are also reminded at least every thirty minutes that mask-wearing is a requirement. This is done by party monitors individually, and by each DJ on the amplified sound system at least every 30 minutes. BAAAHS has also been very proactive in handing out masks and providing copious amounts of hand sanitizer and water to keep hands clean and bodies hydrated.
A number of different burner events were happening on Ocean Beach on Saturday night. These events, combined with increased foot traffic because weather was so nice, caused the crowd to grow significantly as the night went on.The large crowd influx on Saturday night at the mile-long stretch of beach was both spontaneous and organic, and not centered on the lot where the bus was parked.
48H Was there any discussion of shutting everything down as the crowd grew? Why did you feel it necessary for the event to continue?
BAAAHS As with all of the pop-up events that BAAAHS has been a part of (including Pride Sunday in the Castro), there are continuous and constant evaluations of the health and safety of everyone involved, both crew and the public. On Saturday, volunteers were on hand and were monitoring the situation for overall safety and reporting back to the DJs in case the situation gets to be potentially untenable. The operating procedure that all volunteers follow is that the party will immediately end if there is any sense that the situation is out of hand in a way that We are facilitating.
On this given Saturday, BAAAHS continued to monitor the safety of the crowd that was around the bus (but not on the beach, where the vast majority of revelers were located). Additionally, SFPD officers and SF Park Rangers stopped by multiple times to check with our volunteers, as they have in the past, and we worked with them to maintain sound and crowd control. They were constantly monitoring the situation from the City's side, and we were prepared to shut down and pack up at any point they requested us to, which was not until around 1 AM. Once the request was made, the DJ played a final song, music was cut, the sound system was torn down, and the bus was out of the area within 30 minutes. In retrospect, we were focusing more on mask coverage than crowd density. It's clear that both are important, and should warrant shutting down an event.
48H Were there any Burning Man-type things there like distancing enforcers or handing out free sanitizer and masks?
BAAAHS Our appearance on Ocean Beach was implemented with participants' safety in mind and strict adherence to CDC and SF DPH guidelines for mask wearing. This included regular announcements on the mic asking people to wear masks and maintain social distance. Masks were available and were proactively distributed to approximately 100 people. At least a dozen signs were posted stating that masks were required in the vicinity of the bus, and after dark, there was illuminated signage including the message "if you keep your mask on, we'll keep the music on."
48H Were you aware of city regulations that forbid outdoor gatherings of more than 12 people?
BAAAHS With all of our pop-ups, we create no invite system, and the only crew involved with the bus (and allowed inside the vehicle) are affiliated with BAAAHS and limited to no more than 6 to limit contact based on all recommended health regulations around COVID-19 safety. For the great majority of the time, participants were gathered in small groups of half a dozen or fewer, with lots of space between. As these are outdoor events, we are unable to regulate who is in the area and stops to enjoy the music and ambiance. However, we take our role in the safety of the community very seriously, as we do when we are creating parties on the Playa. As such, at each event, we take advanced precautions to make sure that the public is safe at all times, including the mentioned digital and printed signage, regular amplified safety reminders, providing masks and hand sanitizer free to the public, and having volunteers on-site to monitor the situation for safety.
In light of the situation on Saturday, we have decided that we will be suspending all pop-up events to reevaluate safety precautions and measures to increase distancing for any future outdoor gathering. As always, BAAAHS will continue to encourage the public to take the current pandemic very seriously and do our part as a community partner to keep our members and the City as a whole safe and healthy.
UPDATE: BAAAHS founder Xian tells me, "I take responsibility. We should have stopped the party. Although we were far from the only party at the beach and we were taking active measures to mitigate risks, it was stupid and I apologize."
UPDATE: The title of this article has been changed to reflect that BAAAHS has responded about taking responsibility for being a sound camp at the beach on Saturday.