Members of San Francisco renters' organizations gathered by the City Hall front steps Wednesday to express their outrage at the rise of fake renter advocacy groups taking aim at progressive candidates in the upcoming election.
These organizations have inundated San Francisco voters with a late campaign of political slate mailers attacking left-leaning candidates and supporting moderate candidates.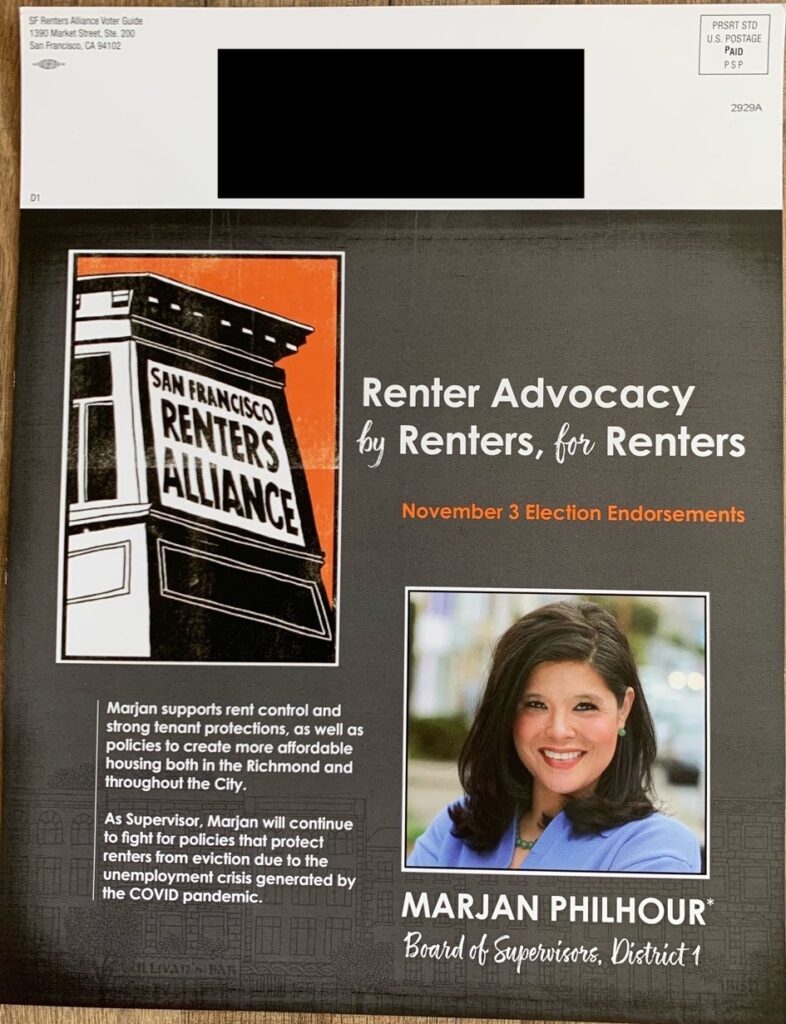 These groups include San Francisco Families First, Renters Alliance Voting Guide, Democratic Voter Victory Guide, and San Francisco Workforce Housing Alliance PAC 2020, and are largely funded by interest groups in real estate, tech, and prominent GOP donors.
"Right now, direct tenant service organizations and organizers are working around the clock to save their neighbors from eviction and from homelessness at a time when being on the street in this pandemic can be a death sentence. And yet at this particular moment, a group of Republican and venture capitalist billionaires have chosen to lie to San Francisco tenants," said Shanti Singh, a longtime tenant activist.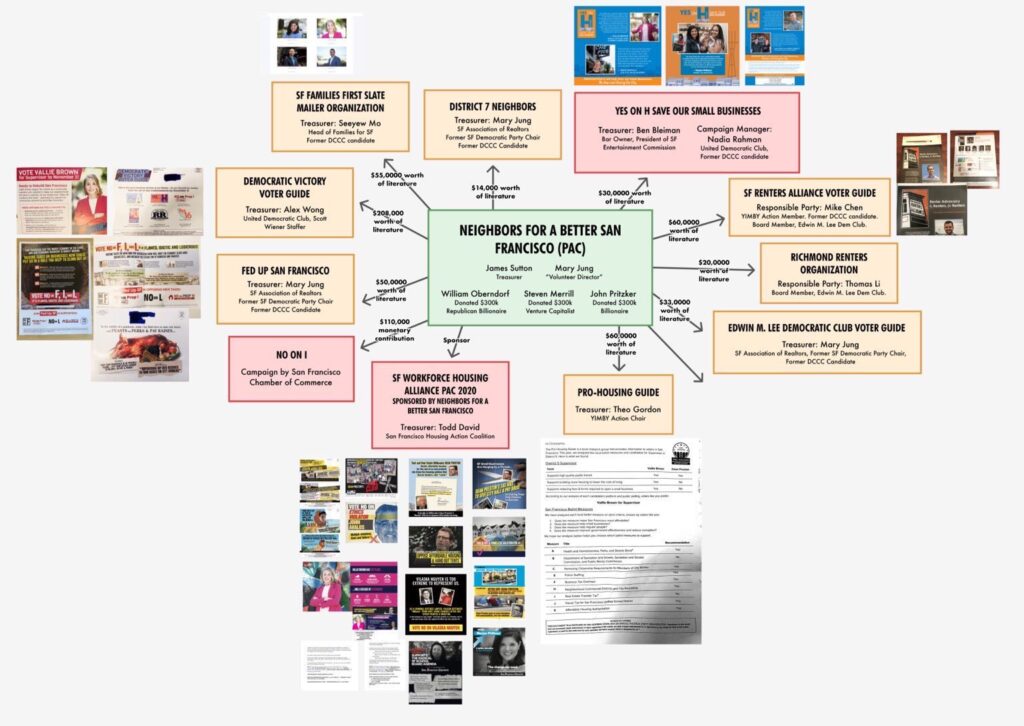 For longtime tenant activists in San Francisco, the naming of slate mailer organizations and independent expenditure committees that bill themselves as groups advocating on behalf of tenants has been infuriating — not only because these groups have no history of helping tenants, but many have been created in only the last several weeks.
Groups present at the rally, including the San Francisco Tenants Union and the Community Tenants Association, have organized and fought on behalf of tenants for decades.
"I've been doing this work for decades, and I know what a tenant organization looks like," said Scott Weaver, a tenants lawyer and activist with the Tenants Union. "It's a bit insulting that we have organizations calling themselves tenant organizations that really aren't…they are merely fronts for real estate and billionaire interests…they have so little confidence in their own message, that they have to have fake tenant organizations to prop up their campaigns."
This tactic of creating misleadingly named PACs funded by real estate interests is not new, but during COVID-19, when holding rallies and extensive door knocking campaigns are limited, it presents a unique challenge to tenants' rights groups.
"We're in the middle of COVID, we can't do door-knocking in the same way, tenants can't come to a phonebank in someone's crowded living room making calls to other tenants," said Fred Sherburn-Zimmer, a long-term tenant activist. "Tenants are getting less information under the pandemic, and so to get stuff from fake tenants' groups…just a barrage of mailers all over the city, I've never seen anything like it."
The groups San Francisco Families First, San Francisco Workforce Housing Alliance PAC 2020, San Francisco Renters Alliance, Pro Housing Guide, Richmond Renters Alliance, and Democratic Victory Voter Guide have directly endorsed Marjan Philhour in D1 and some have also sent out mailers attacking Philhour's main opponent, Connie Chan.
The San Francisco Democratic Party has sent a Cease and Desist letter to the Democratic Victory Voter Guide due to its name, which could cause it to be misconstrued as the local Democratic Party's endorsements. Although Philhour has said repeatedly that she opposes all outside money supporting her campaign, she has not directly denounced any of the groups supporting her. I reached out to Philhour for comment and received a statement from text message statement from her:
"I have denounced outside money in this race from the beginning of my campaign and continue to do so. I have asked my opponent, Connie Chan, repeatedly to do the same and she has refused. There are multiple Super PACs supporting Connie, and I continue to urge her to take my pledge and denounce outside spending. Until then, this is just shameless hypocrisy."
The only PACs that are supporting Chan, as far as we can tell, are the Labor Council and the Affordable Housing Alliance, which have been around for decades.
Kelly Groth, Chan's campaign manager, told us:
This is what Richmond residents have sadly come to expect from Marjan — hundreds of thousands of dollars of outside corporate and Republican money trying to swing the election and mislead voters. It's the same playbook as 2016, now dressed up as fake slate mailer organizations.
The fact is that her "pledge" was always just a cynical attempt to hide that once again her campaign is the campaign of special interests, corporate realtors, landlords and Republican billionaires. The voters rejected that in 2016 and we are hearing that people are rejecting it again this year.
There are at least six groups supporting Philhour, of which at least three are slate mailer organizations presenting themselves as pro-tenant organizations: Richmond Renters Organization, San Francisco Renters Alliance, and the Pro Housing Voter Guide. Only the Richmond Renters Organizations has any filings with the Secretary of State's office, and those filings indicate that it was formed on October 19. In addition to slate mailer organizations, there is also an independent expenditure committee supporting Philhour called the San Francisco Workforce Housing Alliance, which is sponsored by Neighbors for a Better San Francisco and has raised more than $400 thousand since its formation on October 13.
District 1 Incumbent Supervisor Sandra Lee Fewer expressed her disgust with the strategy that these organizations are using of branding themselves as tenant advocacy groups, and called it an insult to the intelligence of the members of her district, a majority of whom are renters.
"I condemn the politicians that are using these fake organizations to make like they are tenant-friendly, when really they are funded by the real estate industry. In my district, 65 percent of my neighbors are tenants, and yet we get mailers almost every day from a fake organization promoting somebody who doesn't have a track record in helping tenants and is being funded by the real estate industry and developers… they are buying your vote, this is an insult to democracy and an insult to our intelligence and an insult to the 65 percent of my district who are renters," said Fewer. "Don't believe the hype."