Missing the bright lights and happily writhing crowds of club nights and concerts? So do the people who host them. Faced with the prospect of their industry disappearing under the staggering financial loses incurred during coronavirus closures—and waiting on promised city and federal relief funds—San Francisco music and nightlife venue owners are taking matters into their own hands.
"It's so important to stress to people that are hearing these stories that there's such a great need if you want these businesses to survive," says Maria Davis, member of The Stud collective and owner of St. Mary's Pub.
Davis is also a member of the Independent Venue Alliance, a coalition that has been formed by more than 30 SF venues that have come together to advocate for nightlife and entertainment workers and owners. IVA has organized online fundraising events, a citywide poster campaign that encourages individuals to donate to the collective via QR codes, and is taking an active role in pressuring the government to provide aid.
It is joined by the SF Venue Coalition, which also works with larger venues—essentially, any space that has an entertainment permit. That group has convened roundtables with local and state politicians like state assembly members David Chiu and Phil Ting, and state senator Scott Weiner, to discuss survival options.
Davis knows what she's talking about when it comes to survival chances. St. Mary's has been able to limp along with patio seating in non-lockdown times and take-out orders. But SF's oldest queer bar The Stud permanently closed the doors of its historic Ninth Street location in May, pledging to return in a new location when it was safe and financially viable to do so.
"I've heard from so many of my colleagues that they have three months or two months or six months and then they're done," Davis says. "It just really stresses how important it is that we keep pressure on city governments and state governments. The state of California has offered us nothing, and there's almost no conversation around it."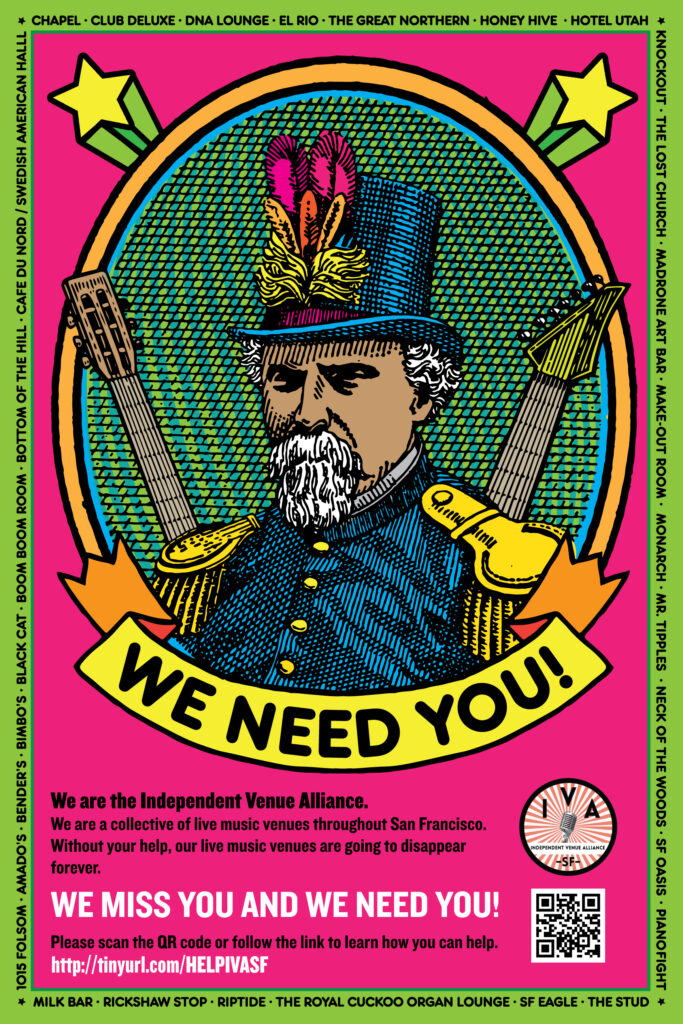 While there has been little movement by California state government to save the nightlife and entertainment industry—which brings 63,000 jobs and a yearly $7.2 billion to San Francisco, according to a report from the city controller—recently there has been some heartening movement at the federal and city level.
On Tuesday, the Board of Supervisors approved $2.5 million in tax waivers on license and registration and payroll taxes for entertainment and nightlife venues over the next two years, legislation introduced by Mayor London Breed and Supervisor Rafael Mandelman. The city has also given out one-time grants to individual creatives, arts organizations, and businesses.
At the federal level, the National Independent Venue Association (of which IVA is a local chapter) coordinated 2.1 million emails to elected officials that helped lead to the passage of the $15 billion Save Our Stages Act.
That fund, approved in December as part of the $900 billion federal COVID stimulus package, will prioritize small and medium-sized businesses that have lost more than 90 percent of their revenue, with grants to cover six months of employee pay, rent, and other business costs. Relief could total up to $10 million per company.
"We walk that line between being really grateful and really optimistic, but at the same time we are not counting on [the Save Our Stages money]," says Davis. "That's the part of it that I think is equally scary; getting to the right people, but also as soon as possible."
In the meantime, IVA and the SF Venue Coalition are working with Supervisor Matt Haney's office on the San Francisco Music and Entertainment Venue Recovery Fund whose creation was forecasted when Haney introduced it on December 22nd at a Supervisors' meeting.
"[The fund] doesn't exist yet, it's just an idea that needs to be approved," says Davis, who says she has worked closely with Honey Mahogany, her Stud co-owner and Haney's legislative aide. "But it's looking good right now, I guess."
Half of the 169 entertainment and nightlife industry workers responding to a May city survey said they had lost between 75 and 100 percent of their income, help from city government was slow to arrive. The same report showed that half of respondents were concerned about having to close permanently due the the crisis—a number that would be interesting to see updated now that owners have dealt with 10 months of the crisis. In September, Mayor Breed announced the creation of a JAM (Just Add Music) permit that streamlined getting permission for al fresco live shows.
For the people and businesses responsible for the performance scenes that have helped made San Francisco a global arts and entertainment center, further action is necessary—and fast.
Civilians can donate to IVA affiliates (which include El Rio, Cafe du Nord, Hotel Utah, Rickshaw Stop, The Knockout, among other COVID-closed hotspots) directly through the collective's website, or by holding a phone up to the QR code on one of the colorful posters hanging up around town. Davis says that the group expects to have benefit t-shirts designed by two local artists available for sale next week.
As a community, we have to prioritize these efforts if we want to keep the strobes on.
"There's a runway for these businesses, and at the end of the runway they close," Davis emphasizes.