On April 7, an armed security guard at a Walgreens on Market Street shot and killed an unarmed trans man named Banko Brown.
Everything about the situation was a fiasco. Brown might have stolen $14 worth of candy. At no point did he threaten the life of the guard.
And yet, the guard pulled gun, and when someone pulls a gun, there's a good chance they will use it, in this case to fatal effect.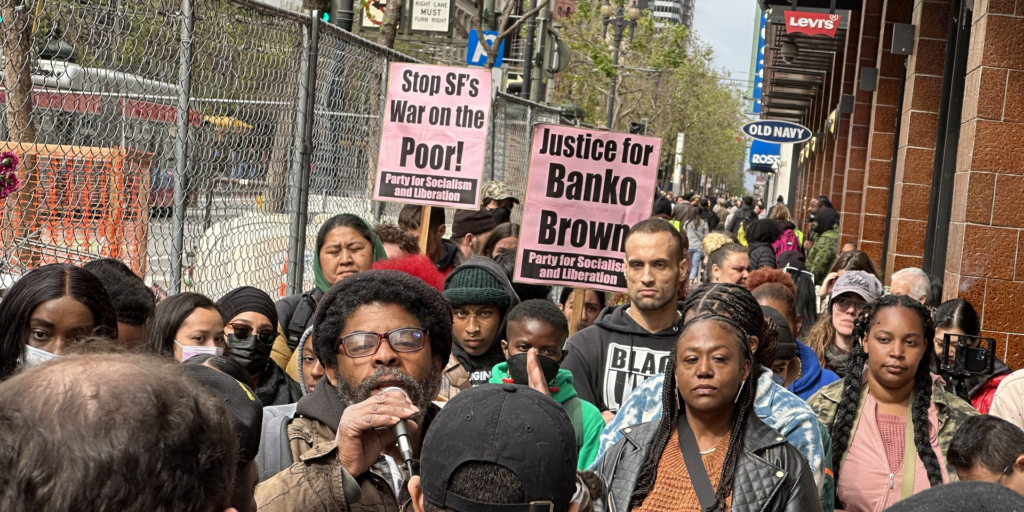 Shortly after the shooting, Sup. Dean Preston said he would introduce legislation to correct a loophole in local law that allows an armed guard (who is not a trained and state certified peace officer) to pull a gun just to defend property.
Under the current Police Code, a guard can remove a gun from its holster and threaten a person with it "in response to an actual and specific threat to person and/or property."
Preston's bill would delete the reference to property. That would be consistent with the standards for San Francisco Police Officers, who are not allowed to fire a weapon unless there is an immediate threat to the life of a human being. Cops can't shoot someone who is in the act of stealing property.
(Police officers have the right to pull their weapons when they suspect there might be a violent felony in process, but they are trained—not always successfully—not to shoot unless someone's life is threatened.)
Preston's legislation will once again bring public attention to the way the District Attorney's Office, with the support of the mayor, totally bungled this case.
The Public Safety and Neighborhood Services Committee will consider that legislation Thursday/14. The meeting begins at 10am.
The first Question Time since the August recess happens Tuesday/12, and it's also going to be about public safety.
Sup. Aaron Peskin, who despite a lot of people calling him and calling on him, says he's not running for mayor, has been increasingly critical of Mayor London Breed's policies and record on the opiod epidemic, car break-ins, and overall crime issues.
At the full board meeting, he is scheduled to ask Breed about "public safety."
That's a broad category, which is good: The old, worthless rules for Question Time (negotiated by then-Board President David Chiu) required the supes to give the mayor a written question in advance, which meant all we got was a pair of dueling press releases.
Now Peskin gets to ask anything he wants about public safety, and Breed is going to have to defend a record that's pretty hard to defend. Perhaps she will join her allies in the Boudin recall movement who are now trying to blame the judges.
I suspect Peskin won't let that fly.
The meeting begins at 2pm.
The Health Commission's Laguna Honda Joint Conference Committee meets Tuesday/12 to discuss the latest on the efforts to get federal recertification for the hospital—and the Gray Panthers have a lot of questions.
Among other things, new admissions have been suspended during the crisis; when will they resume? Will the patients who were transferred out during the crisis get first shot at returning (if they are still alive, which many aren't)?
Is there still a plan to cut 120 beds?
That meeting starts at 4pm at 101 Grove Street Room 300. You can get info on how to join remotely here.
The Haight Asbury Neighborhood Council will discuss The Case for District Elections Thursday/14. The main speaker will by Sup. Aaron Peskin, the longest-serving district supe. From HANC's announcement:
The first neighborhood districts went into effect after being passed in 1976. The promise of district elections was that it would result in a Board of supervisors that looked like San Francisco. The first district elected Board had a majority of tenants and the first directly elected Black and Chinese Supervisors. This district-elected board passed rent control, condomin­ium conversion and public employee contract reforms.
   After a repeal, then reversal, San Francisco has had district elections over the last 23 years. Last month, a "study" called for the repeal of district elections. At-large elections are dominated by big money and tend to disempower communities of color and lower income voters. Join us for an important conversa­tion about this critical issue.
The in-person meeting is at 7pm, Flywheel Coffee Roasters, 672 Stanyan.
To join the meeting online, copy this link: https://zoom.us/j/97001985280?pwd=Nkx2UVFPSTRVWG VXUVZEbFRkb0xwQT09
Or, with the Zoom app: Meet­ing ID: 970 0198 5280 Passcode: 333544