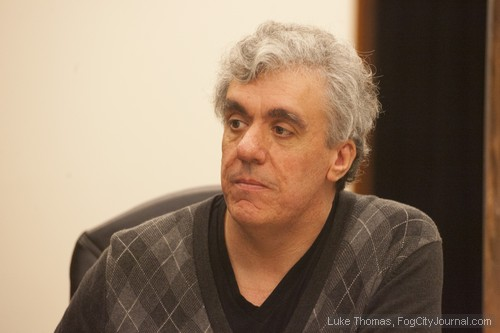 Is Tony Kelly the only serious challenger to any incumbent supervisor? (Luke Thomas photo)

By Tim Redmond

The final, final filing deadline is still months away, but at this point it appears as if four of the five supervisors up for re-election this fall will essentially get a free ride.
That would make for an unusual election: Since the return of district elections, there have typically been at least a few contested races. Part of the reason this year is different is that there's an incumbent in every district running for re-election. Open seats attract a lot more candidates. Another reason: The incumbents have already raised a substantial amount of money, enough to make any challenge an expensive and difficult prospect.
District 6 Supervisor Jane Kim, for example, already has $127,000 in the bank – and no serious opposition. She remains popular in the district, and will likely have the backing of the mayor (she's already deposited a $500 check from Mayor Lee's ally, Willie Brown.) She's voted with the progressives on many issues, while still backing things like the Twitter tax break and the Google Bus Project, allowing her to avoid offending the increasingly wealthy residents of new housing in the district, many of them tech workers. A challenge from the right would be pointless; a challenge from the left would be difficult.
There's been plenty of talk about a challenge to Sup. Scott Wiener in D8, but Wiener's got $150,000 on hand and nobody from the progressive side has come forward. At this point, it may be too late.
Katy Tang (D4) hasn't raised much money, but nobody's even filed a statement of intent to run against her. Mark Farrell (D2) has $192,000 available and no credible opposition.
Which means that the only real contest will be in D10, where Tony Kelly, who came within a whisker of winning four years ago, has announced he will challenge Malia Cohen, who has $125,000 on hand.
The problem with that — other than my general disdain for so many unopposed incumbents – is that the city won't have the chance to have the sort of serious conversation that we typically have every two years about the direction of public policy and the future of San Francisco. Scott Wiener and Jane Kim won't have to sit in candidate's night debates and explain why they sided with the tech companies on the Google Bus Project. Only in one district, Hunters Point/Potrero/Bayview, will those debates even happen.
Now: you can argue, and some will, that things are just going so swimmingly in San Francisco that all of the incumbents are clearly doing a heck of a job, and nobody needs to question or change anything. But I think a lot of the residents who are facing one of the most brutal economies in years – brutal not because there are no jobs but because there are so many high-paying jobs that there's no housing for anyone else – might disagree.
I'm still astonished that the Google Buses got an 8-2 vote. And none of the people who voted in favor, except Sup. Cohen, will in any way be held to account for it.
Yeah, I disagree with Kim on the Google Buses. My head is still spinning that someone with her political background and her legal training and her understanding of the issues of displacement would vote to allow the buses to run at $1 a stop without adequate environmental review. But her legislation on affordable housing ought to be the start of a serious debate over how much market-rate housing we approve, and where, and when, and how it ought to be linked to the provision of below-market-rate housing.
Me, I've argued for some time now that the city ought to stop approving any new market-rate housing – zero – until we reach the goal in the Housing Element of the General Plan, which states that some 60 percent of all new housing ought to be BMR. That's what our need is, that's what our regional goals indicate … that's what our own planning policy documents demand.
And we're not even remotely, marginally, close.
But apparently there are some legal problems with a moratorium, so the closest the city can come is to set up a "dashboard" of sorts – to track the number of market-rate units and the number of BMR units, and add a few modest measures to maintain some degree of equity.
That's what Kim wants to do. Her proposal would require an additional layer of approvals for luxury condos and apartments (and let's be clear – all "market-rate" housing in San Francisco is luxury condos and apartments that more than 80 percent of existing residents will never be able to afford) if the percentage of affordable housing in D6 drops below 30 percent.
It won't stop new development. It would just give housing activists a chance to go before the Planning Commission and question whether the balance of new rich people and existing poorer people is being shifted too far.
But at least, for the first time, there's talk about tracking the housing balance. If we could push that to address what everyone agrees is the city's need – that is, 60 percent BMR, 40 percent luxury condos – and somehow mandate that the city actually follow its own General Plan, we might be able to make a real impact on the transformation of San Francisco.