This weekend's choice nightlife and dance floor affairs, April 3-6.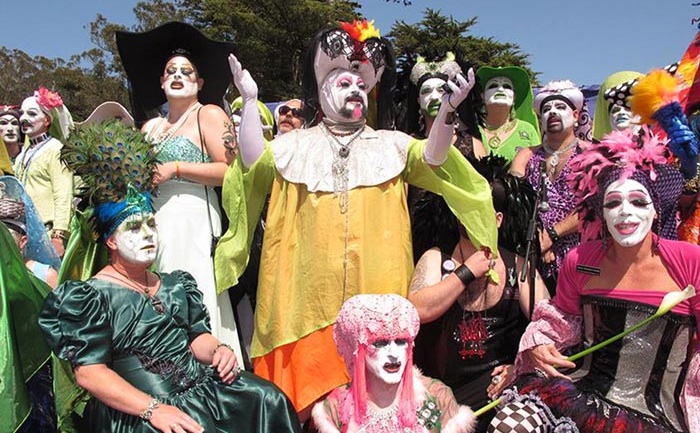 By Marke B.
PARTY RADAR The Orbit Room has closed. Capp's Corner is closing. Everyone's favorite gay intellectual cruising spot, Jumpin' Java, is gone. The future of Club Deluxe is in doubt (RIP Jay). Pink Saturday is being taken over by some strange new players, who think sexual orientation is "irrelevant" to producing the enormous LGBT street fair.
OK, enough with the bad news! Are your picnic baskets packed? Have you sniffed out your neon eggs? Where's your Hunky Jesus? Do you feel sufficiently Passed Over? Roll back the stone! Let's get some lift on Easter/Passover Weekend and hit the dance floors.
>>FRIDAY<<
>>GUI BORATTO Seminal minimal techno label Kompakt's "Brazilian wonder boy" hits the Bay again after a wee absence, stoking anticipation for his long-awaited new album. Fri/3, 10pm, $20. Mighty, SF. Tickets and more info here. 
>>SOME THING EASTER You can bet your bottom bunny that this raucous art-drag show do Easter right. With DJs John F*cking Cartwright and Hoku Mama, plus a cast of thousands. Fri/3, 10pm, $7. The Stud, SF. Tickets and more info here.
>>POLYGLAMOROUS Fun, furry gay monthly techno-house hullaballoo is back — this time raising fund for that mobile giant sheep, the BAAAHS bus (it's a Burning Man thing).  Fri/3, 9pm-late, $7-$10. SF Oasis. Tickets and more info here.    
>>ED BANGER DANCE PARTY Do you miss the good ol' French Touch and hardcore electro sounds of 2007, before fist-pumping and brain-pounding was co-opted by mainstream EDM, and turned into some kind of post-millennial hair metal? Hit this. With Busy P and some major players.   Fri/3, 9pm, $15-$20. Mezzanine, SF. Tickets and more info here.  
>>SATURDAY<<
>>DEBASER It's only been seven years since this excellent party brought some authentic '90s alternative nostalgia to the scene, but it's become such a fixture that it actually does seem like we've been going there to dance to Bikini Kill and Pavement for two decades. DJs Jamie Jams and Emdee send you to Nirvana. "Just added: International Pop Underground Happy Hour & Cake Walk, 6-10pm. Bake a '90s-themed cake, win a '90s-themed cake!"  Sat/4, 6pm, $5, free with flannel before 11pm. The Knockout, SF. Tickets and more info here. 
>>BROGAN BENTLEY A good friend turned me on to local basement producer Brogan Bentley's ecstatic, bass-heavy dream pop a couple weeks ago, and I was absolutely hooked. He'll be bringing his sunny-apocalypse sound to the always audacious Push the Feeling monthly party. Sat/4, 9pm-2pm, $5-$8. Underground SF. More info here.  
>>HARD FRENCH + HONEY SOUNDSYSTEM Two of our best record selecting DJ crews come together to play old soul 45s on a patio. Don't miss it. Sat/4, 2pm-8pm, $10 (free BBQ!). El Rio, SF. More info here. 
>>JAY TRIPWIRE There are DJs that I love, and then there are DJs that I love. This classic Canadian techno wizard crafts sometimes-esoteric, sometimes-just-bangin' sets that always somehow make me hear things differently. Can't wait. Sat/4, 9pm, $10-$15. Mercer, SF. Tickets and more info here.
>>SUNDAY<<
>>EASTER WITH THE SISTERS: #WTF, MARY?! The 36th Annual quintessential San Francisco happening — if you're not here, you might as well just move. The charitable Sisters of Perpetual Indulgence trot out a phalanx of gloriously profane performers and Hunky Jesuses (Jesii?) for a wonderful day of celebration. Bring a picnic basket and soak in some true SF sunshine (now in Golden Gate Park due to Dolores Park construction). Plus: bonnet competition! Sun/5, noon-4pm, free. Hellman Hollow, Golden Gate Park, SF. More info here.
>>COUNTESSA STUTO Terrific queer hip-hop party Swagger like us will never be the same once this punk-rock rapper hits the stage, in broad daylight even. She is certainly something!  Sun/4, 2pm-8pm, $5-$8. El Rio, SF. More info here. 
>>JAHDEN BLAKKAMORE Dub-reggae bliss from this smooth Guyanese (via Brooklyn) emcee. This is a release party for his new record "Order of Distinction" — he'll be performing alongside Relic Secure, Sep, and the whole crew at the awesome Dub Mission weekly party. Sun/4, 9pm, $10-$13. Elbo Room, SF. Tickets and more info here.