Maryam Rostami's latest performance piece takes on problematic visions, apocalypse porn, and "roadkill Kardashians."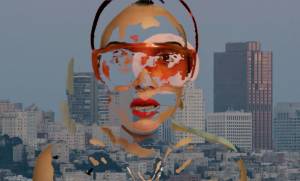 ONSTAGE Performer Maryam Farnaz Rostami hardly thinks that her play on the city's future will present an answer to our current housing woes. "I am not providing solutions," the drag queen and performance artist told 48 Hills in an email interview this week, days before her latest piece, Late Stage San Francisco, debuts at the ACT Costume Shop (Fri/28-Sat-29.) "Only a few fantasies, all of which are problematic."
But this is not a woman who shies from the complex. Past Rostami productions have focused on Persian American female identity (Persian Looking), the cultural twists endured by a child of immigrants (Persepolis, Texas). She's done drag as a cis woman, a complex braid of gender presentation — as anyone familiar with her character Mona G. Hawd will attest. Late Stage is her meditation on the ramifications of the current battle for housing and space in San Francisco (with implications of cancer and capitalism's collapse in the title).
Perhaps by leapfrogging into a far away time, Rostami can show us that there is life after luxury housing is proposed on 16th Street and Mission, and that the true essence of the city will survive skyrocketing rents. 
She says she built the concept for the play out of literary crystal ball gazing, taking notes on Aldous Huxley and Ray Bradbury (in our interview she gave a particular shout out to Bradbury's classic short story "The Veldt"). Rostami also pulled inspiration from films like Back to the Future, a Fast Company thought experiment that made us a little dizzy to look at, her day job in an architecture firm, and William Gibson's work in pattern recognition.
So let it not be said she's not looking ahead. We contacted her to get her thoughts – problematic fantasies? — on some end games that have been on our minds of late. Oh yeah, and if you want to see these visions on stage act fast, the two-show run will sell out quick.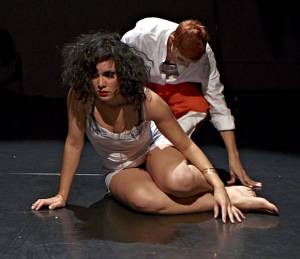 48 HILLS Seems like all the apocalypse movies have San Francisco pegged as going first, falling into the ocean, something like that. Your thoughts on our fate?
MARYAM ROSTAMI I sort of hate apocalypse porn because I think it plays on people's fears really hard, like "THE END IS NEAR, BUY SOMETHING!" The apocalypse is a construct that's been used for millennia to get people to fall in line.
That being said, it's no secret that SF is going to submerge soon. SPUR distributed these maps made by @burningjustice and @urbanlifesigns showing what will happen to the city if the sea levels rose 200 feet, which apparently is a probability in 200 to 900 years. Is it completely shocking and fucked up? Yes. But hopefully by that time we will be living in a radically different way. In the show I argue for a utopia that uses Plan Voisin as a jumping off point, it's an old fetishistic stand-by for many architects. The notion would be to put us all in gorgeous high-rises and quit touching so much of the land. But the reality is that idea can't work if structures of racism and global greed and hierarchy stay as they are.
48H What does the future of SF look like for the people getting evicted in 2015?
MR The tiny shreds of optimism I have lead me to sense that we have some choices when it comes to turning this late capitalist beast around before it eats our entire culture alive. If you're getting evicted in 2015, I hope sincerely that you're able to find a new home that is lovely, a new community that has open arms, and one which you can embrace with open arms and generosity. Looking at SF from the perspective of an evicted person would be like looking at an ex who got a lot of bad plastic surgery: "We loved each other once. Then you sold all the way out, and now you look like some kind of roadkill Kardashian. I'm doing a lot better without you."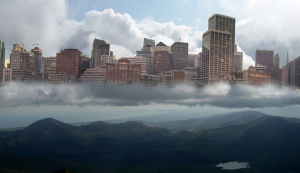 48H What are you hoping the play's sci-fi hypothesizing will contribute to discussion of gentrification in San Francisco?
MR: My sense is that the impact of my voice in this conversation isn't for me to determine. I'm here to process emotions and reflect what's going on to people who may not be in the thick of it. I hope Late Stage brings a bit of truth to people with little to no awareness of the disease of gentrification, while strongly naming the state of affairs for the 99% — or at least the milieu of artists with whom I feel connected.
I hope that my piece will help bring on the (peaceful) revolution. Isn't that the hope of every artist?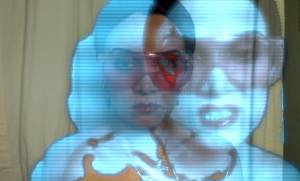 48H Finally, in the future do we still wait in horrific lines for high-priced artisan foods, and if so what are we waiting for?
MR: In the future, Coca Cola will be outlawed, due to deep regulation of processed food products with nil nutritional value and harmful production processes. Things like Hot Cheetos, Mountain Dew, and Snickers will be black market items, traded in a highly expensive underground economy, and enjoyed only by the very rich. What was once super common will be super-rarified because of regulation. Fancy, farm to table pop-up dinners will be replaced by illicit gatherings where ancient(ish) junk foods are consumed.
The Bi-Rite of the future administers shots and saline bags of nutrients exclusively; many of the foods we needed for survival have gone extinct, so nutrients are bio-manufactured and (again) only affordable by a certain class of people. The highly physical-body conscious people line up around the block for a super-greens shot.
LATE STAGE SAN FRANCISCO
Sat/28-Sun/29 8pm, $25-35
ACT Costume Shop
1117 Market, SF.
More information here