If you haven't attended a Bay Area powwow, you're in for a treat Sat/20, when the Fifth Annual BAAITS Powwow comes to Fort Mason, 10am-10pm. I've attended three of these diverse cultural knockouts and written rapturously about them in the past: the incredible music, the spirited dancing, the important tradition, the glorious regalia, the cool vendors and goods, and, of course, the yummy frybread.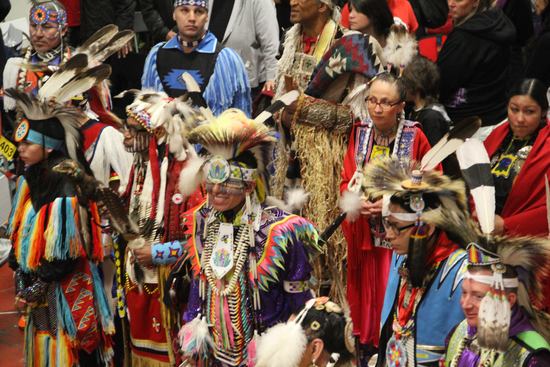 The daylong powwow not only draws hundreds of people from all over the Bay Area for a deep cultural exchange and experience. (Lakota, Comanche, Sioux, Ojibwe, and many other Native communities are represented in a whirl of sights and sounds). It's also unique in that its hosted by BAAITS, or Bay Area American Indian Two Spirits, our local Two Spirit organization. Two Spirits are gender variant indigenous American people who were often traditionally revered in many Native American societies. It's wonderful to have queer people host the Bay Area powwow.
As the powwow settles into its new home at the Herbst Pavilion at Fort Mason, however, it's time for this outsider (me) to step aside and let an actual Native American talk about it all. Not technically a festival, but festive nonetheless, the powwow "is more of a social gathering of Native Americans/American Indians and allies who celebrate being together in a sober, kid friendly space," says BAAITS's Samuel White Swan-Perkins, one of the powwow's organizers. "We're coming together to observe our traditional dances and ceremonies and partake of amazing foods from North America and Canada. It's a bit more like a large family reunion."
Swan White-Perkins claims Tsalagi/Siksika/Welsh/German heritage and is a singer (powwow and hand drum), member of the Kiowa Gourd Dance Society, and Native food preservationist based in Chico. I asked him some questions over email about this year's powwow.
48 HILLS This is the fifth year of the Two Spirit-hosted powwow — but it attracts Native American and First Nations people of all types. What was the genesis of the event, and is it common for Two Spirit people of the Americas to host events like this?
SAMUEL WHITE SWAN-PERKINS The powwow attracts professional dancers and singers from across Turtle Island, that is to say, from across North America. The event is definitely one-of-a-kind in that while there are gatherings for Two Spirits, by Two Spirits, this is currently the only Two Spirit-organized and produced powwow on Turtle Island that is open to the general public. 
BAAITS recognized the need for our community a few years ago to have this form of expression available, as so many of us were raised in the powwow community as youth and young adults. Contemporary powwow largely relies on a binary, heterosexist model, so this is an opportunity to remind everyone that we, as Two Spirits, are an integral part of the Native American/American Indian community and not just in the Bay Area. Traditionally, many (but not all) Native Nations held their Two Spirit relatives in a very high regard. This changed with the invasion and advent of Judeo-Christian religion in North America.
Powwow is not a California tradition and we want to honor the fact that we are in Ohlone Territory. We have two sisters who are Ohlone who will be offering a prayer at the opening of the powwow.
48 HILLS This year, you have youth Head Dancers for the first time. Can you tell me a little bit about the significance of that, and what role the Head Dancers play in the ceremony?
SAMUEL WHITE SWAN-PERKINS As is the case with most indigenous groups, we adore our children and consider them to be sacred beings sent to us from the Creator. They are seen as the most precious part of our community, as the future of our peoples are ultimately in their power. Our children are often fussed over, given their own autonomy (within reason) and in the case of one of my Nations, seen as equivalent of adults, with their own right to self-determine, even insofar as determining the own gender expression, however that may develop. We start them dancing often as soon as they can walk and as they age earn the rights to more intricate regalia and their eagle feathers.
The role of Head Dancer is a major honor for these kids; they must provide some community service and act appropriately so that they best represent our communities. They also must have a solid hold on how to perform their dance and as such, many of the popular songs for that dance.
For what it is worth, though, this is not ceremony, per se. Although powwow can trace its roots to the Anishnaabe Big Drum tradition and the affiliated ceremonies, only a few Nations see powwow as ceremony itself; the rest of us recognize it as a place where ceremony may take place, but as more of a social gathering for Natives that may, or may not be open to outsiders. BAAITS Powwow of course is open, and all are invited to join and adhere to our protocols. Despite a few rules it really is a relaxing, laid back space and we enjoy sharing our traditions with respectful visitors.
48 HILLS What are some of the other highlights of this year's powwow, and how things have evolved in the past five years in terms of the presentation and offerings of the event?
SAMUEL WHITE SWAN-PERKINS Our Drums represent Native communities and nations from as far away as Oklahoma and New Mexico, and we will have three traditional food vendors. We have also increased the purse for our dance contests and have several champion dancers who will be in attendance. The addition of our youth dancers will also encourage more families to attend, who in turn will support the adult dancers and the community at large. This will help to foster a more inclusive attitude toward Two Spirits, which is what is traditional for many of us. It also sets an example for the children of inclusion and acceptance of those who are different from themselves.
This years' gathering will be in a beautiful setting at SFs legendary Fort Mason. The space will be much closer to downtown, far enough away from the Lunar New Year celebrations so as to be comfortable, yet accessible to those who would like to visit our neighbors on their special day. We will also have a special honoring for a straight Native ally who is a well regarded Lakota man from South Dakota, whose family maintains ties to the Bay Area.
48 HILLS How important would you say this event is in preserving Native traditions and also showcasing the dynamic changes in the Native American community?
SAMUEL WHITE SWAN-PERKINS I would go so far as to say that it is the premier event in the area insofar as preserving Two Spirit traditions.
I recognize that this is a strong statement, so I will qualify it by explaining: Although all powwows strive to present Native cultures as they are and not how we were, BAAITS powwow is the only Two Spirit powwow in the world. We also strive to honor the local California Native Nations by inviting them to attend, and to share their cultures, as powwow is not California Native tradition and we are in their backyard.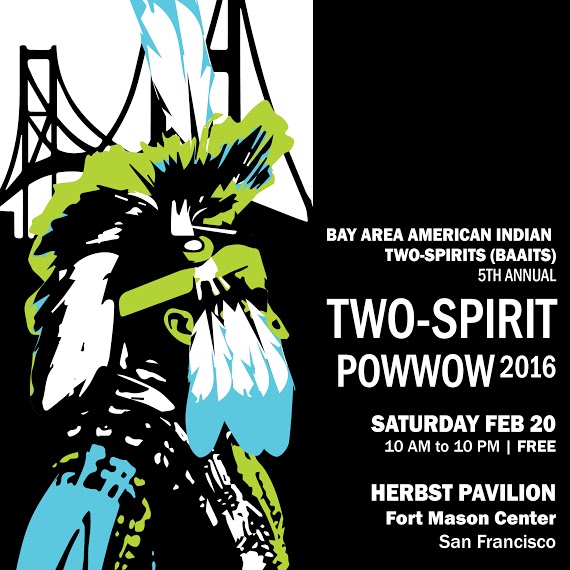 48 HILLS How has increased GLBT visibility affected the Two Spirit community? 
SAMUEL WHITE SWAN-PERKINS If anything, I think its the other way around, that the Two Spirits have affected the larger community.
Back in the '60s and '70s, groups like Gay American Indians began to ally with larger social movements like AIM (American Indian Movement) and slowly we began to gain acceptance from our traditional holy people — medicine people, that is to say. In the '70s, particularly, and even jumping forward to the 90s, American Indian culture became very chic. The focus on our traditional ways of being and non-binary views of some of our Nations gender roles became the subject of college courses, movies, and pop culture (Little Big Man and TransAmerica) and was eventually co-opted and appropriated by mainstream LGBTIQA+ culture in the 2000s.
Non-Natives began to errantly view us as utopian collectives and held us up as the end-all-be-all of what's right with Indigenous lifeways. The fact of the matter is that we are just human and no society is perfect. Now fast-forward to today and we find several examples of non-Natives across the world using the term Two Spirit, for whatever reason in their businesses, collectives, workshops, what have you.
To us, that's not so good. The Two Spirits were generally the first to be wiped out by the invaders or enslaved by the Missionaries and were often dismissed as witches or boogeymen, when in actuality, we held important positions in our cultures and were generally held in high regard. We are returning to our places of honor at long last and ask those who would ally with us to respect our journey.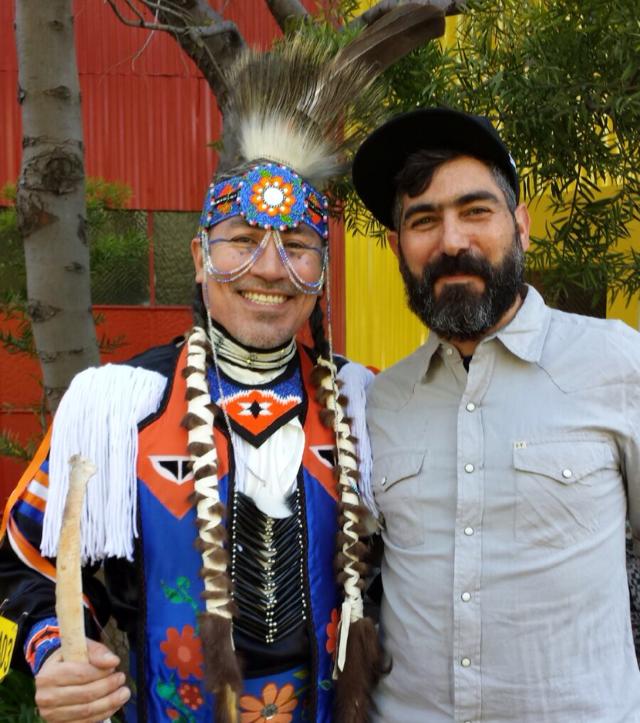 48 HILLS As the event has grown in popularity, are there concerns that some of the attention is becoming too much? I saw that there is some discussion about how to guide photographers into being more respectful of the dancers …
SAMUEL WHITE SWAN-PERKINS It's not so much the attention as the intention that has been a struggle.
Natives are among some of the most photographed people in the world but among the most marginalized by mainstream society and sometimes this can lead to trouble for us.
We ask members of the media, as well as all attendees who have access to a camera to think before you begin to film. It is inappropriate to film ceremonies, prayers, certain dances and most of all individuals, particularly elders or children without permission. It is appropriate to ask before taking a picture or filming, as many dancers and singers do not mind stopping for a brief chat and/or photo. We are requesting that individuals and members of the press follow our simple three point rule:
Do not take photographs during prayers, or any time the MC asks for no photographs.
Photography of activities inside the arena is allowed otherwise.
Outside the arena, ASK FIRST before taking someone's picture. (General crowd shots are OK.)
That being said, one must remember that the event is run on our terms and one should be prepared to hear, "No, do not take my picture" and to be OK with that.
We will have increased security this year and they will actively help in enforcing our new "two strikes" rule. Our committee or volunteers will warn an individual, media or otherwise only once for an infraction. If it happens again, the individual will be escorted from the grounds and barred from attending the powwow in the future. We ask attendees not to mock our dances or actions, and of course, no costumes that imitate Native or Indigenous dress will be allowed.
Please respect that this is not a music festival and is a safe space for Native people to practice our traditions, many of which were once illegal and for which our ancestors struggled to preserve. We ask that folks appreciate our traditions by not appropriating them for themselves, but to attempt to educate themselves about their own cultures' traditions. We believe that the entire human race was provided their own beautiful ways of being and expression and to honor them is to honor ones' own ancestors… and ultimately themselves.
FIFTH ANNUAL BAAITS TWO SPIRIT POWWOW
Sat/20, 10am-10pm, free
Herbst Pavilion at Fort Mason
More info here