The sleaze coming out of the real-estate industry has reached astonishing levels in the past couple of days, with Big Tech and the Association of Realtors spending gobs of money on utterly inaccurate mailers attacking the progressive candidates for Democratic County Central Committee.
First we had an attack on candidates who support the decriminalization of sex work – even though many of the real-estate candidates take the same position (as do an increasing number of public health and human rights organizations).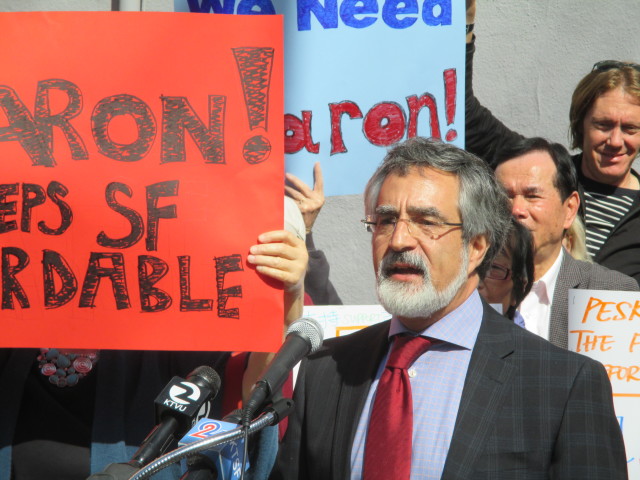 Then we have a piece that arrived yesterday that tries to link the "Peskin Machine" candidates to former Sheriff Ross Mirkarimi – except that more than half the people who are pictured as supporting the former sheriff didn't actually support him.
And there's a piece suggesting that Peskin "took money from the LGBT community to repeal Prop. 8 – but the money disappeared." Actually, the money went to a voter-education project that Mary Jung – the current chair whose slate members are pushing this crap – voted for and supported. Oh, and the records of that money? They would have been kept by the person who was secretary back in 2008, when the program took place – and her name was Mary Jung.
The flier says Peskin "stands accused" of misusing that money – but at this point, the only person "accusing" him is … Mary Jung.
Debra Walker was the treasurer of the DCCC at the time. She told me that the committee set up an operation not to raise money but "canvassing to change people's minds" — to knock on doors and talk to voters about Prop. 8. The money that came in paid for the canvassers.
"Frankly, this is all BS," she said. The operation was fully approved, "Dozens of people were hired to do the canvassing — and it worked."
Seriously: If there were something scandalous here, you have to think that it would have come out during Peskin's recent race for supervisor, when the entire weight of the Mayor's Office was coming down to try to stop him.
I was particularly intrigued to see the piece that tries to slam members of the progressive Reform Slate for their "unforgivable judgment" in supporting Mirkarimi, who "was locked up for domestic violence." Actually, Mirkarimi was never really locked up; he surrendered, was booked, and immediately released. But never mind: A lot of people did, indeed, think that Mirkarimi should be removed from the office of sheriff after he plead guilty to misdemeanor false imprisonment.
And guess who one of the most prominent local politicians calling for the sheriff's resignation was? Yeah – Aaron Peskin.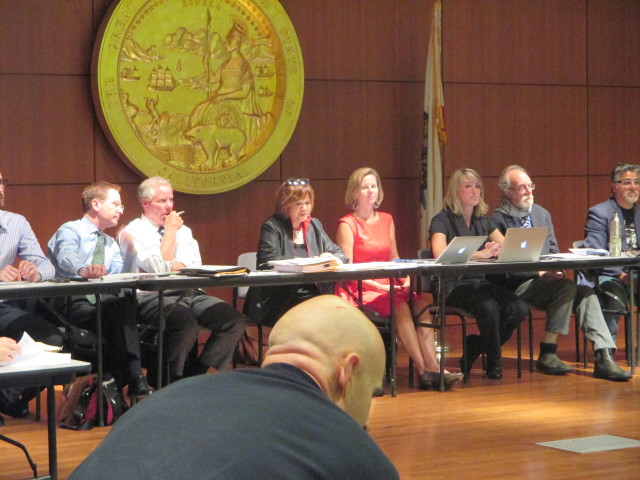 The five "Peskin machine" candidates who are pictured as supporters of Mirkarimi are Rafael Mandelman, Cindy Wu, Petra DeJesus, Jon Golinger, and Alysabeth Alexander.
Alexander is, and last year was, vice president of politics for SEIU Local 1021, which endorsed Mirkarimi's re-election. DeJesus told me she was a personal friend of the former sheriff and his wife, "and I don't turn my back on my friends."
But Golinger never supported Mirkarimi. "I never made any statement about him, although I agreed with Peskin's position," Golinger told me. "In fact, I voted for Vicky Hennessy."
Same for Mandelman: He made no statement during the Mirkarimi controversy, and at the DCCC voted "no endorsement" for sheriff.
Cindy Wu said the piece "is a waste of their donor's money. I never endorsed Ross and didn't say anything public about his race."
What's the source on this faulty allegation? The fine print says – are you ready? "public records available everywhere."
There are no public records that I can find suggesting that Golinger, Wu, or Mandelman made any sort of statement in support of Mirkarimi during the period when he was in trouble over his domestic violence incident or during his re-election campaign. The allegation, as far as I can tell, is just wrong.
The Mirkarimi situation was complicated by a lot of factors. Some people didn't like the idea that the mayor could suspend an elected official without pay and without due process; in fact, some who didn't want Mirkarimi in office argued that the voters had elected him, and the voters should remove him through a recall.
Some people argued in good faith that the charges against him did not rise to the level of removal from office.
The Board of Supervisors meeting where all this went down was fascinating, and I was impressed, for the most part, by how sincere all of the members were and how seriously they took their votes.
Local 1021 endorsed Mirkarimi because he was the most progressive sheriff in the nation and a good employer for union members. DeJesus and others stuck with an old friend.
Everyone's accountable for their votes, so if you think supporting Mirkarimi was a problem, fine: But at least be accurate. This, like so much of what has come out of the real-estate camp, is just factually wrong. (And yes, the two most recent hit pieces were paid for by the Association of Realtors. Jung is the group's chief lobbyist).
Oh, and there are more interesting elements behind some of the flood of mailers you've been getting pushing the real-estate slate for DCCC. A full $80,000 of that money comes from two sources – Kevin York Systrom, CEO of Instagram, and Evan Williams, CEO of Medium. Both list their addresses as San Francisco.
I was curious to see if these folks who want to buy the local Democratic Party are even registered Democrats, so I checked the latest (May 31) version of the Master Voter File at the Department of Elections. It's an Excel file, so it's pretty easy to do a search by name.
Unless I missed something or the files are screwy, there is no Kevin Systrom listed in the city's voter registration files. There are several people named Evan Williams, but none are living in the 94102 zip code that Williams lists on his contribution forms.
So it's possible, based on my review of (actual) public records, that neither of these fine San Franciscans who care so deeply about the future of the Democratic party are even registered to vote in this town.
Full disclosure: I am proud to do some freelance work for Local 1021, editing the union's quarterly magazine. In the past year I have also taught at SF State's Osher Lifelong Learning Program, at USF, and at City College, have sold a few stories to other alt-weeklies, and in the unlikely event that anyone else offers to pay me for anything else, I will be happy to share.