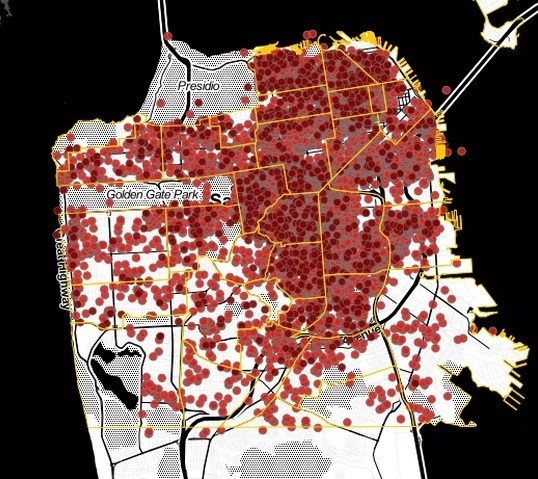 Did anyone catch the not-at-all-veiled threat in the Chronicle story on new efforts to limit Airbnb rentals?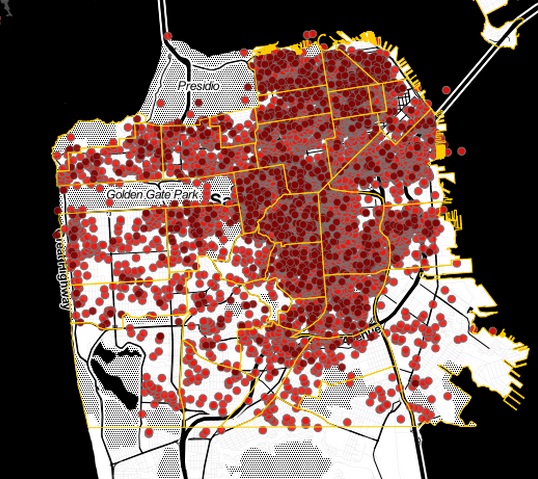 The measure, sponsored by Sups. London Breed and Aaron Peskin, would cap all rentals at 60 days. Breed voted against similar caps when the original legislation passed; in fact, she was the sixth vote to allow Airbnb to do business legally in SF under very lax rules with no effective enforcement. That law has probably cost a few thousand renters their homes – it's encouraged landlords to evict all their tenants and turn entire buildings into hotel rooms. Then she voted to make the law even worse.
Now Breed, facing a tough challenge from tenant advocate Dean Preston (who has long been a critic of the weak Airbnb law) has apparently realized that the law she helped pass has been an abject failure and has harmed tenants and jacked up rents in her district.
So she's joining Peskin, a leader in the move to regulate short-term rentals, in a modest measure that might give Airbnb a message: You want to mess with the city – that is, sue over reasonable regs – and we might make the rules even tighter. Not quite what I would have suggested, but still: way better.
Here's what Nathan Ballard, a political consultant, had to say:
"By aggressively going after Airbnb, she is making some very powerful enemies. Airbnb plays to win. Their political strategy is overseen by the brilliant political operative Chris Lehane, whose powerful and potent legal strategy killed Airbnb's opposition the last time it reared its head" with Prop. F.
(UPDATED TO CORRECT BALLARD'S ROLE)
It's time that the city stops running away from these "powerful enemies." If San Francisco can't reign in Airbnb, it's hard to imagine what city ever could.
A couple of points to think about.
You have to give Preston tremendous credit here: He did the thankless and difficult job of taking on an incumbent, pursuing a progressive campaign against someone who is far more moderate than her district. And we already see the results. If Breed were unopposed, I don't think she'd be pushing this bill.
So let's play it out. The mayor, who has no friends left at all except Conway and the Big Tech crew, will almost certainly veto any anti-Airbnb bill that has fewer than eight votes.
Sup. Scott Wiener has strong support from the Conway gang. He's in a tight state Senate race – and if he votes against this bill, it will give Kim a big boost.
Breed is with Wiener, not Kim.
It's less than a month before the election. There's a 30-day waiting period after any measure in introduced before it goes to committee. Breed could waive that – and in the process put her ally Wiener in a very difficult place.
So you think this bill will make it to the Board of Supes, after going through committee, before Nov 8? If it does, and the mayor vetoes it, you think that the veto override might take place before the new board is in place?
If the progressives don't win all six seats in November, you think there's any chance of a veto override?
Big Tech knows what's going on here – Airbnb's allies are pouring vast sums of money into the contested supes races, trying to make sure that any bill like this won't survive the next board.
And wouldn't it be nice if San Francisco had a mayor who would read Ballard's comments and say: We aren't afraid of you. Don't mess with San Francisco.
Alas.
Wayne Friday, the longtime political columnist for the B.A.R, died last week. He was part of the Harvey Milk generation, and he and Milk were friends. He helped get Milk elected to the Board of Supes, and according to this historically fascinating obit, took over Milk's political column after the historic election.
By the 1980s, he was moving to the more moderate side of things, becoming friends with Dianne Feinstein and Scott Wiener. He was not a terribly progressive member of the Police Commission.
But he was always friendly and respectful to me and the Bay Guardian, and we all read his column. And how was your week?
The Police Commission isn't discussing the next chief this week, which suggests that the panel has already sent its three choices to the mayor. Reports are that Acting Chief Toney Chaplin is among the finalists.
The mayor's not on the ballot, but his policies are – and if he's going to appoint Toney, he's going to do it after the election. Which is hardly a vote of confidence.
Meanwhile, the Government Audit and Oversight Committee holds a hearing Thursday/20 on a Civil Grand Jury report on transparency in the investigation of police shootings. The committee will hear from all parties, and everyone will agree we need to do better. And then we will be up against the Peace Officers Bill of Rights, the horrible state law that bans any serious transparency in any police discipline.
That ought to be an issue in the state Senate race.