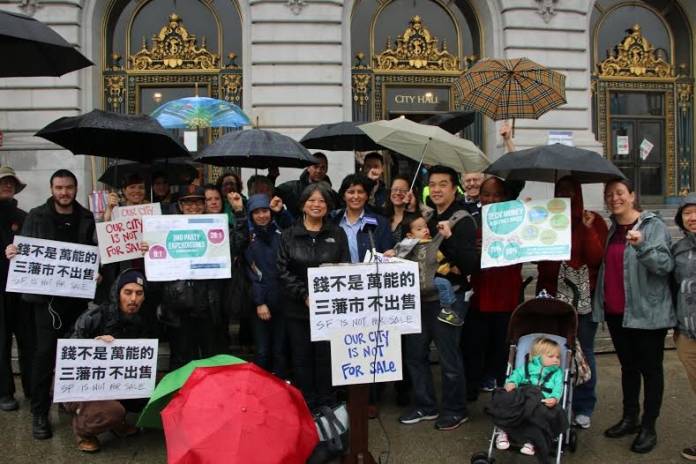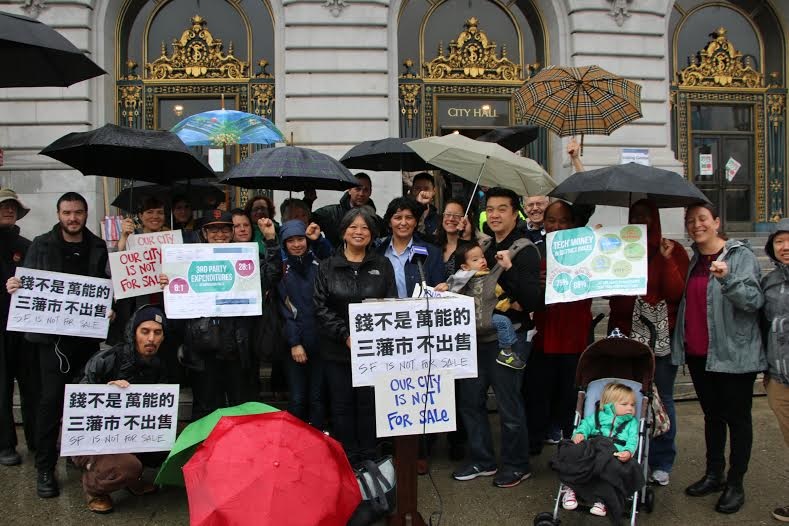 The flood of sleazy dark money coming into Districts 1 and 11 got the attention of labor leaders and community activists, who met on the steps of City Hall today to denounce the role that Big Tech is playing in trying to buy those district seats.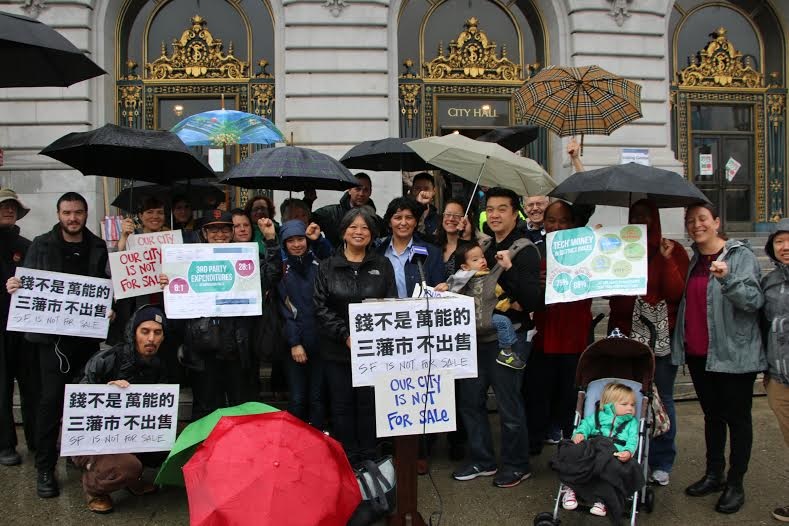 It's radical: When you look at independent expenditures – the unlimited money coming in huge chunks from interests that are sometimes hard to trace – supporters of Marjan Philhour are outspending supporters of Sandy Fewer by 27-1 in D1.
In D11, outside interests (mostly labor) have spent $45,000 to support Kimberly Alvarenga; Big Tech and anti-union real-estate interests have spent $364,000 to promote her opponent, Ahsha Safai. That's a ratio of 8-1.
It's clear what's going on here: The allies of Mayor Ed Lee, who want to take back control of the Board of Supes, have decided that their best shot at blocking a progressive majority is to go after Alvarenga and Fewer. So they are pouring in the money at a staggering rate.
They are also pouring money into D9, where they are supporting Josh Arce against Hillary Ronen. And the SF POA and Dede Wilsey just kicked in more money for Arce.
As we reported earlier this week, the statewide political action committee called Progress San Francisco has dumped hundreds of thousands of dollars into local IEs that are active in those districts. That money is coming almost entirely from tech industry leaders. The Ex suggests that some of this has to do with the Google bus issue – the city will soon be revisiting the deal that gave the tech companies the right to use city streets and park in Muni stops for luxury shuttles to take tech workers to jobs on the Peninsula (and by the way, driving up housing costs in SF).
The tech industry wants to continue the practice of allowing unlimited office development south of SF – and wants SF to take care of housing the workforce. That's what the shuttles do – make it possible for people to live in SF and work on the Peninsula without having to drive or take public transit.
We see the impacts on SF every day.
(I keep hearing the likes of Scott Wiener say that if there weren't Google buses, the workers would just drive, and put more cars on the road. Seriously? Would people who now use their luxury shuttle time to work (with Wifi) in comfort spent several hours a day fighting traffic (without the ability to work, or text, or take calls) – or would they demand housing closer to their offices? The shuttles enable a system that outsources the Peninsula's housing problems to SF.)
Another big donor: Airbnb, which wants to make sure that the next Board of Supes doesn't try to cut into the massive amount of money its making by listing illegal hotel rooms in the city (and in the process, displacing thousands of tenants and removing rent-controlled housing).
The people who showed up Friday morning were pretty blunt: The tech industry and some realtors (including the anti-labor Robert Rosania) are trying to use their money to change SF politics.
"These large tech corporations are trying to buy the election," said Giulio Sorro, a former teacher and now Co-Director at June Jordan School in the Excelsior neighborhood of District 11. "They are spending hundreds of thousands of dollars on candidates they think they can control."
Alex Tom, from SF Rising Action Fund, added:
"The voters need to know where this money is coming from, and that these big companies like Airbnb are paying for ads to influence their votes."
We have always seen big money in SF elections. This kind of money, in district supes races? The likes of more than $650,000 from dark-money interests trying to block progressive women from winning office?
It's pretty much unprecedented. And really scary.