It's getting more and more complicated to Follow the Money in San Francisco, particularly when so many campaigns are making so many misleading statements about their politics and their support.
Take, for example, District 11, where Ahsha Safai has the support of an immensely well funded group called "Protect SF," which lists its major funding source as "San Francisco Fire Fighters Local 798."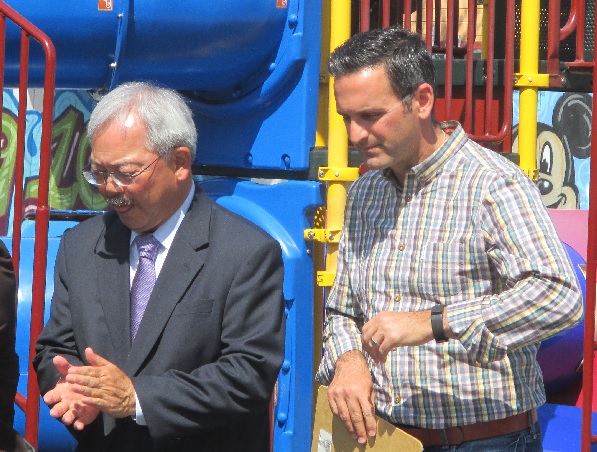 Firefighters might not be as popular as teachers and nurses in SF, but they still have a pretty positive image. The Fire Department has a history of racism and sexism, and it hasn't exactly gone away, and for years, the union opposed measures that would lead to greater integration of the department. Local 798 is still mostly a conservative white-boys' operation.
But firefighters don't shoot people like the cops do; they save lives. So unlike the Police Officers Association, which is now pretty toxic, the firefighters have some influence. It doesn't sound bad to be supported by the folks who run into burning buildings to rescue people and do emergency medical work.
But when you see the mailers and the TV ads (TV ads? In a district supervisorial race? We're talking people with way, way too much money on their hands), you wouldn't know that most of the money for Protect SF comes not from the firefighters but from a collection of big tech and real-estate interests including Airbnb and Facebook.
Here's how it works.
Protect SF files a report with the San Francisco Ethics Commission. That report shows that, yes indeed, the Firefighters Union put $5,000 into the committee, which has as its only purpose electing Safai.
But the same reports show that a group called "Progress San Francisco" has put more than $300,000 into Protect SF.
Progress San Francisco isn't registered as a campaign committee at the SF Ethics Commission; despite the name, it's registered as a state Political Action Committee, so you have to go the Secretary of State's Office to find out who is really behind it.
And here's what you see:
Progress San Francisco has $200,000 from Salesforce CEO Mark Benioff. There's $50,000 from Facebook. There's $30,000 from Kevin Systrom, CEO of Instagram. There's $20,000 from the "Committee to Expand the Middle Class," which is entirely funded by Airbnb. There's $50,000 from Evan Williams, the founder of Medium.
Then add in $25,000 from Ron Conway, who is the tech industry's City Hall point man and a pal of Mayor Ed Lee, $50,000 from Google – and a whopping $250,000 from Paul Graham, the founder of Y Combinator, and another $100,000 from Samuel Altman, Y Combinator's president.
Yelp put up $25,000.
Then there's the real-estate money. Robert Rosania, the head of Maximus Real Estate Partners, which has been trying to break the janitor's union at Park Merced and wants to build the Monster in the Mission, put up $21,000.
Safai loves to tout his union connections – but this committee is funded in part by a guy who has the entire local labor community furious at him. Don't the labor people who support Safai understand this?
It's an independent expenditure committee, so Safai doesn't control it. But campaign contributions mean something – they're a signal that the real-estate and tech industry thinks Safai would be their guy at City Hall.
Oh, and Safai isn't the only one who is getting big bucks from tech and real-estate. The Progress SF Committee just two weeks ago dropped $120,000 into San Franciscans for a City That Works, an independent committee devoted to electing Josh Arce in D9 and Marjan Philhour in D1.
Arce also likes to talk about his support from the Laborer's Union, where he works and which has given him a bunch of money. But Rosania, the anti-labor developer, clearly thinks Arce would be just fine as a supervisor.
So does the tech industry.
And how is this Committee for a City That Works spending the money? Check out this utterly embarrassing piece that arrived at my house over the weekend.
Arce is running against Hillary Ronen, and is apparently trying to appeal to women. His piece lists testimonials from women in the district – but apparently those were all ghost written, and not that well, and the committee never hired a copy editor.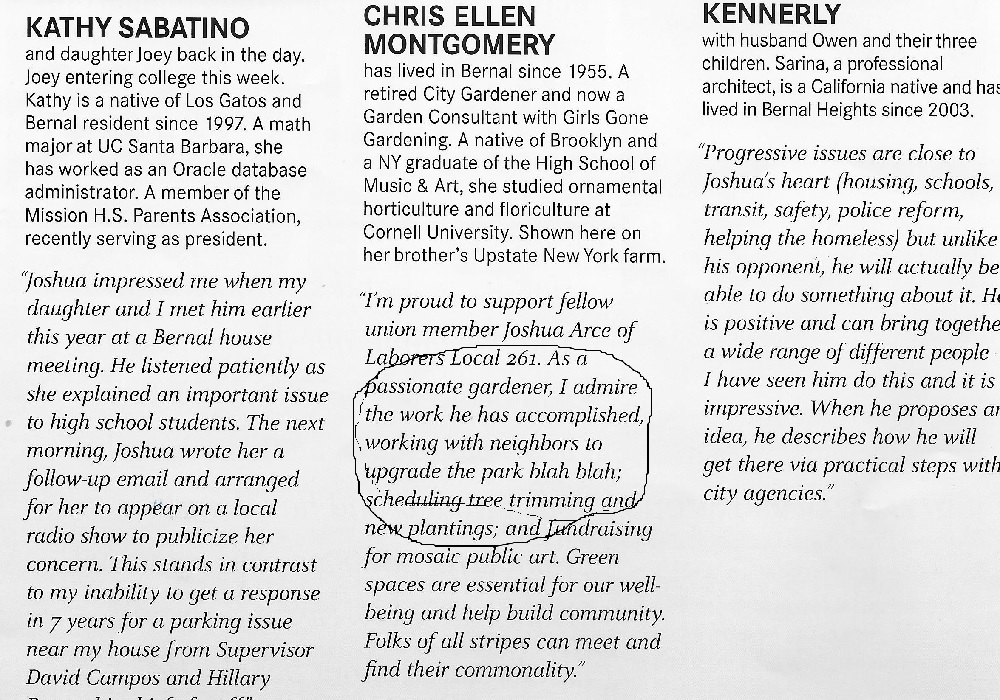 From Chris Ellen Montgomery: "I admire the work he has accomplished (sic), working with neighbors to upgrade the park blah blah."
Blah blah. That's a lot to admire.