ONSTAGE "The initial reaction was shock — but shock in a good way," laughed Patrick Makuakane, kumu (director) of SF hula dance troupe Nā Lei Hulu I Ka Wēkiu. "I ask for a lot of commitment from my dancers, and sometimes that extends to the audience as well," he added with sly understatement. We were talking about the now-legendary debut of the troupe's "The Natives Are Restless" show 20 years ago — and he was reliving the moment he revolutionized hula.
Challenging, controversial, and downright stunning, "The Natives Are Restless" is back in an expanded and updated form, being performed the next two weekends at the Palace of Fine Arts Theatre, Sat/15-Sun/16 and Sat/22-Sat/23. The show's anniversary is also accompanied by a handsome new book by Constance Hale, The Natives Are Restless: A San Francisco Dance Master Takes Hula into the 21st Century.
"Natives," the show, kicks off with an extended dance sequence that features Nā Lei Hulu' female dancers performing topless (men wear very little in parts of the show as well), evoking a pre-colonial idyll, while a voice quoting Calvinist missionary Hiram Bingham from 1819 booms out, "The appearance of destitution, degradation, and barbarism, among the chattering and almost naked savages, was appalling."
Nā Lei Hulu is renowned for its contemporary interpretation of hula, and its edginess with a form that's often expected to be soft and gentle. "At first there were gasps when the topless women came out," Makuakane told me over the phone. "That was something new in hula at the time, in 1996. And then this disorientation — suddenly things were getting political, too! But as it went along you could see people getting it. They were being asked, 'Do you see brown savages? Or do you see unparalelled beauty?'"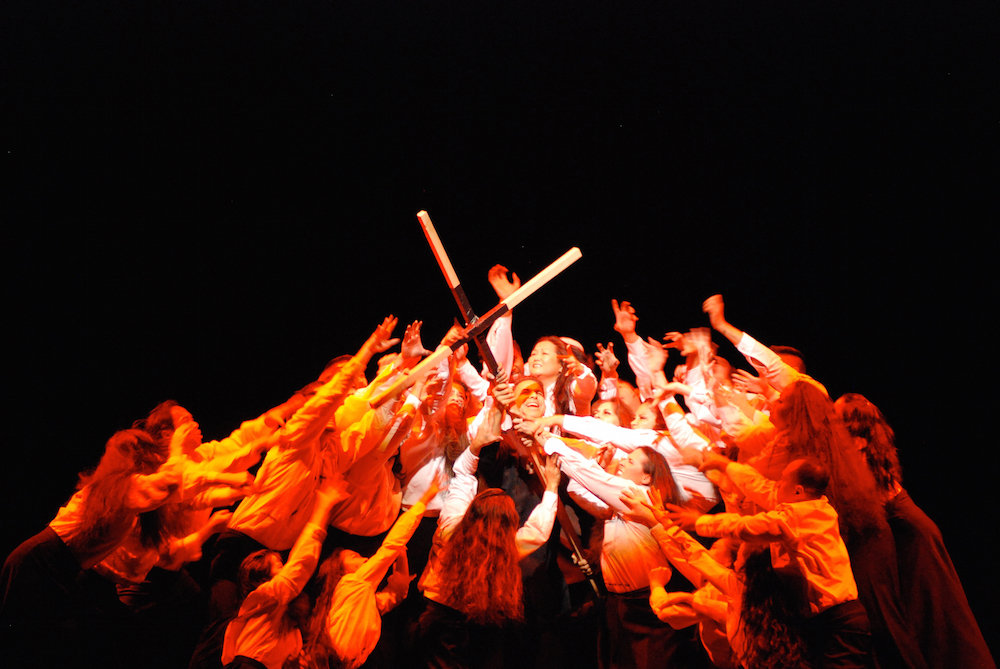 From there the show takes viewers on a unblinkered journey through Hawaii's history, "exploring the interlocked issues of imperialism, sovereignty, and occupation and examining Western influence and impact on the Hawaiian Kingdom, from the arrival of the missionaries, to the oligarchy which overthrew the Hawaiian monarchy, and the native resistance that galvanized an entire nation." There are giant crosses, episodes of violence and conflict, breathtaking invocations of the island's pre-Christian rituals, and much, much more.
While there is a lot of important historical reclamation and revisionism going on, there is also an intensely gorgeous flow of imagery and display of dance expertise. "Natives" also marked a turning pointing hula, when Makuakane, who founded Nā Lei Hulu in 1985, went all in on the hula mua style that he invented, which blows off the tiki-and-pineapple cobwebs of the dance form, blending traditional movements with non-Hawaiian music like opera, electronic, dance, alternative, and pop. (If you've ever wondered if a hula dance to New Order's "Blue Monday" — or one that transforms into a drag extravaganza– would work, it does, fabulously.)
Yet as "Natives" attests, Nā Lei Hulu's shows are more than just traditional hula tricked out with flashy multimedia effects and new sounds. One recent incredible show that sticks in my mind told the history of Hawaii through its newspapers — at one time, Hawaii was the most literate place on earth, with dozens of local presses. And the troupe is ensconced firmly in the ecosystem of the hula family, traveling to Hawaii to take part in ecological projects and farming, and celebrating revered elders onstage. Not to mention the sheer discipline and craft of the 40+ member troupe itself.
Anchoring it all is Makuakane's enlightening narration and personality — he's among the most charming, charismatic stage presences anywhere (and not hard to look at, either). With sparkling humor and a firm grasp of historical detail, he grounds the spectacle in tradition while expanding hula's vocabulary.
In writing her Natives Are Restless book, a compendium of the company's history full of beautiful photographs, Constance Hale told me via email, "I spent hours and hours reviewing videotapes and photos and Kumu Patrick's monologues, trying to put into words the actual performance and the dancing. This gave me a completely different view of the rhythm of things, of his narrative style. It also gave me an appreciation of the music, multimedia, and lighting that goes into the show. I never realized how many of the mixes and remixes kumu does himself, how much of the detail of production he directs. He is a very complete metteur-en-scene, more like a film or an opera director than just a choreographer — and certainly more than just a hula guy."
"There's been an explosion of interest in Hawaiian history," Makuakane told me. "From the ancient to the very recent – that's a reflection of a rising spirit of indigenous people, a rebirth of consciousness about native food, native fashion, native music, native resistance. It ties into what's happening with the oil pipeline protests at Standing Rock, and the politics percolating in Hawaii around the issue of federal recognition of land there.
"I never expected the 'Natives' show to have such longevity," he continued. "but it seems more timely than ever to bring it back. We're hoping to travel more with the show revival and really contribute to that awakening."

Despite that longevity, however, the 'Natives' show itself isn't stuck in the past. Several new numbers have been added, including one telling the story of an 800-year-old fishpond on Oahu which was saved and transformed into an ecological project by the community. (This echoes how the SF community came together to save Nā Lei Hulu's performance venue, the Palace of Fine Arts, from hotel development this year.) There will also be a rap-dance — "possibly inspired by a certain popular Broadway show," Makuakane teases — that relates the history of King Kamehameha III, who enacted the islands' first constitution.
In her book, Hale, who danced in Nā Lei Hulu classes for 20 years, writes about how Patrick "has been a magnet for native Hawaiians and Pacific Islanders who have come to SF in the diaspora. The halau (troupe) is a community, of more than just dancers: of former dancers, families of dancers, audiences, etc. Patrick sees his role in providing this community, this ohana, as his most important one. He is perpetuating the culture, teaching the culture, insisting on the values of the culture, giving people a way to be hawaiian here. That's huge."
"THE NATIVES ARE RESTLESS"
 Sat/15-Sun/16 and Sat/22-Sat/23
Various times, $35-$45
Palace of Fine Arts Theater, SF.
Tickets and more info here.