Rafael Mandelman officially launched his campaign for D8 supervisor Wednesday night with a rally that drew around 150 people and set the tone for the political matchup that will be at the center of local politics for the next 11 months.
Mandelman, a member of the Community College Board, is challenging appointed incumbent Sup. Jeff Sheehy, who has to face the voters at the next scheduled election, which is the 2018 June primary.
There are no other local races on that ballot, so the Mandelman-Sheehy contest, with all that it involves, will attract a tremendous amount of attention.
It hasn't yet become the sort of citywide campaign that the last challenge to an appointed incumbent – Aaron Peskin vs. Julie Christensen – turned into. In fact, so far, Mandelman is playing this very much as a district race.
The turnout, which included some prominent local progressive officials, was focused on D8. Mandelman's speech focused almost entirely on issues – eliminating street homelessness, building affordable housing, and improving the public schools in the district – that are going to play well in a district that hasn't elected a progressive supervisor since the return of district elections in 2000.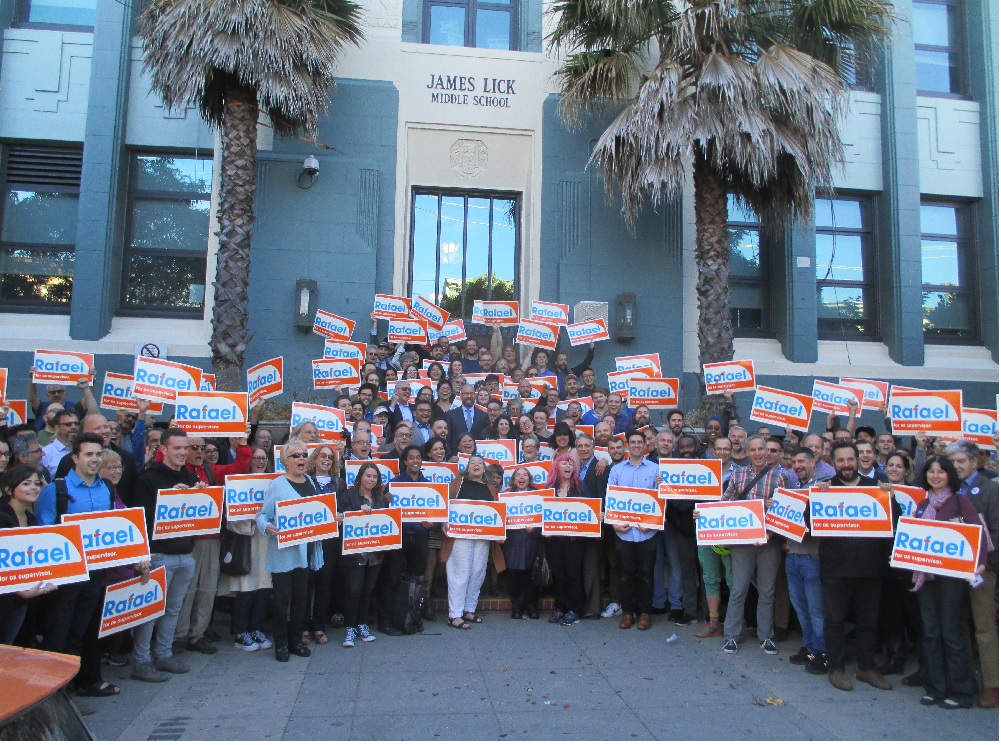 Mandelman's theme was "the politics of Yes." He went after "City Hall" for failing to solve the homeless problem, but did not mention Mayor Ed Lee.
"Everyone in San Francisco knows the politics of No is alive and well," he said. The politicians in City Hall "like the status quo because it's easy."
Mandelman talked about his life story and personal experience with homelessness: When he was 11, his mother began a descent into mental illness that eventually left her on the streets. He had to "grow up fast," he said, and navigate the medical system, find a place to live, and finish high school. He then went on to Yale and US Berkeley Law School.
While Mandelman kept his comments largely focused on D8 ("the people of this district deserve a supervisor who will lead in the politics of Yes") there is no denying the citywide implications of this race.
The presence of Sups. Sandra Lee Fewer and Hillary Ronen – two of the stalwarts of the progressive wing of the board – and former Sup. David Campos were a sign that, while Mandelman will focus on district issues, the rest of the city knows that the balance of power on the board is on the line in the waning days of an unpopular mayor.
Mandelman has no loyalty to Mayor Lee, and he's far more likely to be the sixth vote on issues like the regulation of owner move-in evictions backed by Sups. Jane Kim and Aaron Peskin. Sheehy is a co-sponsor of the weaker measure backed by Sup. Mark Farrell.
Among those standing behind Mandelman, along with Campos, Fewer, and Ronen, were Community College Board President Thea Selby, College Board Member Tom Temprano, School Board Member Matt Haney, and retired teacher and Democratic Party and union activist Hene Kelly.
So this is just the start of what will likely be an expensive and high-profile race. Sheeny has not done an official kickoff, so we don't know who will be endorsing him or what the themes will be.
But the outcome will have significant citywide implications.