It's been a long and winding road to bring a celebration of the 50th Summer of Love to the park — permit kuffufles, safety glitches, and communication frustrations abounded in the cosmic quest to feed the heads. But finally the huge, fifth annual Peace in the Park (Sat/23, 11am-6pm) is gonna be THE ONE — and it even features the valiant Boots Hughston, who tried so many times to make it happen during the actual summer. 
UPDATE: See comment below from the producers: While this celebration fetes the 50th Summer of Love, Peace in the Park is demanding permits for an official celebration, which this is not. Go and celebrate!   
This half-century long-hair blowout (not to be confused with the Human Be-In, which held a peaceful, oddly tech-funded 50th commemoration festival of its own this past January) promises to fulfill everyone's dreams of spiritual connection, and perhaps a little astral projection, on the Music Concourse. Swing by before Folsom Street Fair and witness a whole different kind of Electric Ladyland.  
Full lineup and info below the poster.
Need a car to get there? Rent one in your neighborhood on Getaround. Sign up today, and enjoy $50 off your first trip: http://get.co/48h. [Sponsored]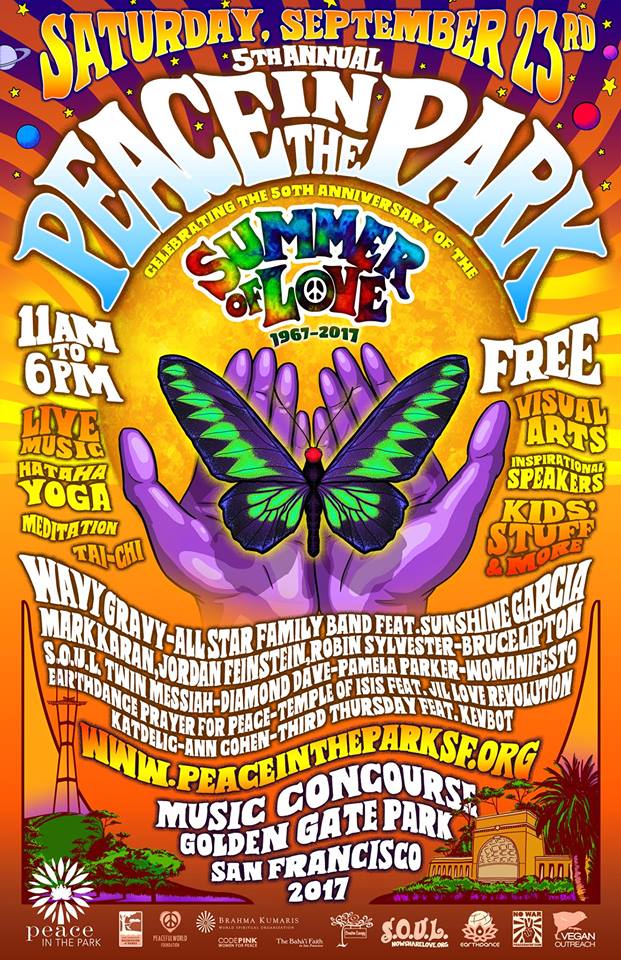 ❤️ FREE ADMISSION FOR ALL!!! ❤️
Some performers include: Wavy Gravy; Katdelic; Pamela Parker, Diamond Dave; Alstar Family Band feat. Mark Karan, Jordan Feinstein, Sunshine (Garcia) Becker, and Robin Sylvester; Michael Pritchard; Laxman Panthi; Third Thursday Band Feat. Kevbot (Kevin Lash); Temple of Isis Feat. Jil Love Revolution; Bruce H. Lipton, Ph.D; Milton Rosenberg; SOUL Twin Messiah, Peace Awards with Bill McCarthy, Boots Hughston, Catherine Enny, Michael Gosney, and others
The time is NOW to come out for peace! Let's honor and celebrate the 50th anniversary of "THE" Summer of Love! Join us, with flowers in your hair! Enjoy a sunny September day at Music Concourse of Golden Gate Park in San Francisco, California on 9/23. Bring the kids, celebrate peace, get crafty, be artistic, relax with gentle yoga, chill to live music, find some zen with other meditators, and leave happier, refreshed, and connected to your inner calm. Vegetarian food stalls like Amma's Kitchen & Donna's Tamales available!
Partners include: Brahma Kumaris, SOUL – Summer of Unconditional Love, Peaceful World Foundation, Baha'i Faith, PeaceDay Global Broadcast, PeaceDaySF, CODEPINK: Women For Peace, Peaceday.tv, Earthdance Global, and San Francisco Recreation & Parks Department.
BRING:
Picnic blanket
Yoga mat
Layers (for the fog later)
Friends & family
Free spirits
Unconditional LOVE
Peace & joy
Schedule:
MAIN STAGE MUSIC
11 – 11:30 AM Ohlone Blessing. By – Jorge Molina & Diamond Dave
11:40 – 11:55 AM Temple of Isis Feat. Jil Love Revolution
12:10 – 12:55 PM Meditation
1:05 – 1:15 PM Wavy Gravy
1:15 – 1:40 PM Katdelic
2:10 – 2:25 PM Spoken Word. By – Mai'Saan Nicoletta Womanifesto
3 – 3:15 PM Bruce H. Lipton, Ph.D
3:15 – 3:20 PM Milton Rosenberg Poetry
3:20 – 3:25 PM We All Bleed Red. By – COPUS
3:30 – 3:35 PM CODEPINK San Francisco
3:35 – 4:00 PM Pamela Parker
4 – 4:15 PM Meditation
4:20 – 5:00 PM All Star Family Band Feat. Mark Karan, Sunshine (Garcia) Becker, Robin Sylvester, and Jordan Feinstein
5 – 5:05 PM Earthdance Prayer for Peace with Michael Gosney
5:05 – 5:20 PM Peace Awards with Bill McCarthy
5:25 – 5:50 PM SOUL Twin Messiah
5:50 – 5:52 PM Meditation
5:56 – 6:00 PM Imagine – sing along
YOGA:
11- 12pm Gentle Flow
12:30- 1:20pm Vinyasa
1:30- 2:20pm Surya Sadhana
2:30- 3:20pm Hatha Flow
3:30- 4:20pm Gentle Vinyasa
4:30- 5:20pm Kids and Family Yoga
TAI CHI/ QIGONG
11:10- 11:30am Clearing the Meridians
11:30- 11:55am Opening the Energy Gates
12:30- 12:50pm Breathe, Relax, Ground and Align for Better Balance
1- 1:45pm Sync yourself with the Universe!
1:45- 2:30pm Feel the body dynamic within you!
2:40- 3pm Wave Hands Like Clouds
3- 3:45pm Dancing Qigong for Vitality, Confidence, and Joyful Love
4:30- 5pm Qigong for Reversing Aging & Weight Optimization
5- 5:45pm Balancing Yin and Yang, Group Healing and Chi Circle
MEDITATION
11:30- 12pm Plugging In
12:30- 1pm Remembering
1:30- 2pm Recharging
2:30- 3pm Self-esteem
3:30- 4pm Brake for a Break
4:30- 5pm Home, Sweet Home
WORKSHOP
11:30- 12:30pm Open Mic- Come Share your Piece of Peace
12:30- 1pm Empathic Listening – Sharing & Receiving Practice
1- 1:30pm BioDanza #1 Expressive Dance
2- 2:30 BioDanza #2 Expressive Dance
3- 3:30pm Holotropic Breathing
3:30- 4pm Self-Care in Communication
4- 4:30 Dances of Universal Peace
4:30- 5pm Open Mic- Come Share your Piece of Peace
TALKS
11:30- 12pm Finding Your Purpose in Life with Janardhan Chodagam
12- 12:30pm The Secret Power of LOVE with Evan Hirsch
12:30- 12:50pm Summer of Love 50th Anniversary with Adam Hirschfelder of the California Historical Society
1- 1:15 Huckleberry Youth Programs with Douglas Styles
1:25- 1:30pm Just Love with Kip Baldwin
1:30- 1:50pm Listening to Kids Hearts with Michael Pritchard
1:55- 2:30pm "Why are Merry Pranksters Necessary" Panel with Milton Rosenberg, Carolyn Garcia, Wavy Gravy, Linda Breen, George Walker, and Denise Kaufman
2:40- 3pm Staying Healthy with N.E.W. Medicine with Elson Haas MD
3:05- 3:20pm Legacy of Allan Cohen and the San Francisco Oracle with Ann Cohen
3:30- 3:55pm The Biology of Belief with Bruce H. Lipton, Ph.D
4:20- 4:30pm Just Love with Kip Baldwin
4:30- 4:50pm A.N.S.W.E.R. Coalition Bay Area with Richard Becker
5:05- 5:25pm Hemp Solutions for the Planet with Linda Delair
Need a car to get there? Rent one in your neighborhood on Getaround. Sign up today, and enjoy $50 off your first trip: http://get.co/48h. [Sponsored]