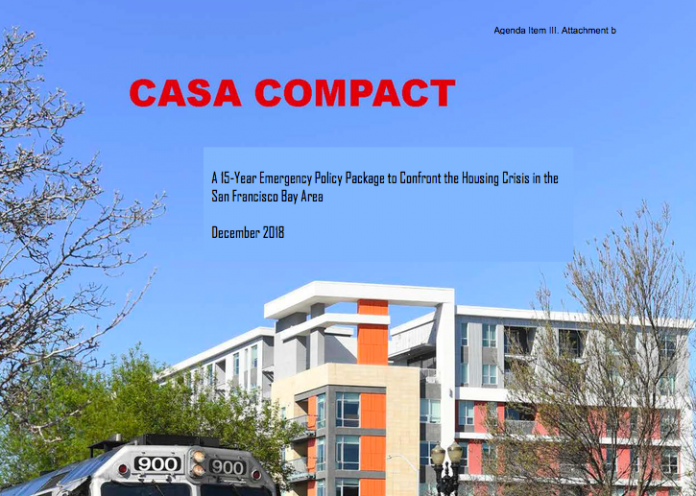 With State Sen. Scott Wiener's new housing bill now pending, a group convened by the Metropolitan Transportation Commission has released a draft plan to solve the region's housing crisis – and some of its key conclusions are linked to Wiener's vision.
The group is called CASA, and MTC calls it the Committee to House the Bay Area. It's led by philanthropic, nonprofit, and private-sector people and some of its members are elected officials.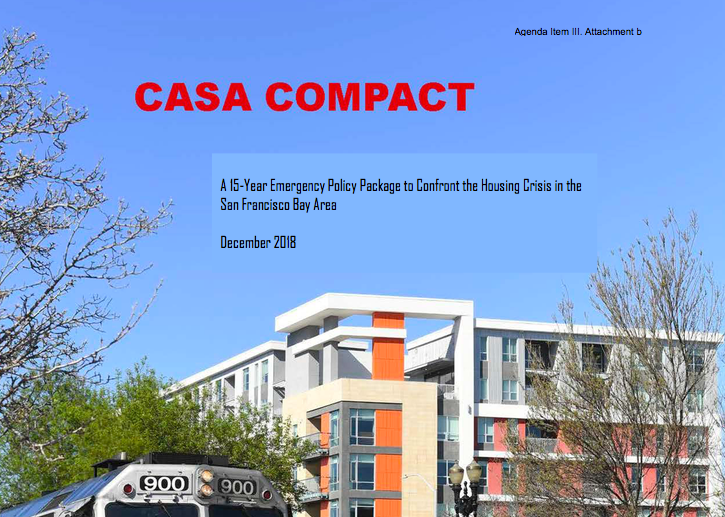 The group has spent the past 16 months trying to come up with what it calls a grand compromise, a Bay Area "Compact" that brings together the best practices and ideas from around the country. The concept, released in draft form this week, is designed around three concepts: Producing new housing, preserving existing affordable housing, and protecting vulnerable communities. (You can download the pdf here).
And indeed, it includes what for much of the Bay Area would be pretty dramatic tenant protections, including an immediate 8 percent cap on rent hikes, rent control and just-cause eviction protections everywhere, and a right to counsel for any tenant facing an eviction.
The language specifically states that rent controls would not apply to vacant apartments, enshrining the principle of the Costa-Hawkins Act that tenant groups tried so hard to overturn in November.
But since most Bay Area cities have no rent control at all, the proposal is a step forward.
The proposal also calls for $1.5 billion a year in spending on housing in the region, which is a good start.
Still, when you look at the draft report, it's clear that the goal is to allow developers to add a lot more market-rate housing in areas that are already choked by market-rate housing – and some areas that are highly vulnerable to displacement pressures – without adequate protections for existing residents.
"We [should] house the Bay Area with racial equity within a frame of doing no harm, of protecting at-risk communities and breaking open those exclusive communities that refuse to build housing at any level," Fernando Marti, co-director of the Council of Community Housing Organizations, testified at a Dec. 3 hearing on the plan. "What I see in this plan is a map that says we are going to break open development, we are going to break open the low-income areas of Santa Rosa … it's not policies that target cities like Lafayette… and cities like Palo Alto and Cupertino that approve commercial development without any housing."
Marti said that there has been little discussion in the plan about the difference between "hot markets" like San Francisco with 45,000 units of housing that are entitled but haven't started building, or San Jose, where SPUR reports that there's a glut of approved luxury condos.
"Those are not the places we should be upzoning and streamlining," he said.
The Compact, like so many other proposals and discussions, calls for more housing "at all levels." The reality is that the private market won't provide housing at any but the top levels. So the remainder – which most experts agree is far more than half, probably more than 60 percent of all new housing – has to be built outside the private market.
That's where the connection to Wiener's bill comes in.
The measure he is proposing, which is embedded in the CASA report, is all about private-sector solutions, about "streamlining" permit approvals and overriding local zoning to allow a lot more density along transit corridors.
The Wiener bill has another twist that observers are still trying to figure out: It allows for increased density in any "job-rich" area. Here's the actual language:
Job-rich housing project" means a residential development within an area identified by the Department of Housing and Community Development and the Office of Planning and Research, based on indicators such as proximity to jobs, high area median income relative to the relevant region, and high-quality public schools, as an area of high opportunity close to jobs.
That, it appears, is Wiener's effort to stave off criticism that his proposal exempts suburbs that don't have good transit. But it's all on the supply end: There's nothing in the bill that limits new office development unless there is housing available for the workforce.
In the meantime, it's still unclear: Would most of Berkeley, for example – a city that has high median income and high-quality public schools and is near San Francisco, which has a lot of jobs — be upzoned, even though Berkeley has not approved large tech office complexes?
Add in the state's density-bonus laws – and the Housing Accountability Act changes of 2017 – and this package could eliminate a tremendous amount of local control over housing.
That's critical for several reasons. Local zoning laws in places like San Francisco are often used to force developers to build significant amounts of affordable housing. Under the CASA plan, the state would "monitor inclusionary standards … to ensure that IZ does not suppress local housing production."
That could turn into a huge developer giveaway. Every developer starts off arguing that anything more than a very small percentage of affordability will prevent the project from "penciling out." In San Francisco, nearly every time the supervisors have said that a project won't go forward without more affordable units, the developer has caved.
If the state regulators side with the developers, the city's ability to enforce affordable housing rules will be undermined.
San Francisco right now has met (and is on track to far exceed) its state-mandated regional housing goals for market-rate housing. It's far behind in its goal for affordable housing.
Peter Cohen, co-director of CCHO, told me that the current draft of the CASA plan "is very disappointing." It reduces the affordable housing requirements for cities like San Francisco and in many cases is "just straight [developer] giveaways."
The CASA proposal has no weight of law, and would require extensive state and local legislation to be implemented. But it sets a tone for the debate over the region's future – and could encourage more Wiener-type bills in Sacramento. (In fact, I can see much of the pro-development agenda making it through the Legislature without any of the tenant protections.)
And it would put a lot of decisions in another set of unelected boards (like MTA).
This whole discussion is missing the much larger question: Why do we keep saying that growth is not only inevitable but good? What if, instead of all these rules to mandate housing for tens of thousands of new tech workers, the region adopted a version of SF's 1986 Prop. M, and put a cap on the amount of new office development that can be approved every year?
It's been successful in slowing what was often out-of-control office growth in this city. For a while, it was successful at preserving other types of industry, and jobs in other then finance, insurance, real-estate and the tech sectors.
Maybe we need to do the same thing for the region, or the state.
Maybe we should at least talk about it.