Outside the packed Planning Commission hearing on the Monster in the Mission Thursday evening, I saw Tim Colen, senior advisor to the pro-development Housing Action Coalition, talking to a reporter.
Colen said he couldn't believe the city would turn down such a great project, with so much affordable housing, in such a housing crisis, "just to prevent one single unit of market-rate housing in the Mission."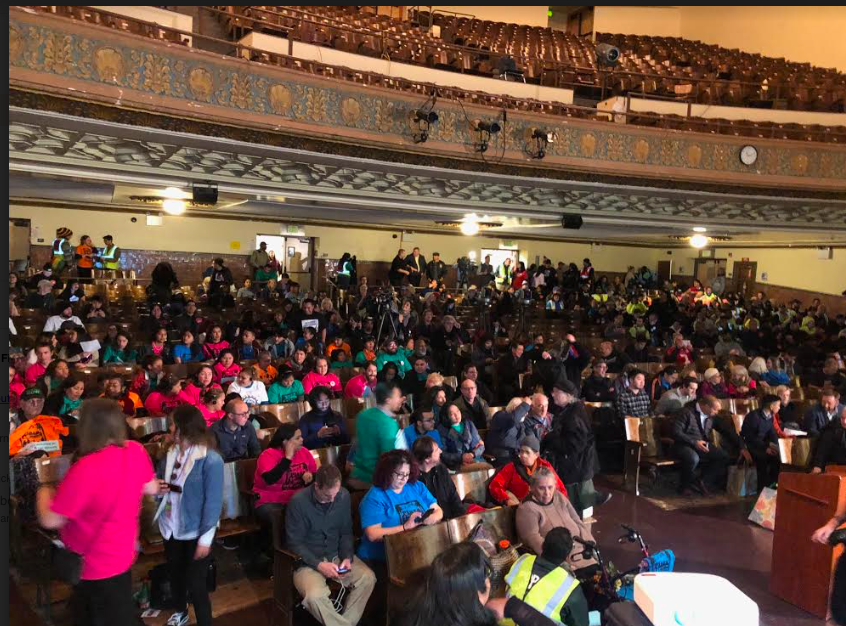 This is what we will hear a lot from supporters of the newly designed project: The project has so much potential; the affordable housing is so generous. We so badly need housing. What's not to like?
I personally don't think that market-rate housing – one single unit or several hundred — is ever going to solve the housing crisis. In fact, unless the affordability level approaches 50 percent, market-rate housing just makes the crisis worse.
And there are a lot of questions about this project – enough that some of the commissioners were openly skeptical. Among other things, the new plan Maximus presented tonight calls for 331 units of luxury rental housing on the site. Then Maximus promises to buy two parcels that it doesn't currently own – at 2675 Folsom and 2918 Mission – and turn them over to the city for affordable housing. In total, given that both sites have approval for new housing already, the city could build 192 new units.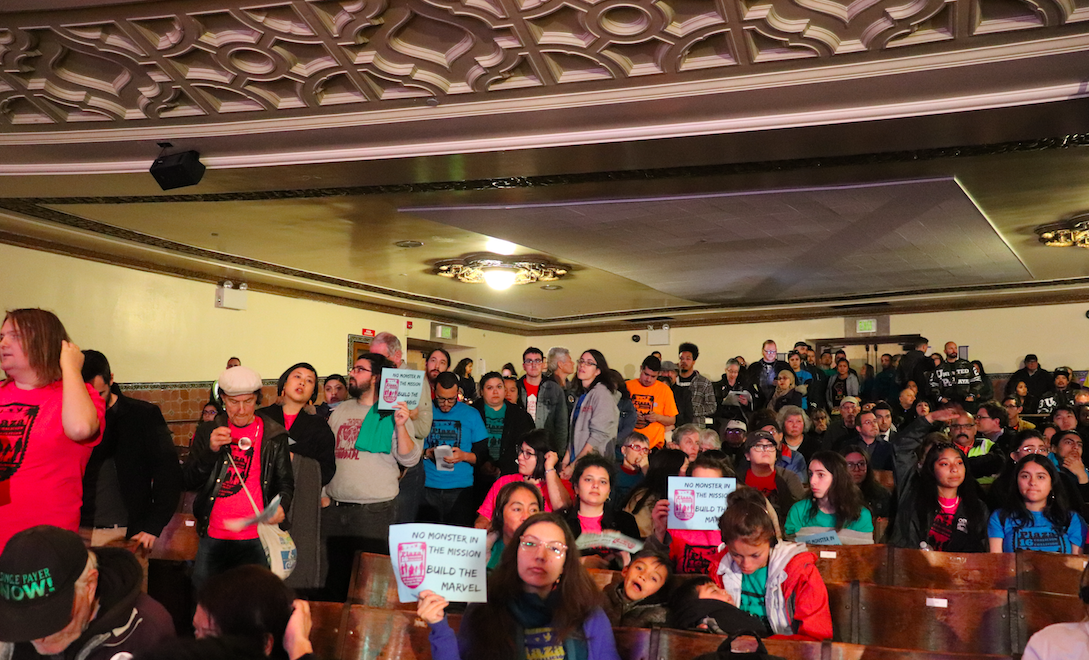 Of course, that land is valuable – but as far as I can tell, Maximus isn't offering to build any affordable housing there; the city would have to pay for that. So unless the city uses existing or future affordable-housing money to build what Maximus won't, there's no affordable housing at all. That's what led Myrna Melgar, the president of the Planning Commission, to say that the project "doesn't come up to my standard."
She added: "You would expect something that has been vetted by the Mayor's Office of Housing" – but this land-swap plan has not.
The Mission High auditorium was packed, and opponents of the plan were vocal and far outnumbered supporters, some of whom were bused in and paid to testify, the Chron reports. Commission President Myrna Melgar did an excellent job of running a peaceful meeting.
Back to the central issue: Since a majority of planning commissioners have made it clear they don't agree with my position on market-rate housing, let me offer a different lens that what Colen and Maximus are presenting.
What the Planning Commission needs to consider is whether the community benefits of this project outweigh the absolutely certain displacement that it will cause.
I'm sure Maximus supporters are sputtering as they read this, because they have insisted that the project will cause no displacement. There's no existing housing on site; nobody gets evicted.
Which is true.
But let's take a second to examine the facts that are, or ought to be, part of City Planning 101 and Urban Economics 101.
It you drop 331 units of luxury rental housing into 16thand Mission, the neighborhood will change. Property values in the surrounding areas will rise. Neighborhood-serving businesses will find that their landlords want to raise the rent, because now there are 600 or more rich people who want different types of businesses. Now there are customers who want to pay for fancy avocado toast and pumpkin latte. The old cafes and restaurants can't survive.
(This is happening now on 24thStreet, where one of my favorite places, the Sunshine Restaurant, got a huge rent hike. When I asked the owner, Alba Guerra, about it, she told me that the landlord said she could pay the higher rent by raising her prices. Which would mean the people who eat there now would have to go somewhere else, and she would have to cater to a different clientele, people with more money – or else she will have to close.)
Once rich people move into 16thand Mission, the neighborhood will change; it will start looking more like Valencia Street, which has been radically gentrified in the past decade. Then residential rents will go up, and residential landlords will try to get rid of their long-term tenants so they can flip the properties. It would be much easier to sell a tenancy-in-common unit for $1.5 million next to the new Monster in the Mission, in the new gentrified neighborhood, than it would today on Capp Street.
Some of the people who support the Maximus plan may think that's great. They say that 16thand Mission has high crime, and is gritty, and needs improvement. I kind of like it the way it is.
But let's be honest about what's going on here. This isn't just a housing development. This is the beginning of the wholesale transformation of one of the few remaining working-class neighborhoods in San Francisco.
It would be a gentrification time bomb.
Is the (dubious) affordable housing offer that Maximus is making worth that?
The building trades unions were out in force to support the project. I talked to Tim Paulson, secretary-treasurer of the building trades, and he told me that the group has long backed Maximus, which is promising 100 percent union jobs.
The last time Paulson and I talked about this, he was the executive director of the SF Labor Council and we were out in front of Park Merced, also owned by Maximus, and Paulson was marching with union janitors who lost their jobs when the developer went with a non-union contractor. He told me that labor was furious at the company.
Paulson told me this week that "we are in negotiations" with Maximus around the Park Merced union issue. But the building trades decided some time ago to support the 16thand Mission project, and Paulson testified in favor.
The Plaza 16 Coalition, which was the official opponent of the project, pointed out that since 2008, 87 percent of all housing built in the Mission has been unaffordable. There's also the issue of parking – Maximus wants 161 parking spaces in what is supposed to be a transit-oriented development. That will make the congested corner even worse (and the Uber, Lyft, and food deliveries that this sort of project will generate will just add to the mess; I can't imagine how the buses will even get through.)
The group has its own plan – the Marvel in the Mission – which would be 100 percent affordable housing with community green space. Maximus argued Thursday night that there is no hope for that – the land, the developer said, is not for sale.
But I wonder: If the city were to decide that this level of market-rate housing in this part of town is a bad idea, and rejects the Maximus plan, and then Maximus, as it has threatened, goes to the ballot and the voters reject it, too … what will the developer do with the land? At that point, will it be for sale?
This is one of the central issues of zoning: What the city allows impacts land value. If you want to save industrial space, you use zoning that bans tech offices (and thus lowers the value of the land, so rents are cheaper for industry).
The city's decision on 16thand Mission will have a radical impact on land values – not just on that site, but all around it. That part of the Mission will never be the same. That's what the Planning Commission needs to talk about.