SCREEN GRABS It's a busy week for arthouse openings and other film events of interest, though we couldn't see everything in advance. Among the titles we didn't catch (or did, but decided to practice the "If you can't say something nice…" rule) are Crying Game director Neil Jordan's Greta, a Single White Female-type thriller with Chloe Grace Moretz living to regret her befriending of seemingly harmless spinster Isabelle Huppert (at area theaters); Michelle Monaghan as Saint Judy, a biopic about immigration attorney Judy Wood, who fought to change U.S. asylum laws (at Opera Plaza and Shattuck); and (at Embarcadero) actor Chiwetel Ejifor's directorial debut The Boy Who Harnessed the Wind, another fact-based story about a famine-plagued Malawi village saved by one resident's technical ingenuity.
There are also special events of passing note. For the third week in a row there's a program for pet lovers, this time the Cat Video Festival opening at the Opera Plaza and Shattuck (more info here). In addition to the Ulrike Ottinger retrospective and this year's African Film Festival (see below for both), the Pacific Film Archive is also kicking off a two-month Painters Painting series whose subjects run a gamut from Giotto to Basquiat, as viewed by directors including Clouzot, Pasolini and Emile de Antonio (more info here). And down in the South Bay, March 5-17 brings the 29th edition of Cinequest, whose program in San Jose and Redwood City will include special guests Bill Nighy and Nandita Das (more info here).
Elsewhere:
Dynamation Celebration: The Films of Ray Harryhausen
Long before CGI rendered every fantastical sight possible—if also somewhat banal—onscreen, the apex of movie fantasy effects were often represented by Harryhausen's stop-motion animation techniques. Rising amidst the drive-in monster movie craze of the 1950s, he began carving out his own unique niche with 1958's The 7th Voyage of Sinbad, a delightful juvenile adventure. His subsequent work would similarly mix mythology and popcorn thrills, taking inspiration from Jonathan Swift (The 3 Worlds of Gulliver), Jules Verne (Mysterious Island), ancient Greece (Jason and the Argonauts, Clash of the Titans), depicting dinosaurs (One Million Years B.C., Valley of Gwangi) and space travel (First Men in the Moon) alike.
While his fabled "Dynamation" FX may look a little corny now, its hand-made qualities still have personality, which is more than one can say for the majority of computerized spectacle in today's Marvel-dominated fantasy cinema. This three-day tribute will feature most of the late designer's major films, appearances by his daughter Vanessa and Harryhausen Foundation representative Connor Heaney, and more. Fri/1-Sun/3, Balboa Theatre. More info here. 
African Film Festival
This year's edition of the annual PFA showcase kicks off Sunday with a revival screening of Djibril Diop Mambety's 1992 Hyenas, a Senegalese satire of social hypocrisy inspired by Swiss playwright Friedrich Durrenmatt's enduring The Visit. There will be new films from Burkina Faso, Tunisia and Niger, along with the striking recent theatrical release I Am Not a Witch, about a Zambian villager who's mistaken for one. Extending the festival's reach, two new restorations will celebrate the legacy of late writer-actor-director Bill Gunn, with screenings of his cult-favorite 1972 vampire saga Ganja and Hess as well as the hitherto little-seen 1980 Personal Problems, a complex three-hour "black soap opera" intended to launch a TV series. His collaborator on the latter, Ishmael Reed, will appear to introduce and discuss the project on March 21. Sat/2-Fri/May 10, PFA. More info here. 
Climax
Gaspar Noe's work has often underlined the limited value of art driven primarily by shock value. But the most shocking thing about his latest may be that it is, of all things, a terrific dance movie—at least to a point. After some initial folderol encompassing a flash-forward and a flashback, the film proper begins with a long single shot that's a knockout mini-epic of hiphop-dance and camera choreography. There's some good dancing later on, too, and the professional dancers who play exactly that here are surprisingly decent actors, even if they're not given particularly complex roles to play.
Otherwise, Climax's teeny weeny script is basically just a premise: About two dozen dancers in a remote shuttered school are ready to party after three days' hard work on a new routine (i.e. that opening shot). But someone spikes their sangria supply with LSD, and with nearly everyone getting dosed, eventually all hell breaks loose.
Surprisingly, that is the point at which the film gets a lot less interesting, despite getting more violent. Despite the number of FX personnel credited, there's not much hallucinogenic stuff going on here, just people freaking out in not-particularly-compelling or surprising ways. Though the acrobatic camerawork often impresses, the film irritates by presenting the entire last ten minutes or so upside-down, and there are other typical bratty incongruities (like Noe interrupting his own flow with a mid-movie credits sequence). Overall, it's one step forward, one step back for France's aging enfant terrible: Initially Noe's best since Irreversible, yet ultimately another shapeless, garish, pointless mess a la Into the Void. At area theaters.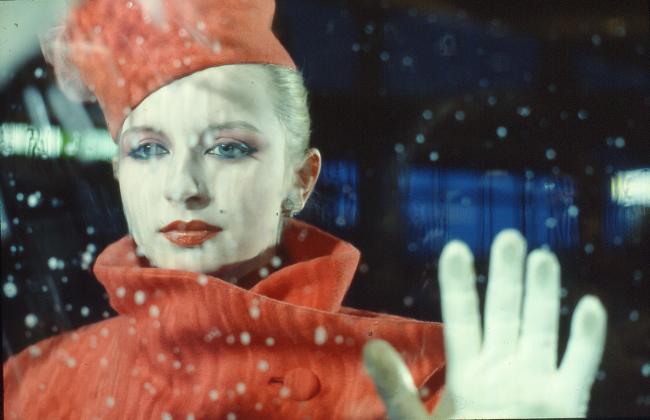 Afterimage: Ulrike Ottinger
Before she turned her attention primarily to the documentary form thirty years ago, Ottinger was unique for the ambition and imagination of her narrative features, which now recall the later works of Matthew Barney—albeit in a gay, feminist, Berlin-underground mode—for their putting avant-garde spectacle on a grand celluloid scale. Her last such opus was the marvelous 1989 epic Joan of Arc of Mongolia, which regrettably is not in this PFA retrospective.
But we do get all three titles in her polymorphously perverse, visually inventive "Berlin trilogy," 1979's Ticket of No Return (featuring Nina Hagen), 1984's The Image of Dorian Gray in the Yellow Press, and 1981's Freak Orlando. The latter is a surreal semi-musical fantasia channeling human history through a deconstructive funhouse mirror, with toxic masculinity represented by a small army of self-flagellating leather men, and a gender-bent Jesus Christ on the cross singing a soprano aria. There will also be several of Ottinger's nonfiction works, a documentary about her (Brigitte Kramer's Ulrike Ottinger: Nomad from the Lake, which kicks off this series on Fri/1), and several appearances by the filmmaker-in-residence herself. Fri/1-Sun/April 7, Pacific Film Archive. More info here. 
To Dust
Shawn Snyder's droll dark comedy has Geza Rohrig (of the Hungarian Son of Saul) as Schmuel, a 40-ish Orthodox cantor in upstate New York who cannot move on after his wife's cancer death. More or less abandoning his sons' care to their grandmother, he pursues relief from nightmares that suggest "her soul is suffering," and he worries this has something to do with how her body is decomposing. To gain insight into that process, he consults an initially reluctant, very secular community college science teacher played by Matthew Broderick. The two men gradually bond over Schmuel's bizarre, obsessive, but poignant quest for closure. Not for all tastes, this morbid, sometimes icky conceit nonetheless proves quite funny, even charming in execution, with first-rate performances from the two leads. Opens Friday, Vogue. More info here. 
Birds of Passage
One of the most striking films to become an arthouse hit in the last couple years was Ciro Guerra's Embrace of the Serpent, a hallucinogenic Amazonian odyssey in search of an ancient civilization's healing secret. His followup (co-directed with Cristina Gallego) is neither B&W or "timeless," instead being specifically set in the first couple decades of Colombia's modern drug trafficking trade, and shot in color.
Set among the Wayuu people of northernmost Colombia, it starts with Rapayet (Jose Acosta) selling weed to American Peace Corps hippies to pay his wedding dowry in the late 1960s. But the subsequent rapid escalation of money and power create some monsters, including the protagonist's original partner Moises (Jhon Narvaez) and the obnoxious youth Leonidas (Greider Meza), not to mention steely matriarch Ursula (Carmina Martinez). Their actions soon endanger everyone else, ultimately bringing a blood-soaked war between families.
Birds has been compared to crime sagas like The Godfather and Scarface, as like them it sprawls over numerous years (and corpses) depicting inter-clan conflict over criminal business. Yet unlike them, it does not whip itself up to operatic cresendos of violence, maintaining Embrace's even, almost ceremonial pace—in keeping with the time-tested values and traditions at stake. Opens Friday, Embarcadero. More info here. 
The Cannibal Club
Otavio (Tavinho Teixeira) and Gilda (Ana Luiza Rios) are a wealthy power couple with a unique way of spicing up their oft-quarrelsome marriage: Periodically Gilda takes their latest hunky lower-class caretaker to bed. Then after some carnal activity has passed, Octavio emerges from hiding to plant an axe in the unfortunate employee's body, which they then consume for dinner. Octavio also belongs to an elite, men-only "club" with similar cannibalistic cuisine, presided over by Borges (Pedro Domingues), his boss at a high-end security company. But when Gilda witnesses the boss doing something scandalous—even by these people's thoroughly corrupted standards—during a party, the power couple fear they might next become someone's dinner themselves.
This Brazilian black comedy by writer-director Guto Parente is stylish, droll and occasionally outrageous, even if neither the social satire or grand guignol aspects ever quite kick into high gear. Given Brazil's own recent turn towards right-wing extremism, having elected frothing fascist Jair Bolsonaro as President last fall, the movie's critique of a smug elite literally eating the underclasses it exploits definitely earns extra points for audacity and relevance. Opens Friday, Roxie. More info here. 
Ruben Brandt, Collector
This first feature by 66-year-old Hungarian visual artist Milorad Krstic (whose only prior work in this medium was a prize-winning short a quarter century ago) is a dazzling treat for animation fans. Its story is a sort of surreal action thriller, in which the titular psychotherapist is plagued by nightmares and hallucinations involving famous works of art—he's attacked by the likes of Botticelli's Venus, for instance, or shot at by a diner patron from Edward Hopper's Nighthawks. He deploys a band of notorious thieves to steal the works that torment him, creating a scandalous global crime wave while hoping to exorcise his artistic demons.
Full of film as well as art history allusions, with some Mission: Impossible-worthy action setpieces, this cubist comedy noir is equally reminiscent of The Triplets of Belleville and Yellow Submarine. It's more ingenious than involving, with little real emotional or narrative weight. But even if its considerable invention lies strictly on the surface, that surface constitutes an impressively ambitious and imaginative leap. Opens Friday, Opera Plaza Cinema. More info here.