The early results are in and there are some surprises. For starters, the numbers are very small – only 46,000 ballots were returned by mail before Election Day, and that's less than ten percent turnout.
So the numbers may change a lot.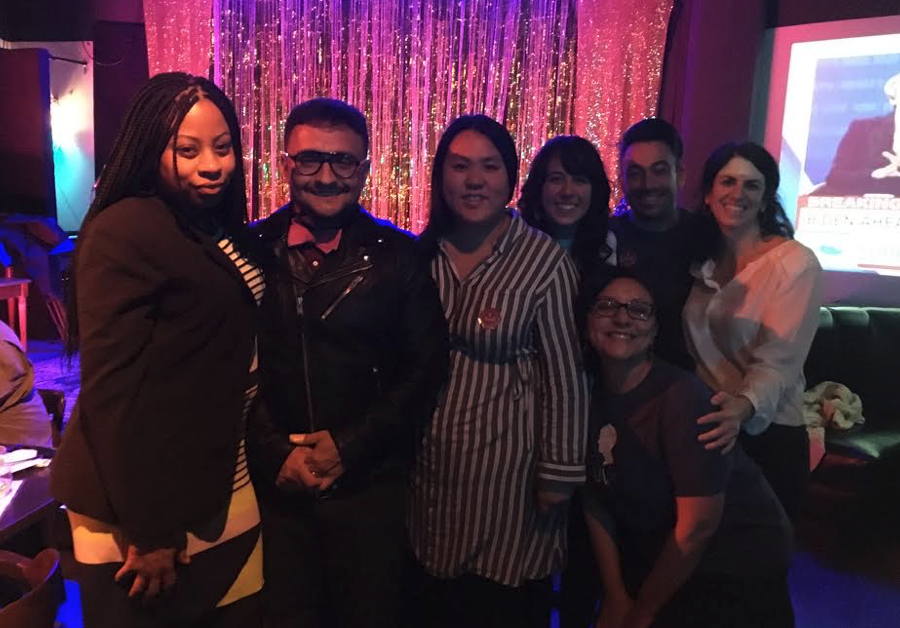 But for now, here's what we know:
The Social Justice Democrats slate for DCCC is in great shape at this point. In District 17, 13 of the 14 slate members are at the top of the vote count: Jane Kim, David Campos, Hillary Ronen, Matt Haney, John Avalos, Frances Hsieh, Honey Mahogany, Rafael Mandelman, Anabell Ibáñez, Bevan Dufty, Shanell Williams, Sophie Maxwell, and Peter Gallotta are all winning at this point.
In District 19, seven of the ten from the slate are on top: Gordan Mar, Keith Baraka, Leah Lacroix, AJ Thomas, Janice Li, Mano Raju, and Queena Chen.
If those numbers hold, then the progressives will have won 20 of the available 24 seats.
David Campos, the current chair, said, "We're not going away, we're coming back, we're taking over the city. That's the power of the Democratic Party."
The ballot measure are running close too. Proposition D, which would put for a tax on commercial landlords who hold property vacant for longer than six months, has 63 percent of the vote and needs 66 percent.
The other five propositions seem to all be passing comfortably. Propositions A and B, bill calling for greater earthquake and environmental safety, sit at 65.23percent and 77.4 percent approval, Proposition C, a bill calling for retiree health care coverage available based on their combined years of service and date of hire, sits at 61.81 percent approval; and Proposition E, a bill calling for la link between new office development and affordable housing, is winning with 52.08 percent.
Speaker Nancy Pelosi remains at the top of the San Francisco polls to maintain her position as the California District 12 representative. Pelosi has 70 percent of the 42,572 ballots cast. In somewhat of a surprising twist, following behind her with 12 percent of the vote is Republican John Dennis. In close third is activist and Democrat Shahid Buttar. Buttar, who raised $500,000 dollars in an attempt to organize a major campaign, hopes to challenge Pelosi in the fall. But in the early results, he holds only 10 percent of the vote, more than 1,000 ballots behind Dennis.
At the bar Zeitgeist at 199 Valencia, around 40 people are waiting for Shahid Buttar to show. Many grassroots supporters are among the crowd. Mike Rufo, a friend of Buttar said "he is a person amongst people." Rufo said that Buttar has never worked for a big corporation and has done nonprofit legal work all his career.
Lydia Chavez from Mission Local said she thinks Buttar will have a good shot against being the candidate against Pelosi in November.
State Sen. Scott Wiener has the lead but with just 56 percent of the vote against two challengers. Jackie Fielder, who mounted a grassroots campaign, is at 27 percent, meaning she will likely face off against Wiener again in the fall.
Wiener's party at Cadlillac Bar is packed with excited voters, volunteers, and politicians. Wiener's goal is to get 80 percent of the vote, running against Jackie Fielder, who could potentially be a threat in the fall.
As the polls inched closer to 8:00 p.m., supporters at the Bernie Sanders office said they felt confident about his campaign in California. As one supporter said, "Oh he's gonna win, it's gonna happen!"
Most of the people we spoke to were volunteers. Cecily said she had been canvassing in the last two weeks.
Cecily said: "I'm really fucking angry at our government. I want a government that takes care of people instead of controlling them." The other supporters focused on the policies that Sanders has been campaigning for such as the Green New Deal, Medicare-for-All, or wiping out student debt. As one supporter put it, "Choosing between paying rent or paying health care and that actually happened to me when my house went foreclosed during the recession, we couldn't go to the emergency room for my sister…in addition, I'm $20,000 in debt that I'll be paying for the next 10 years and that shouldn't happen."
Even after the polls closed, Bernie volunteers at 2235 Mission St. were still working the phone lines after receiving word that Los Angeles County was behind in vote counting and long lines are still present at polling places. As one Bernie phone banker, Marc, said, "I was doing phone banking trying to get last-minute calls before the polls close and then we found that there was something with the voting polls in LA with really long lines so they opened the polls for an extra two hours till 10, which is kind of unusual and reminiscent of the Iowa caucus."
Coverage brought to you by the 48hills Election Night team: Isabella Albaisa, Ali Aldrees, Juan Miguel Arcayena, Molly Bryant, Savannah Dewberry, Callie Fausey, Matthew Kerfoot, Gabriela Lanza, Isabel Maschmedt,Bridget McGreevy, Dillon McNeil, Kayla Quintero, Cathrine Roque, Clara Rosandich, Josh Safier, Anna Schmid, Alexander Segovia, and Melanie Velasquez.