A deeply divided Board of Supes allowed Mayor London Breed's curfew to stay in effect for two more days after advice from the City Attorney's Office that it would take a unanimous vote to end the 8pm-5am shutdown.
The vote was 6-5 to continue the curfew until a special meeting on Thursday.
UPDATE: Mayor Breed says the curfew will end today.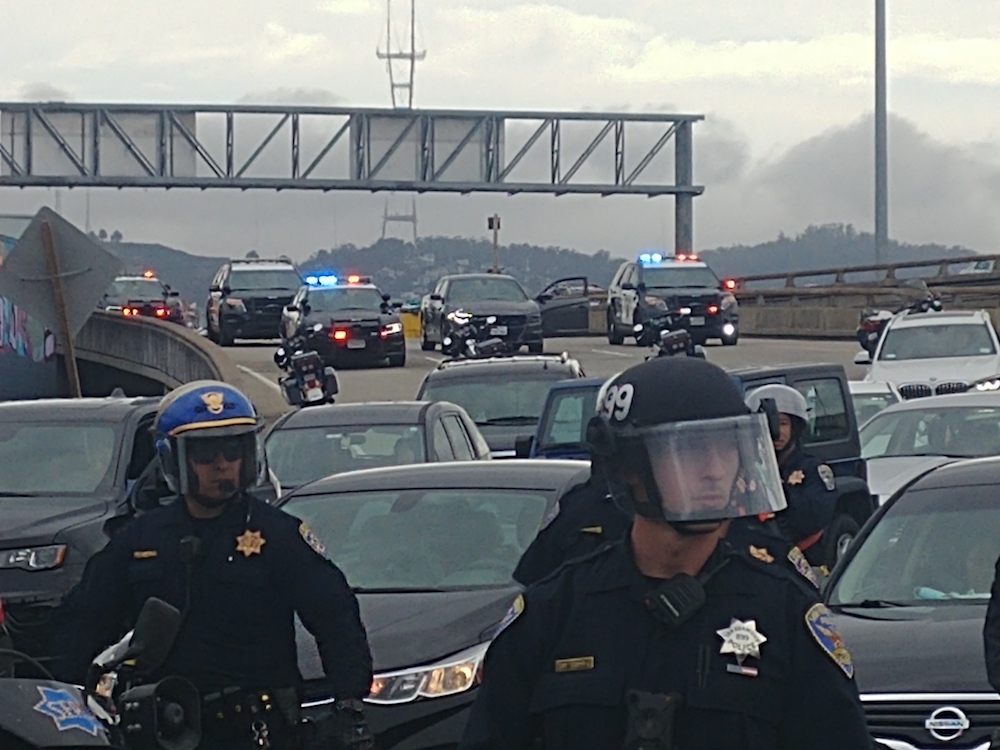 Chief Bill Scott said that the curfew was an important tool – but several supervisors and speakers said that criminalizing anyone who is out after 8pm does little to stop looting and violence.
Gabriel Markoff, a lawyer and DSA member, said during public comment that while a large number of police officers were arresting a small number of peaceful protesters, mostly young people of color, for curfew violation, his wealthy neighbor in District 8 was walking his dog for an hour beyond the limit and came back without any issues.
"That is what this is about," he said.
Sup. Matt Haney said before the meeting that he was very concerned:
I cannot support an indefinite curfew in San Francisco. I will vote no. Such a curfew would include unprecedented restrictions on freedom of speech, freedom to assemble, and peaceful protest.

This past Sunday, San Francisco Mayor Breed issued one of the most broad, indefinite, expansive curfews of any city. We are one of the few cities that has issued an indefinite curfew.

This curfew bans anyone from being outside between 8pm-5am, with few exceptions. There's no free speech exception. There's only an exception for people going to and from work, emergency responders, and people who are homeless.

So yes, if you are on the sidewalk in front of your own home, saying black lives matter (or anything else), after 8pm, you can be arrested.

This is largely unprecedented in San Francisco.

There were videos last night of hundreds of officers circling a handful of peaceful protestors and arresting them for violating the curfew. There is no doubt that this response was not only excessive, it was surely incredibly expensive, at the very time that our city is facing a massive budget deficit. This cannot be our city's response to this moment, to the justified rage at police excessive force and racist policing.
Sup. Hillary Ronen said that she didn't like the idea of a curfew in place for seven days – until the next board meeting. She asked Scott is there would be a problem with renewing the curfew every day. He said there was no problem with that.
But there is a problem: Under the City Charter, the board can't hold an emergency meeting without 24 hours' notice, which has to be published in a local newspaper. Given the deadlines of the local newspapers, the next time the board could meet would be Thursday.
After that, the board couldn't meet until Saturday.
So there's no process for a daily board meeting to approve or reject the curfew. And rejecting the curfew at this meeting would have required a unanimous vote.
And make no mistake, this is extraordinary: "I can't recall in my life a curfew issued in San Francisco," Sup. Aaron Peskin said.
There were clearly some supervisors who supported the mayor's position, so a unanimous board was unlikely.
Peskin noted that a significant number of officers on the streets are from other cities. Is that not enough? He asked.
Scott said this was a "tool."
Peskin: "I get that. … But this is an extraordinary thing in our First Amendment-based society. This can't go on for very long."
Haney: "Why do we have an order that prohibits peaceful protests? You can be arrested for standing in front of your house and expressing your opinion."
Scott: "The order does not exempt peaceful protests after 8pm."
Sup. Dean Preston: "This is the broadest one of any city we've looked at compared to other cities. Why not have the orders evolve with the situation?"
Scott: "We know how quickly things can change. These situations are very dangerous, and it depends on how much risk we want to take."
Sup. Shamann Walton: "During this climate, the more opportunity we create for law enforcement to interact with the community, the more possible it is for negative reactions. Is the curfew the only solution?"
Scott: "We could have looting at any time any place. There's no guarantee that this will stop even with the curfew."
Ronen: "Taking away someone's Fourth Amendment rights, which is what this is, indefinitely, that is an extraordinary taking away of our Constitutional rights."
Curfews in general are often used to give police wide discretion on who to arrest – and those who are arrested tend to be young people of color.
The ACLU of Northern California issued a statement today opposing the curfews:
The slew of hastily announced "curfews" enacted in cities across California lack clarity as to their scope and duration. This is the wrong way to handle disruptions to what have been otherwise peaceful protests, and they are far broader than necessary to address any problems that have arisen or may arise.

Moreover, by making presence on public streets anywhere in these cities unlawful, these measures give police too much discretion over whom to arrest and will lead to selective and biased enforcement and risk harassment of people who are unhoused. In short, these measures will only repeat the very problems that our communities are protesting.

We urge each city that has enacted a curfew, or is considering one, not to seize upon the momentum of extraordinary government power created by the ongoing pandemic to enact broad and limitless measures. In this moment, we should not be moving closer toward a police state.
The whole discussion showed a deep dissatisfaction with the Police Department, which has a budget of more than $600 million a year. Speakers asked whether deploying officers to enforce a curfew made sense when there are a small number of places where violence and looting is happening – and, of course, looting is already against the law.
(Unless, of course, you are a big financial institution or corporation, in which case you can steal from working people and the US treasury with impunity. It's perfectly fine for Apple to steal $78.5 billion by hiding its profits offshore. It's not okay for someone to steal an $800 I-phone. "Looting" is a matter of perspective.)
The curfew invoked by the mayor has no specific end date, although the emergency order it's based on would expire next week unless the board renews it.
The situation raised another critical question. Chief Scott called for "mutual aid" from other police departments, and officers from all over the state responded. He admitted under questioning that they would follow the use-of-force rules from their home jurisdictions, not from San Francisco. Haney:
Some of the officers who have been deployed on our streets are not SFPD. It is unclear where they are from, some are from Fresno and other cities. These officers may not know our city, do not have required training, and there are obviously inherent risks with multiple departments with officers roaming the streets of our city.
Board President Norman Yee moved to continue the meeting until Thursday. Five supervisors wanted to set more strict limits.
Voting in favor of Yee's resolution: Rafael Mandelman, Gordon Mar, Aaron Peskin, Catherine Stefani, Norman Yee, and Sandra Lee Fewer. Voting no: Haney, Dean Preston, Hillary Ronen, Ahsha Safai, and Shamann Walton.
The next board meeting is at 2pm Thursday/4.