Here I sit in my room, devastated and contemplating all that went wrong for this young white man to have gunned down eight people, two of whom were Chinese American women, four of whom were Korean American women. This man who proclaimed "I love God and guns."
Sadly, this violence is not new. The level of anti-Asian violence may be increased. However, it is not different from the continual violence our communities have faced. What's new is that the former president of the United States has been calling the coronavirus pandemic the "Kung Flu" and the "Chinese Virus." The hatred and racism toward Asian people and immigrants and people of color (especially women of color) has gone from bad to intolerable.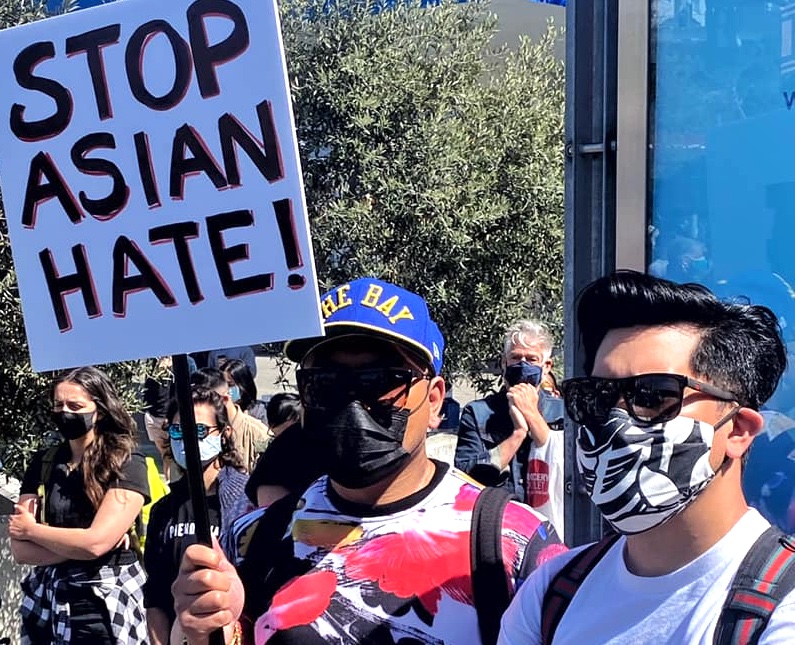 And at the same time, politicians, police officers, even community leaders have been minimizing and ignoring this crisis of racist violence. This is due to the model minority myth coupled with xenophobia and a misunderstanding of the real danger that Asian American and Pacific Islander people are living with every day.
I would remind us all that Vincent Chin (whom the racists thought was Japanese) was beaten to death on the street in Detroit in 1982. The two white male killers were given a $3,000 fine and let go. When Korean shop owners were beaten and our businesses burned down during the LA riots, who spoke up for us then? The LAPD drove the riot toward Koreatown and did nothing to protect us.
There is a nexus of anti-Asian hatred, hatred of women, conflation of massage therapy and sex work, violence against perceived sex workers, disgusting racism, and minimizing by the local white police and sheriffs. There are so many things wrong with this murder spree, the bizarrely apologetic reaction of the sheriffs, and the ensuing media narratives about this hate crime.
My heart is aching for these women, their families, and for the AAPI community. These women were workers, like so many working-class people, trying to earn a living in this dangerous time, performing a vital healing service. They were healthcare workers, frontline heroes.
Massage therapy is a particular kind of undervalued labor, a treasured and ancient high skill; it is preventative and allopathic medicine. It is a form of medicine that helps millions of people. This work is looked down upon by the ignorant and because of the classism and racism and sexism that is endemic to American culture at this time. These women were front-line workers, wearing masks, trying to help people get out of pain. They did not deserve to die this way.
The attacks on Asian American people is part of a long history of racist violence, sometimes perpetrated by individual murderers, sometimes perpetrated by state violence like the Texas Rangers or the LAPD, sometimes whole communities participated in the lynching and burning of Chinese fishing communities in the late 1800's as in Santa Cruz and Monterey, CA.
During WWII, Japanese Americans were beaten, had their belongings stolen, and their land and businesses auctioned off for pennies on the dollar, often to white Americans who had resented their very existence in their neighborhoods. Not a single one was found to be a spy. At the same time, some German Americans actively spied for the Axis powers but were never prosecuted.
This isn't just racism; it is sexism, classism, and anti-immigrant xenophobia. It is also hatred of perceived sex workers. They were killed because of the hyper-sexualization of Asian women and all women of color, native and indigenous women.
This dehumanization of Asian women is so ingrained in American culture that the outcry over this massacre, this killing spree is dampened by the reality that Asian women's lives are literally worth less and are less safe than any white woman's life or white man's life. The killer was just having a "bad day."
Many Asian immigrants come to the US because of the US imperialist wars in our home countries. Some, like the Hmong, have nowhere else to go — but when they arrive they are reviled, bullied, beaten, and killed. We cannot decry this killing spree without calling out the historical and political and economic backdrop that made this recent incident possible.
If you believe that this wasn't racism, imagine what the response would have been from the white, anti-Chinese-t-shirt-wearing-MAGA sheriffs had the victims been six white women?
Clearly the targets were Asian women massage therapists because in the eyes of this deeply ignorant, hateful young white man, Asian massage therapy is the same thing as sex work. Asian massage styles are conflated with sex work by a white male consciousness that cannot distinguish between these two things; by white men who fought in South Korea and Vietnam, and took away a belief that Asian women are all prostitutes, destitute and poor, that we can be maimed and killed with no repercussions. To them we are faceless and non-human.
Clearly, the sheriffs and the local community will not call this out because it is not an individual who perpetrated this heinous killing of innocents. The sheriffs have blood on their racism-minimizing hands. The former president of the United States has blood on his hands. Every single time a public official condones and encourages the anti-Muslim sentiments, anti-semitism, racism, sexual violence against women, anti-immigrant sentiment, and hatred of Chinese and Asian people, they are contributing to the bullying, abuse, and killings. Shame.
Dr. Haemin Cho (she/her/hers) is Co-Chair of Progressive Democrats of America, San Francisco Chapter. She works in private practice as a doctor of Chinese and Korean acupuncture, acupressure and herbal medicine at Body Dao Acupuncture in San Francisco. Dr. Cho teaches tuina (Chinese medical massage) at the American College of Chinese Traditional Medicine (ACTCM) at CIIS. She also teaches chakra healing, emotional balancing, meditation, Korean acupressure, Qi Gong, and Taijichuan in her private practice. She immigrated to the U.S. from Seoul, South Korea with her parents and sister in 1971 and currently divides her time between San Francisco and Los Angeles. An active member of a number of political organizations in San Francisco, Dr. Cho was a union organizer and student organizer at UC Santa Cruz, where she studied American Studies and Women Studies with an emphasis in Ethnic Studies. In 2019, she was appointed to be a member of the CA Assembly District Election Meeting (CADEM) and became a Bernie Sanders Delegate