Reporter's note: I first met Ruach in 1995 while investigating exploitative and dangerous working conditions in the taxi industry, which persist in today's so-called "gig economy." Ruach was instantly gracious, warmly welcoming, vastly knowledgeable, and so genuinely dedicated. For decades, Ruach was ever-present at campaigns, rallies, labor movement events, and in and around the Redstone Building and the Labor Temple that was her political base. For this reporter, Ruach was not only a "source" of information and insight, but a good friend, a fierce political ally, and the kind of quirky, free-thinking, passionately political soul that many of us have long associated with the heart of San Francisco.
Ruach Graffis, a long-time San Francisco cab driver, labor organizer and teacher, ended her life Friday May 21 by self-administering legally prescribed drugs. She was suffering from terminal lung and heart disease and was given only a short time to live.
She died peacefully at home, surrounded by friends, and publicly promoted expanding "death with dignity" protections under California's End of Life Option Act.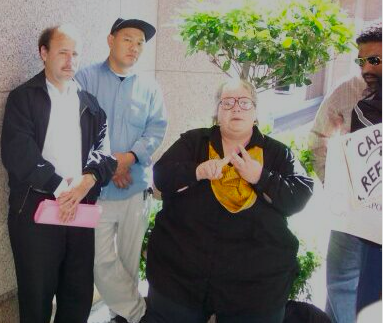 Ruach was 74 years old, and leaves behind a sister, many friends and political allies, and a long legacy of activism for workers, paratransit, and disability rights.
Ruach was born in Baltimore, Maryland, in 1946, and spent childhood summers on a farm in northern Minnesota. According to her sister Elaine Lane, Ruach "was a talented opera singer (soprano) and classical piano player." She moved to San Francisco in the late 1960's, and soon immersed herself in local culture and politics. Ruach, her chosen name, means "breath," "spirit," or "wind with life in it," in Hebrew.
Ruach's sister Elaine reflected, "I admire her for taking control of her destiny as she did. I know The System didn't make it easy, but I'm grateful that California allows Death with Dignity." True to form, after a life dedicated to activism to improve life for others, Ruach campaigned in her final days to strengthen California's "death with dignity" law and for SB 380, which would extend these end-of-life protections.
As the San Francisco Taxi Workers Alliance described in a memorial statement written by longtime fellow cab driver and organizer Mark Gruberg, Ruach "was involved in the San Francisco taxi industry for nearly 50 years, 40 of them as a driver." She started driving cabs in 1973, after numerous jobs, including working as a cook on a fishing boat, and on the night shift at a bank. Ruach became a major force in several taxi driver organizations, including United Taxicab Workers and the Taxi Workers Alliance, where she served on the executive board for many years.
In 1997-98, Gruberg's remembrance recounts, Ruach "served as a member of Mayor Willie Brown's Taxi Task Force, chaired by then-Supervisor Gavin Newsom, and served on San Francisco's Sunshine Ordinance Task Force. She taught a course for new cab drivers for 20 years, first at San Francisco City College and then through the Taxi Driver Institute, which she started and ran."
According to Gruberg, Ruach "played a major role in many victories on behalf of taxi drivers, including the passage of San Francisco's first taxi safety law, the approval of a cap on cab companies' gate charges, and the defeat of four ballot measures designed to amend or replace Proposition K of 1978, the law that allowed cab drivers to obtain taxi medallions for the price of an application fee."
For many years, Ruach also served as a member of San Francisco's Paratransit Coordinating Council, and for decades she was highly active in the San Francisco Labor Council. In the 1970s, she started the Women's Caucus of the SF Teamsters-Chauffeur's Local 265. In the 1980s, she was one of the founders of the San Francisco Taxi Drivers Alliance, a precursor to United Taxicab Workers, which then evolved into today's San Francisco Taxi Workers Alliance.
Ruach worked hard to build activist political culture and community in the city. At a 2001 LaborFest event held in the Redstone Building's Labor Temple, Ruach told the crowd: "It's begun to warm up in the Mission again, worker energy is rising. Coalitions are forming. We are building a worker sensibility here on 16th Street, developing our Workers Culture, making contacts, making friends, forging alliances in the building and beyond. Local merchants gave money or provided food for us tonight. Many of us are active in the drive to create a MUD [municipal utility district] in SF. If we each had a little office in a little separate store front, isolated, alone, how long would it take to create the same energy? Would we ever? That's the point of buildings like this: they create community. Forge solidarity. Together we support each other and become stronger than we could ever be fighting alone."
For many years, Ruach taught aspiring drivers her taxi class about how to navigate the work, the industry, and workers' rights. As Gruberg recalled, Ruach's many students "got a thorough grounding in taxi knowledge, but much, much more. A lot of history, especially of San Francisco, a ton of observations on life. And a lot of laughter. She had a big, resounding laugh, that was usually a serious commentary about whatever it was that set it off. There were lessons in her laugh. I think teaching was the most fulfilling thing she did, imparting knowledge and wisdom gained over a career and a lifetime."
While Ruach devoted her life to activism and organizing, she is also remembered for "her love of music, and her incredibly beautiful voice," her sister Elaine describes. "We grew up in a very musical home; we were both in many choirs through the years."
Elaine recalled the two sisters attending a "Sing Along Messiah" one year at the San Francisco Opera House. After the performance, as the crowd was preparing to exit, "all those people going down the ramps at the Opera House, and in no hurry to leave…what broke out was a spontaneous Christmas Carol sing along" that echoed throughout the building. "That, in itself, was so moving that it brought tears to my eyes. But with Ruach's high soprano voice, she could often take a high descant melody. With the strength of her voice, everyone could hear her, and it was pretty impressive!"
In December 1992, when asked about her potential career as an opera singer, Ruach told the United Taxicab Workers Newsletter in a feature profile article, "It's not the whole show for me. Everybody's life should be focused on something larger and greater than one's own self…The center of my life for me is living an examined one."
Along with her powerful operatic voice, friends recalled Ruach's unique mix of blistering intelligence and wit coupled with her intense dedication and tenacity. "She had a wicked sense of humor," Gruberg recalled. "Ruach was a wealth of historical fact, especially about San Francisco and the labor movement." Gruberg added, "No one has fought longer or harder to defend and protect cab drivers' rights and interests. Ruach is, simply, irreplaceable. On a personal basis, I can say I knew no one with her level of dedication. … She would attend more meetings, more events, contribute more articles, than just about anyone, all the while driving a cab, and teaching others to do the same. Sheer determination. She rode a bike around town for many years, until it just became impossible."
Although Ruach "suffered greatly" in her final years, Gruberg described, "She did so with stoicism, dignity and courage. When she decided it was time to go, she went about it with the same firmness of purpose with which she lived her life. She gathered a few of us around her for her final hours, and insisted that there be no maudlin reflections, no tears."
Susan Englander, another longtime friend, recalled, "I got to know Ruach during our years in Labor Studies at CCSF as she taught cab driver orientation. She loved that course, and the city rudely took it away from her and from CCSF." Englander added, "I loved her tenacity and her spirit."
Longtime friend Keith Raskin reflected, Ruach's final night among friends was "remarkable," with several old friends accompanying Ruach as she prepared to end her life. "Her last two weeks she had daily personal care and friends coming over daily. For her it was heaven on earth. She took the End of Life medication without drama but with clear intentions. We sat and talked while she did it. As she drifted off, we read poems she had requested."
Friends say a memorial for Ruach is being planned. The SF Taxicab Workers Alliance says it "will commemorate Ruach's life in an online memorial, on a date to be announced."
As Ruach prepared herself and those around her for the end of her life, she posted several moving notes on her Facebook page about ending her life with dignity. On her final day, Ruach shared a lengthy last message to friends and family, which read in part:
It felt sort of like Christmas, this morning I woke up with such a sense of anticipation…The sun was streaming into my garden, lighting up the flowers, petals luminous, leaves shiny with the golden light of dawn. I wonder how I am supposed to feel, this, last day? My friend from Seattle is in town, she came last night. We drank a bottle of Zinfandel together that we got several years ago when we went on what turned out to be our only wine tasting trip into Napa Valley. We enjoyed it, but I wish I had known it would be our only one…Today will be busy. Care giver comes to help me with a bath: clean me up for my presentation to my new world…Tonight my friends will come about 7. I will take the anti-nausea drugs shortly thereafter. About 8 I will take the manic [Ed — perhaps she meant magic] potion, mixed with tea. Then maybe have some mango sherbet to hold it down. I hear it's very bitter.  In a few minutes I will go to sleep. It might take 15 minutes or several hours for me to quit breathing. My friends will be here, drinking a good wine, talking, eating good cheese, fruit (discourage constipation among friends), and crackers. Their voices will be the last thing I hear in this life. I think….I have said this before, but I need to say it again:  if everyone had this kind of experience, if the last 3 weeks of everyone's life was as wonderful as mine has been, people would not be afraid to do this thing, to make this transition. This has been the most amazing 3 weeks of my life. Thank you. Thank you. Thank you. Thank you. Thank you.