Last weekend brought the wide release of two unusually ambitious and ambiguous new mainstream movies, a species seldom seen these days, particularly in the popcorn fields of summer. Tom McCarthy's Stillwater borrows the elemental circumstances of Amanda Knox's notorious case—American college student in Europe convicted and imprisoned for murder after a flatmate's murder—and thoroughly fictionalizes it, though apparently not enough to avoid that since-exonerated person's condemning it for exploitation.=
General starting point aside, however, there is not much overlap here with the real case, with central characters considerably further down the US socioeconomic ladder than their supposed inspirations. Allison (Abigail Breslin) is an Okie from a broken home, raised by grandma (Deanna Dunagan), who wound up studying in Marseilles. There, she acquired a female lover with a different kind of troubled background who ended up murdered. Allison claims innocence but is not believed, and as the film opens has already spent five of a projected nine-year sentence in prison.
She isn't really the focus of this story, though. Instead, our primary protagonist is her father Bill (Matt Damon), who has been a bad, absent, and substance-abusing parent in the past, but is trying to belatedly make amends now that he's cleaned up. Allison (whose mother died long ago) is wary of him, but in no position to refuse any kind of help. Realizing on his latest visit from Oklahoma that his daughter has exhausted her justice-system options, Bill tries on his own to find the missing real perp she claims. Eventually this greatly extends his stay, during which time he develops a bond with a kindly Frenchwoman (Camille Cottin) and her eight-year-old daughter (Lilou Siauvaud), who take him in as a boarder.
Stillwater is not really a murder mystery or investigation drama, even if those things outwardly drive Bill's quest. (And if you focus on those things, their untidy resolution will frustrate.) Instead, it's more of a Rorschach-test reading of how Americans act and are seen in the world during the Trump era, even if that's officially over now. Bill is the classic 21st Century Ugly American, certain of his good intentions, expecting to be forgiven any gross gaffes, bullish and uncomprehending of even the simplest "foreign" nuances. (We quickly realize that after five years of coming here to visit his daughter, he still hasn't bothered learning a single word of French.)
His horizons do expand from prolonged exposure to another culture. Still, ultimately it's his limitations that prove dominant, for both good and ill. As for Allison, her story can be regarded as a commentary on the notion that many Americans seem to believe they shouldn't be judged by foreign governments—no matter what crimes they do or don't commit abroad. Stillwater is a complicated movie, very well-acted and sometimes powerful, yet far from "inspirational," and fully intending to leave you with a lot of unresolved feelings.
Ditto The Green Knight, which may sound like just another heroic fantasy adventure—albeit one based on Arthurian legend rather than the Marvel or DC "mythologies." But it is something considerably more idiosyncratic, a medieval epic closer to something like The Saragossa Manuscript or other European (as well as Russian) cinematic fables for adults than the more juvenile action-and-FX spectacles Hollywood offers in that vein.
Dev Patel plays Gawain, a nephew to the King (Sean Harris) whose lack of valorous experience is corrected once he accepts a challenge from the mysterious title figure (Ralph Ineson), whom he beheads—though that is not the end of it. Indeed, he now has an appointment a year hence to revisit his foe, whose turn it will then be to wield the axe. When that time arrives, Gawain journeys forth to a destination whose whereabouts are unknown, en route encountering bandits, a spectral maiden, giants, an enchanted castle, and more.
The Green Knight is not a satire, a la The Princess Bride, though it does subvert some standard tropes of such tales. That is particularly true in the end, when we realize this is not a parable about bravery, nobility, or even faith so much as it is a roundabout commentary about power, and the institutions that preserve it. This is a frequently beautiful movie, albeit one set in a dark, damp, distant past that is brutish even when fantastical; slowly paced by current standards, yet never unengaging.
Many elements here are striking, with Daniel Hart's original score in particular impressive as music—rather than just bombast, or emotion-highlighting—in ways that movie soundtracks too rarely are. It's also rare to see a movie you're so certain will get richer with repeat viewings; indeed, a first glance feels a bit overwhelming and preliminary, not unlike seeing Diego Rivera's newly arrived, gigantic Pan American Unity mural at SFMOMA. I've liked some of Lowery's films before, but now he's in a different category… that of a major artist. Stillwater and The Green Knight are both playing theaters throughout the Bay Area, with Knight also playing some independent houses such as the Roxie, Vogue and Balboa.
Other new movies of interest: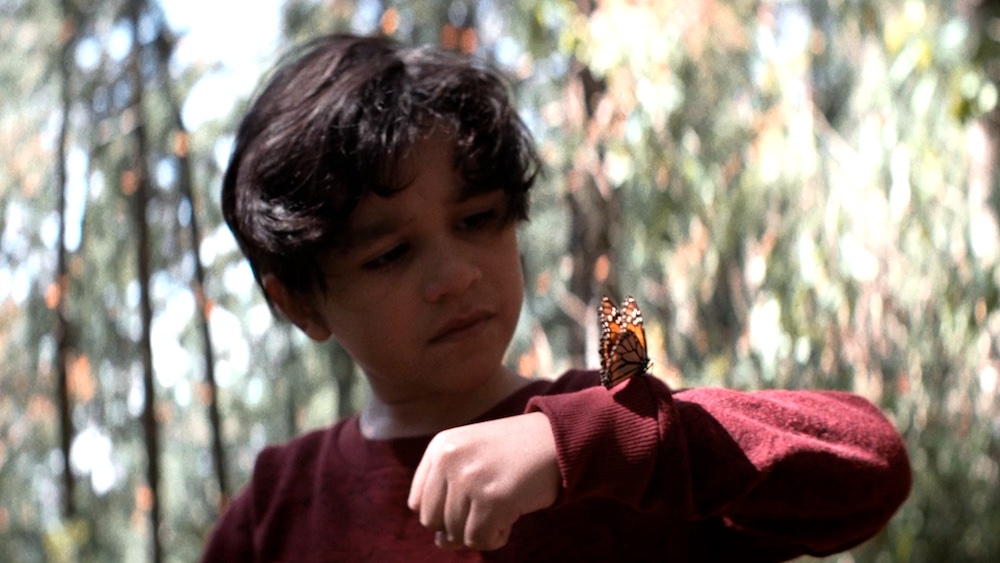 Son of Monarchs
Another work notable for its expansive thematic and aesthetic ambitions is this first narrative feature by Alexis Gambis, a French-Venezuelan biologist as well as filmmaker. His protagonist Mendel (Tenoch Huerta) is a scientist working at a Manhattan research lab, in self-imposed exile from the Mexican town where he and his older brother Simon (Noe Hernandez) were orphaned by a flood as children. On his rare, reluctant trips back, he sees very landscape he grew up in decimated by mining and logging. He commences a relationship with a gringa (Alexia Rasmussen as Sarah), but has a hard time feeling he belongs anywhere, with anyone—his home is an elusive idea, even as the physical reality of having one incrementally vanishes amidst climate change and other planetary/societal ails.
The one little-seen feature Gambis participated in previously (as one of several directors) was called Mosaic, and this endeavor is likewise structured as such. It weaves between nations and cultures, present and past, human drama and nature footage, the latter including timelapse photography, slides, et al. from actual university scientific laboratories. There are also elements of religious ritual, circus acrobatics, and much lyricism involving butterflies. Son of Monarchs can seem more conceptually elaborate than emotionally involving, or pointed. But it's still an accomplished and original work. It's currently streaming in BAMPFA's virtual cinema (more info here).
Fireboys: The Ninety One
Our alarmingly fast-changing environment is also the subject, more or less, of this documentary by Jake Hochendoner and Drew Dickler, whose subject overlaps somewhat with the imminent Bring Your Own Brigade (see 48 Hills' feature on that film here). We all know that changing weather conditions have turned much of California into an annual tinder box. The "fire season" now requires state employment of some 87,000 firefighters. Nearly half of those are convicts who, not unlike military enlistees, endure low pay and dangerous conditions for a shot at a better life—in their case, possible early release from incarceration.
The subjects here are two young adult men (over 18 but under 21) who succeed in getting accepted for training at Pine Grove, the only "fire camp" reserved for juvenile offenders. The grueling training they undergo is said to "separate the boys from the men," girls and women being apparently ineligible. But hot, heavy and hazardous as their lot is, it's also a taste of relative freedom for people who really want another chance at fitting into society.
There's not a lot of the exciting firefighting stuff you might expect; Fireboys' focus is more on rehabilitation through tough work that some grow to love. Getting as little as one-tenth the pay professional firefighters do (and they aren't paid much, either), our protagonists impress with the dedication to turn their lives in a new direction—even if that way forward is through smoke and fire. The documentary is available on Digital and On Demand platforms as of Tue/3.
Casanova, Last Love
Moving from a profession of punishing toil to a lifetime of hedonistic leisure, there's this latest by Benoit Jacquot. He's been writing and directing French features since the mid-'70s, and now in his own mid-70s turns to a subject that's previously attracted filmmakers from Fellini and Ettore Scola to Lasse Hallstrom, and actors from pre- Dracula Lugosi to Delon, Mastroianni, Donald Sutherland and Heath Ledger. That is, the life and/or persona of Giacomo Casanova, the Venetian gentleman who became an 18th-century celebrity for the apparently prodigious love life amply detailed in his memoirs. And when I say "amply," I mean 12 volumes.
Many have used this figure to spin a sex comedy, or ponder something weightier like the dimming of desire with age, or elusiveness of "love" despite all erotic satiation. Jacquot's film has Casanova (Vincent Lindon) as an old man telling a patron's daughter of his "last," perhaps sole real love some years earlier, when he was middle-aged. Then, living the high life in London, he met young prostitute Marianne (Stacy Martin), and let her lead him on a not-so-merry chase in which she withheld the favors given others on a transactional basis, seemingly bent on some larger-scale financial gain he would not cough up.
It's a handsome film that wears its period trappings unfussily, gorgeous though they sometimes are. Still, beauties of photography and art direction aside, it's unclear just what Jacquot intends from having a horny old dude run after an obvious coquette for 90-odd minutes—a situation that might easily evoke pathos or comedy, but is regarded with a serious lack of critical perspective here. We don't understand why this famous, jaded roue lets himself be played every which way, or grasp just what it is about Marianne that undoes his common sense.
She may hold the power in their relationship (if you can call it that), but the film does nothing to make this war of the sexes equal by constantly undressing its women so Casanova and the camera can leer at them—a familiar use of female bodies as erotic commodity. It's an immaculately crafted film with scant substance, or purpose, or even levity; an exquisite box with only a slightly rank smell inside. Jacquot has made better movies before. Hopefully he will make more still, because this would be a bum note to go out on. Casanova, My Love is currently playing Embarcadero Center Cinemas and other area theaters.