More than 70 people gathered in UN Plaza in front of City Hall Tuesday, calling on Mayor London Breed to declare a state of emergency on drug overdose deaths.
The demonstration came on Drug Overdose Awareness Day, although for activists the time for awareness has come and go.
"We're way past awareness at this point," said Laura Thomas, director of harm reduction policy at the San Francisco AIDS Foundation. "Drug overdose deaths are an emergency in this city, this state, and this country."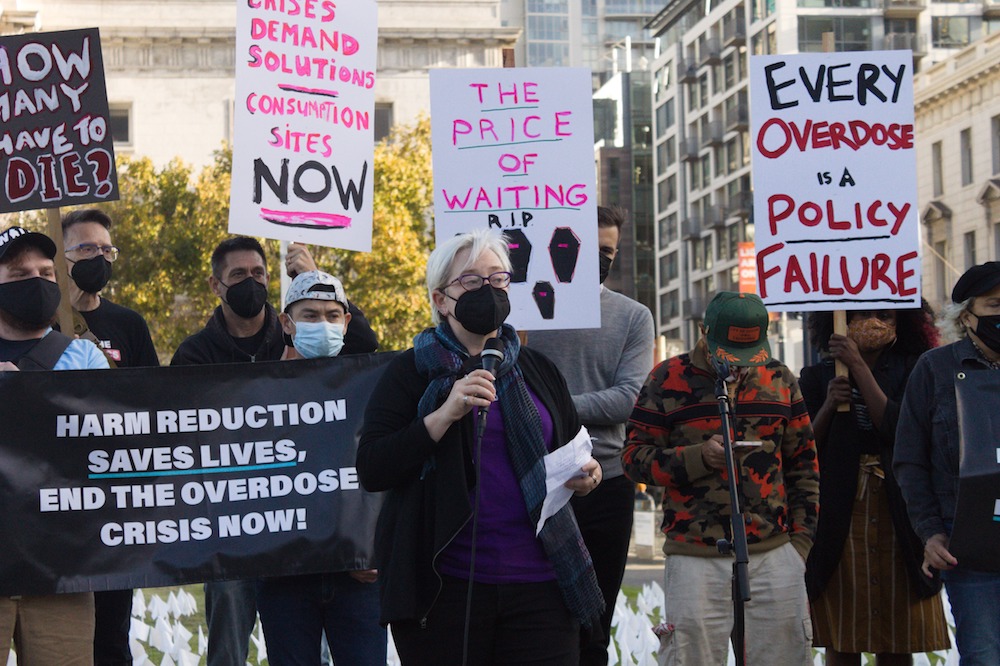 Activists pointed out that more than 700 people died of drug overdoses in San Francisco last year, nearly double the number of COVID deaths in San Francisco in 2020, and said that the drug overdose crisis should be treated with the same urgency.
"COVID is very much a real public health emergency, and we responded by declaring a state of emergency," Thomas said. "Overdose deaths are just as much a public health emergency and we need to treat it as such."
Activists hope that, by declaring a state of emergency, Breed will enable San Francisco to establish safe injection sites before the passage of SB57, sponsored by Senator Scott Weiner, which would legalize safe injection sites but is currently stalled in the state Legislature until at least January of next year.
The chair of the Health Committee, Assembly Member Jim Wood, awaits confirmation from Attorney General Merrick Garland whether safe injection sites violate federal law. Activists say that the time has come for San Francisco to take drastic action to allow safe injection sites to open, as 719 people died of drug overdoses in San Francisco last year, compared to 261 COVID deaths in the city that same year.
According to preliminary data from the San Francisco Chief Medical Examiner, 404 people have died of drug overdoses as of July 2021.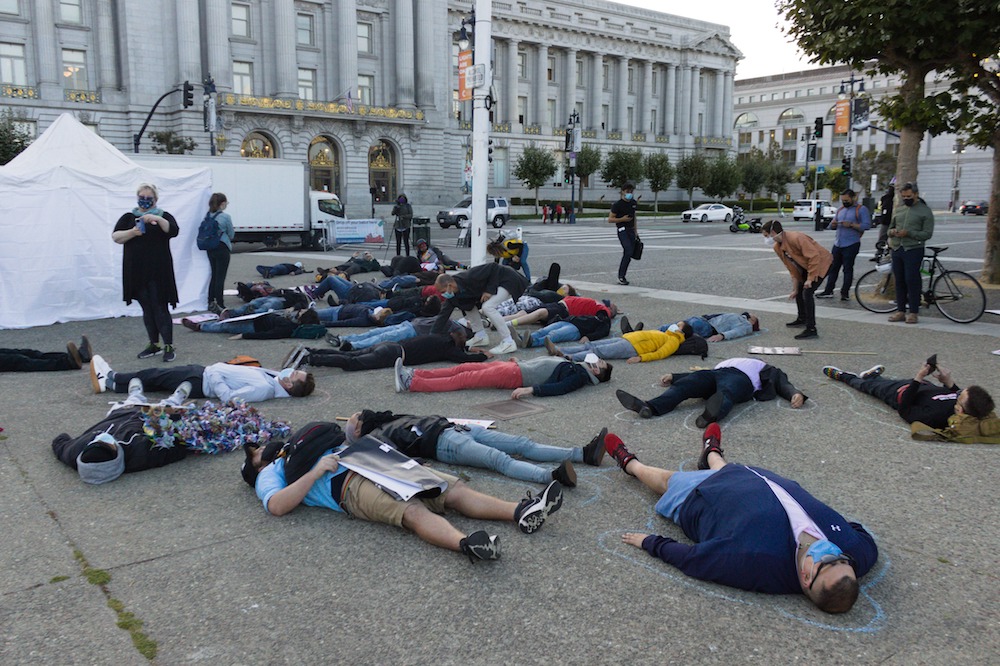 Another argument for the declaration of the state of emergency is that it will give organizations that would manage safe injection sites some backing, including support from the city attorney should the federal government sue the organizations as well as funding from the city government.
"If the Feds come, they could defund an independent organization, so we want the city to manage this," said Daniela Wotke, an organizer with the Safer Inside Coalition, a collective of drug policy advocacy groups seeking to improve public health in the Tenderloin.
Paul Harkin, director of harm reduction at Healthright 360, a San Francisco nonprofit that provides mental-health support, substance-abuse treatment, and re-entry services, said that San Francisco taking action in violation of federal law is nothing new, pointing to past precedents where San Francisco established policies around cannabis, gay marriage, and safe syringe access in years past, all of which were illegal under federal laws at the time.
"It's possible for the federal government to come and shut down every cannabis dispensary because that's a violation of federal law, and yet the city is happily breaking that law … when we did gay marriage, when we did sanctuary cities, when we did syringe access, at the beginning of the HIV epidemic, we violated federal law," Harkin said. "We have been here before, when the cause justified the means. The law hasn't caught up with reality…Putting this on the back burner as the bodies mount is just untenable."
There are already 120 safe injection sites operating worldwide, and studies have shown that safe injection sites are effective at reducing drug use, rather than increasing it, as some skeptics worry.
"It does seem counter-intuitive, but [safe injection sites] actually decrease drug consumption wherever you have them," Harkin said, "because you're creating a space where a lot of the chaos in their life is being removed because they are coming in and using safely among health educators that are compassionate and want the best for you, so you get time to reconsider what condition you are in, and people who use these sites are six to ten times more likely to use drug treatment."
A 2019 poll by Dignity Health showed that 77 percent of San Franciscans support the establishment of safe injection sites, and a 2016 Journal of Drug Issues study found that San Francisco could save roughly $3.5 million annually in emergency medical care costs by establishing the sites.
David Campos, who attended the protest representing District Attorney Chesa Boudin, also said that San Francisco has a history of establishing progressive policies it believed in, often in violation of federal law, and added that Boudin would not prosecute any drug-related cases stemming from safe injection sites.
"Chesa Boudin is supportive of safe consumption sites because they have been proven to save lives and based on that, he as the district attorney, has made it clear that our office will not be prosecuting any drug-related cases stemming from, or connected to, safe consumption sites," Campos said in a phone interview. "San Francisco has pushed the envelope legally in other areas including legally in other areas, this area is where pushing the envelope is justified."
For Campos, the effort to establish safe injection sites is also something he has supported for a long time. During his tenure as a San Francisco supervisor, he was the first elected official in San Francisco to introduce legislation to establish safe injection sites.
"I've been waiting for more than six years to have what I proposed become reality, and I hope that the powers that be in City Hall, the mayor, the supervisors, take the steps to make sure that his happen," Campos said.
Supervisor Matt Haney, whose district includes the Tenderloin and Soma, where injection drug use and overdose deaths are concentrated, said in a phone interview that he supports Mayor Breed declaring a state of emergency and establishing safe injection sites as soon as possible, even before the passage of SB57.
"I think we should have done it years ago, and there's no doubt that we should do it now, especially with the change of administration. I see no reason why the state of California or the administration in Washington would come down on San Francisco for using a strategy to save lives that works," Haney said. "If we wait for the state law to pass, it will be a year and a half before we can possibly do this, that's unacceptable."
Supervisor Rafael Mandelman, who has addressed drug overdose deaths as an issue in the Castro, also confirmed that he supports protesters' demands for Breed to declare overdose deaths as a public health emergency and to open safe injection sites.
As people continue to overdose every day in San Francisco, CODE Tenderloin Executive Director Del Seymour said there is something that every San Franciscan can do to help—get trained on how to administer Narcan.
"What I see here is 75 people with enough time and courage to come out here, but what I really see is 75 first-responders. Get that Narcan and learn how to use it," said Seymour. "You don't have to save ten thousand lives, you can save one."
People can get trained to use Narcan by the DOPE Project, which can be reached via email at dope@harmreduction.org.