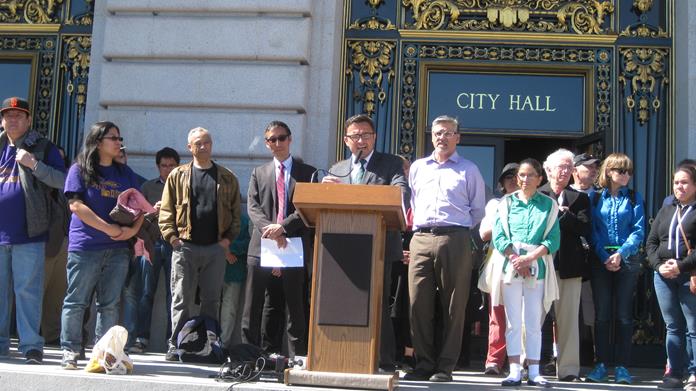 Sups. David Campos, Eric Mar and John Avalos lead a tenant rally at City Hall

By Tim Redmond

March 18, 2014 –The Chronicle didn't seem to notice the big tenant rally or the hearing on legislation that might slow down some of the wave of Ellis Act evictions, but anyone who was there could tell you that there's a huge amount of momentum for the bill.
Supervisors Jane Kim, John Avalos, and Eric Mar are already on board – and even Sup. Scott Wiener said he supports the concept of raising the statutory relocation fee for Ellis evictions.
The measure has been continued for a week at the Land Use and Economic Development Committee, in part because Wiener had a lot of questions — particularly about how it would impact small landlords.
At one point he even asked if the relocation fees might force a longtime building owner to sell the place just to pay for getting rid of tenants.
That problem with that analysis, as several speakers pointed out, is that almost no small mom-and-pop landlords use the Ellis Act. It's a handful of out-of-town speculators who are behind the vast majority of the Ellis evictions.
The city's economist, Ted Egan, described how the bill would actually work. In the case of a family living in a two-bedroom apartment in the Mission who have been there for 27 years and are paying $909 a month in rent, the relocation fee a landlord would have to pay for an Ellis evictions would be $44,000. That's assuming a comparable unit would rent for $2,777 (which is probably low; I don't think there are any habitable two-bedroom units in the Mission for less than $3,500).
At any rate, it won't break the "poor landlords." The city's budget analyst released a report yesterday that took a look at the profits that speculators are making buying and flipping buildings, and it's telling: The average – average – profit from Ellising a building and selling it is $1.5 million.
Which makes the anti-speculation tax that tenants hope to put on the November ballot even more important.
It was intriguing to hear
the mayor talk last week about the city's looming budget deficit and the need to choose carefully on spending priorities – particularly since he posted the number, $66.7 million. I started wondering" How is it possible to have a budget shortfall in a massive economic boom?
Well, a couple things to think about.
First, it turns out that the deficit is just a little less than what the Twitter tax breaks (yeah, two sets of tax breaks) have cost us.
Oh, and then the city is now having to come up with $4.5 million to help nonprofits pay higher rents (a very predictable result of the Mid-Market tax breaks) and will have to spend millions more on eviction defense, homeless services, and affordable housing (again, a very predictable result of bringing in tech firms that pay high salaries without first making sure the city's housing stock could handle the impact).
So: We give away tax money to attract companies that put such a burden on our physical and social infrastructure that we have to cut other services to pay for it all.
Good deal.
Of course, San Francisco ought to be paying attention to NASA. Yeah, the space agency. Because NASA thinks industrial society could be headed for a total collapse – Roman Empire style – largely because too few people have accumulated too many resources:
"… accumulated surplus is not evenly distributed throughout society, but rather has been controlled by an elite. The mass of the population, while producing the wealth, is only allocated a small portion of it by elites, usually at or just above subsistence levels."

The study challenges those who argue that technology will resolve these challenges by increasing efficiency:

"Technological change can raise the efficiency of resource use, but it also tends to raise both per capita resource consumption and the scale of resource extraction, so that, absent policy effects, the increases in consumption often compensate for the increased efficiency of resource use."
Sound like something that's happening right here at home? Like maybe San Francisco is an alarming scale model of what the rocket scientists are talking about?
Oh well: Pretty soon I'll be replaced by a robot, anyway.