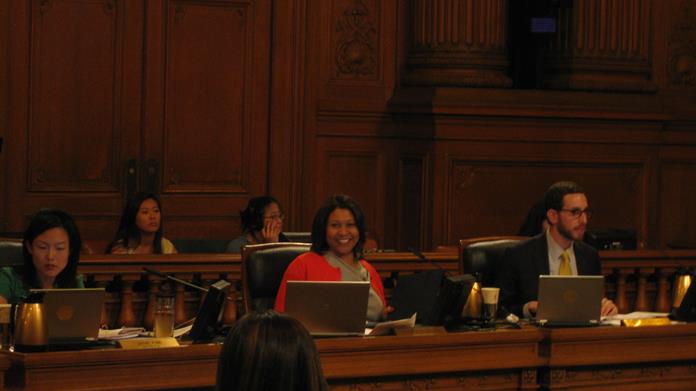 Sups. London Breed (center) and Scott Wiener (right) ended up voting for the Campos bill after trying to amend it to create exemptions for some landlords.

By Tim Redmond

APRIL 8, 2014 — In the latest sign that San Francisco speculators have gone way too far and that the 2014 is the Year of the Tenant, two major pieces of legislation that could prevent Ellis Act displacements moved forward today.
A measure by Sup. David Campos that would significantly increase relocation payments in Ellis Act evictions passed the board by the stunning vote of 9-2, with even Supervisors London Breed and Scott Wiener, who had tried to weaken the measure, voting in favor. And a bill by State Sen. Mark Leno that would allow San Francisco to limit Ellis evictions cleared its first Senate committee.
In San Francisco, only Sups. Mark Farrell and Katy Tang voted no on the Campos bill.
That means the measure will go to Mayor Ed Lee with a veto-proof majority – which means the mayor is almost certain to sign it into law. Lee, who has spoken repeatedly about the need to preserve affordable rental housing, would pointlessly incur the wrath of the invigorated and powerful tenant movement if he rejected the bill and forced a veto override.
Breed sought a vote right away on the amendment she introduced last week, which would have exempted landlords 55 and older who had owned a single building for more than 20 years. That, however, would have created a significant loophole – and the board rejected it, 7-4, with Farrell and Tang joining Wiener and Breed in supporting it.
Those four were really the only pro-landlord votes today; Sup. Norman Yee, who represents a conservative district, voted mostly to support Campos' efforts, and Chiu, who is often a more centrist swing vote, was entirely in the tenant camp.
Help us save local journalism!
Every tax-deductible donation helps us grow to cover the issues that mean the most to our community. Become a 48 Hills Hero and support the only daily progressive news source in the Bay Area.
That's a powerful statement: "Six months ago," Campos said, "I don't think this legislation would have passed." Wiener noted that "whether you support it or oppose it, this is very significant legislation that will have a very significant impact."
A more modest Breed amendment, asking the San Francisco Rent Board to consider the age of a landlord and the length of building ownership in evaluating whether to grant a hardship exemption to the mandated relocation payments was adopted unanimously after Campos said it fit fine with the intent of the original bill.
The hardship exemption was a critical part of the entire debate. Under the Campos bill (and existing city law) a landlord who thinks that a payment to a tenant is more than he or she can afford has the right to a Rent Board hearing. (Tenants who face rent increases have the same right.) In most cases, as Rent Board Director Delene Wolf pointed out, the landlord comes to that hearing owning a very valuable asset – the building.
Wiener argued, as he has at past meetings and hearings, that some landlords might be forced to sell their property or other personal assets to pay the relocation fees – which doesn't make sense in most cases. The reason landlords Ellis Act a building is typically to sell it; it's very rare for a landlord to evict all the rent-paying tenants then just leave the place vacant.
Nevertheless, he persisted with an argument that the Rent Board shouldn't consider "non-liquid personal assets" (like, say, a valuable art collection) or a retirement fund or a primary residence when looking at financial hardship.
In reality, this shouldn't be a big deal, since it's hard to imagine many of the people doing Ellis evictions in this superheated market having any claim of hardship at all. "Owning real property in San Francisco right now is one of the smartest investments you can make," Campos noted. Anything that makes the hardship claim easier – and thus allows evictions without significant relocation fees – will only encourage more speculation, he said.
But Wiener persisted, and his attempt to get all of those assets exempted failed by one vote. He tried again, with a version that exempted retirement accounts and other personal assets, but not the building where a landlord lives, and that was enough to get Yee to join him.
Still, even with those amendments, the final vote is a huge victory for the tenant movement, and adds momentum to the efforts to get an anti-speculation tax passed on the November ballot.
In Sacramento, Leno's bill cleared the Transportation and Housing Committee on a 6-4 vote.
Voting Aye were Committee Chair Mark DeSaulnier and Sens. Richard Roth, Jim Beall, Fran Pavley, Ricardo Lara, and Carol Liu. In opposition were Vice-Chair Ted Gaines and Sens. Mark Wyland, Anthony Cannella, and Cathleen Gagliani. Sen Ben Hueso didn't vote.
Gagliani, who represents the Stockton area, is a Democrat. The rest of the senators voted along party lines; no Republicans voted in favor.
The bill would authorize the San Francisco supervisors to limit Ellis Act evictions to landlords who have owned their buildings for five or more years. That would slow the rampant practice of serial evictors buying, emptying, and flipping property.