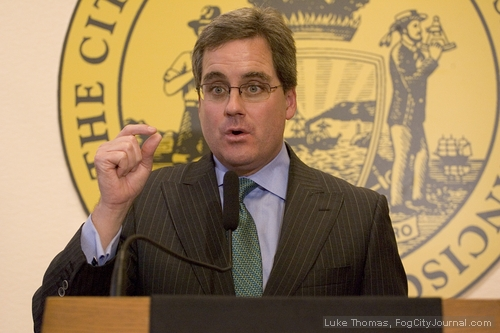 The city attorney is going after an app that auctions off parking spaces. Photo by Luke Thomas/Fog City Journal

By Tim Redmond

JUNE 23, 2014 — The "sharing economy" can only go so far, City Attorney Dennis Herrera has concluded. Although Airbnb continues to operate in violation of numerous city laws, and rogue taxi companies ply the streets, an app that lets you sell your parking space is just too much.
Herrera has sent a sharply worded Cease and Desist letter to the Rome-based company that runs Monkey Parking, a cell-phone app that lets you auction off your parking space.
Yes: You can park in San Francisco, and as you're ready to leave, see how much some poor desperate sucker will pay to take your slot. Or you can get to Valencia Street late in the afternoon, find a place to park, and wait all evening to see how much rich techies will bid for the right to leave a car right outside a hot restaurant.
The problem, of course, is that parking spaces are public property, and you can't buy or sell them.
Herrera warned Monkey Parking that everyone who uses the app is subject to a fine – and the company itself is on the hook. That, Herrera said in a press release, is because the company's "business model is wholly premised on illegal transactions." (Sorta like, you know, Airbnb.)
"Technology has given rise to many laudable innovations in how we live and work — and Monkey Parking is not one of them," Herrera said. "It's illegal, it puts drivers on the hook for $300 fines, and it creates a predatory private market for public parking spaces that San Franciscans will not tolerate. Worst of all, it encourages drivers to use their mobile devices unsafely — to engage in online bidding wars while driving. People are free to rent out their own private driveways and garage spaces should they choose to do so. But we will not abide businesses that hold hostage on-street public parking spots for their own private profit."
The city attorney is also asking Apple to remove the app from its app store.
Salon thinks there's a possibility that a "new" (or reengineered) Republican Party could be poised to make best friends with the libertarian-minded big-money nerds of Silicon Valley. I fear that's a little much for the current party; you've never going to get people who spend so much money to live in San Francisco voting for candidates who oppose same-sex marriage. But things change, and the GOP as it stands today is pretty much doomed by demographics. So maybe that's the next new thing.
Another press release came in today from the Erotic Service Providers Union and the USProstitutes Collective pointing out that a bill I knew nothing about is headed for the Assembly Public Safety Committee and will be heard tomorrow morning. The measure, SB 1388, would mandate that anyone convicted of soliciting sex for money or offering sex for money serve at least 48 hours in county jail and pay a fine of at least $1,000. The title of the bill talks of human trafficking, but it would apply to anyone who hires any sex worker, or any sex worker who is convicted of prostitution. You can read the analysis here.
That's pretty harsh – any sex worker or client, no matter what the circumstances, has to pay $1,000 and go to jail. Suppose she's a single mother with a young kid? No matter: Pay up and get locked up. No excuses.
Here's from the press release:
Rachel West of the US PROStitutes Collective says  "Criminalizing clients will not stop prostitution, nor will it stop the criminalization of women.  But it will make it more dangerous and stigmatizing for sex workers. We are appalled that at a time when nearly 1 in 4 people live in poverty in California and California has the highest povertyrate in the country,  high unemployment, increased homelessness, loss of benefits and debt are forcing more women, particularly mothers, into prostitution, the best that legislators can come up with is to increase criminalization. These proposals will further divert police time and resources from investigating rape, trafficking and other violent crimes to policing consenting sex."

Maxine Doogan of the Erotic Service Providers Union said:  "Imposing harsher penalties on sex workers and our clients will not benefit victims of labor exploitation.  SB 1388 will only increase unsafe work condition and re-criminalize sex workers. We urge the Assembly Public Safety Committee to do their due diligence in reviewing the implications of the 48hour mandatory jail time."

In 2011 there were 10,659 arrests for prostitution in California. The mandatory 48-hour minimum jail time would result in 511,632 additional hours of jail time in combination with the unlikely collectability of the proposed high fines will leave the tax payers on the hook to cover the costs.
The measure cleared the state Senate without a single vote of opposition.
I heard a guy on Fresh Air this afternoon talking about Lebanon, and how it was actually three different communities thrown together by the French after World War 1, and it reminded me that pretty much all of the borders and countries in the Middle East are artificial constructs of the European victors of WWI. So while it's nice that Obama is limiting our military involvement in Iraq, and it's sad that so many veterans of that pointless war are seeing everything their friends died for collapse, can't we just face reality? Can't we just say that whole adventure was a waste and a mistake, and that Iraq is never going to survive as a country in the long term, and stop trying to defend the lines on a map that were drawn by colonialists about a century ago?
Just saying.