The week's choice SF nightlife and dance floor affairs, March 5-12, 2015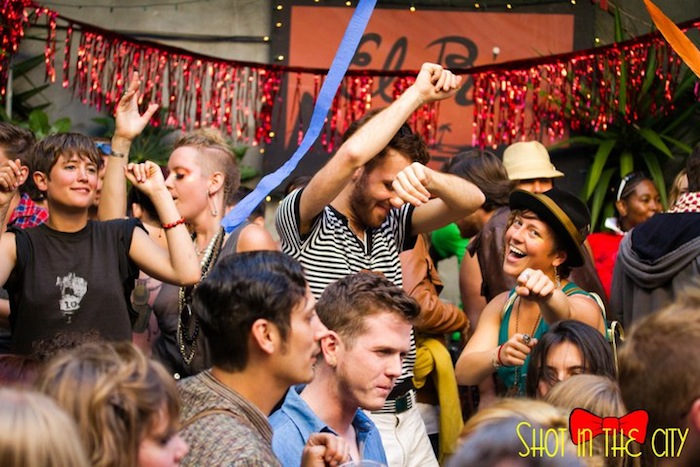 By Marke B. 
PARTY RADAR So, Red Bull Music Academy has basically taken over SF nightlife this month so far — with live radio shows, a bunch of parties, a lot of canned energy.  It's become a bi-annual (or so) tradition. Does it give us wings? Methinks RBMA is in actuality kind of riding our already elevated appendages, but it's nice for the Bay Area scene to get some wider recognition.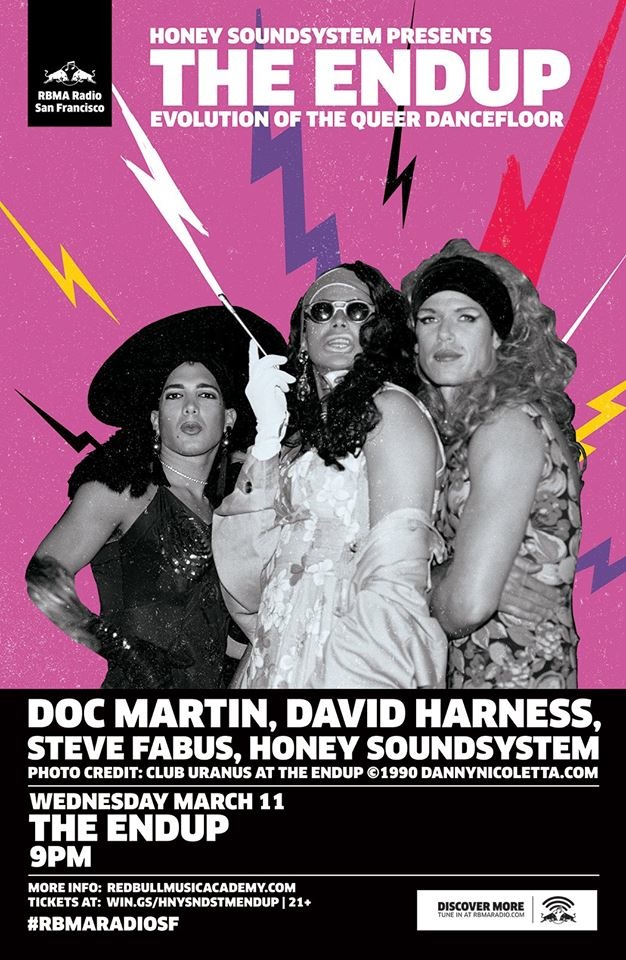 And in turn, we're helping Red Bull spread its own feathers a bit: This time the energy drink juggernaut is getting schooled in our brand of Hi-NRG, with a direct look at SF's gay nightlife past. I'm going to be on Red Bull Music Academy Radio Mon/9-Wed/11, 3pm-4pm interviewing three integral DJs from the End Up's 42 year history — Steve Fabus, David Harness, and Doc Martin — in anticipation of of a party called "Honey Soundsystem Presents: The EndUp: Evolution of a Queer Dancefloor," Wednesday, March 11, 9pm at, yes, the End Up. Craziness!
We'll be dishing a ton of secrets from the notorious club's past, from its Tales of the City cameos to its controversial recent makeover as a mainstream club. Tune in Mon-Weds, 3pm-4pm here to the interviews and show up to the party and reclaim a beloved SF dance floor.
Meanwhile, here are a few more upcoming party musts:
>> THURSDAY <<
Help us save local journalism!
Every tax-deductible donation helps us grow to cover the issues that mean the most to our community. Become a 48 Hills Hero and support the only daily progressive news source in the Bay Area.
>> MAZEL TOP Grab your sweet, sweet hamantaschen — this is a party for gay men (not necessarily Jewish) who are hot for Jewish gay men (necessarily Jewish). And it's celebrating Purim, with shots of Slivovitz, even. Thu/5, 6pm, $7. SF Oasis. Tickets and more info here.
>> FRIDAY <<
>>UNITED STATES OF BASS Big Freedia, Arabian Prince, Dj Sliink, DJ Assault, DJ Spinn & Taso, DJ Deeon, Scottie B — this party from Red Bull Music Academy is sure to bring some delicious rumble to your hindquarters. Fri/6, 10pm-late, $15. 1015 Folsom, SF. Tickets and more info here. 
>>BEATS IN SPACE The invaluable NYC radio show has brought hundreds of dance music makers to American audiences — all overseen by super-sweetie host Tim Sweeney. He'll be at Mezzanine, spinning with Dutch artist Palmbomen II for a Beats in Space label record release party. Very cool stuff. Fri/6, 9pm, $15. Mezzanine, SF. Tickets and more info here. 
>>OPEN FORMAT Three of our best hip-hop DJs (and total classics), Shortkut, Teeko, and Audio1, join forces for a night of anything goes in the Inner Richmond. Polish your sneakers. Fri/6, 9pm, $10. Neck of the Woods, SF. Tickets and more info here.
>>STEFFI The ace German techno powerhouse has so much fun with the Honey Soundsystem boys when she's in town that the joy is infectious. She'll have you jumping up and begging for more. (And she just might oblige — her surprise marathon sets are justly celebrated.) Fri/6, 10pm-4am, $10-$20. Mighty, SF. Tickets and more info here. 
>>POLYGLAMOROUS Last month's debut of this fabulously colorful gay dance party packed new club Oasis to the rafters with good vibes and great tunes. This month: One of my favorite people, Mark Louque of New Orleans, is in town to stir things up. Fri/6, 9pm-3am, $7. SF Oasis. Tickets and more info here.
>> SATURDAY <<
>>TIGA The poker-faced Torontonian playboy of the intelligent techno scene spatters stylishly sardonic, melted-glitter grooves all over the Lights Down Low party. Sat/7, 10pm-3am, $20. Tickets and more info here. 
>>HARD FRENCH The awesome old school soul patio party returns for its fifth season, with a "space jams" theme, and a slew of guests including the cosmic DJ Bus Station John. Sat/7, 2pm-8pm, $8-$10. El Rio, SF. More info here.  
>>GO BANG! One of my favorite parties — a disco treat at the Stud from DJ Sergio and Steve Fabus that shines a little mirrorball light late into the night. With special guest DJs Jim Hopkins and birthday boy Prince Wolf. Sat/7, 9pm-3am, $10. the Stud, SF. More info here. 
>>MOTHER: BJORK TRIBUTE The Icelandic pop convoluter's big NYC MOMA show may have flopped, but she's as icily iconic as ever — as this drag tribute night from the makers of Trannyshack know. Sat/7, 10pm, $10-$15. SF Oasis. Tickets and more info here.